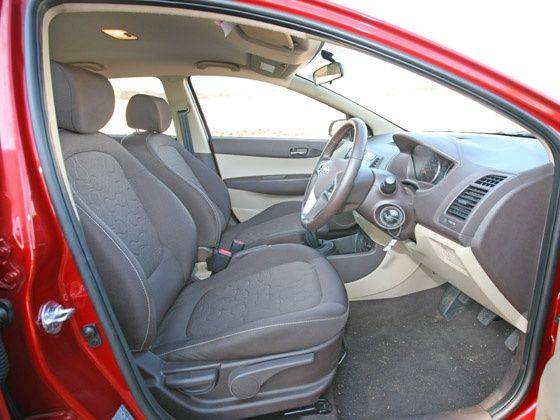 While taking a tour out of the city, having a steering wheel that cannot adjust becomes a pain for the driver after a couple of hours. Surely, a lot of Research & Development goes behind making a driver's life comfortable, especially when it comes to touring. An adjustable steering column is one of the most useful parts while cruising in top gear. This not only cuts the stress on the driver's arms, it also helps him/her cover more distance before taking a breather.
The first tilt steering was developed in the early 1960s which had the ability to move back-and-forth and up-and-down. This was done manually in the first Cadillac by opening a lock and adjusting the steering to the desired level. The only drawback about this model was that in the advent of a head on collision, the steering column failed to collapse and hurt the driver. Due to this, the idea of a back and forth movement was thrown out and the standard which is used now in premium hatchbacks is an up and down movement over an arc which, in a head on collision would break the arc and collapse the steering.
Eventually, the rake and reach (back and forth) system was employed once the collapsible steering worked successfully. In the market today, there are two main types of tilt steerings:
1. Up and down: The steering wheel moves about an arc in an up and down movement.
2. Rake and Reach: The wheels moves front and back about its horizontal position.
There is a third system that comes in with a hybrid of the two. The steering moves about all four directions to certain limits.
Most of the cars in India come with an adjustable steering column. This is locked by a rachet lock just below the column not far from the driver. This means that while traveling, the driver can change the steering height on the move without losing control of the car.
In some of the high end cars, the key has a certain memory of the driver's preferences and adjusts the steering wheel, the seat and other requirements according to the preference. Adjusting the steering wheel is vital in the terms that when a driver is fatigued but has not option to stop, the only thing that makes his/her life comfortable is to tilt the steering. At a certain angle of the steering wheel, not only is the car comfortable, but, gives the car a sporty feel and the driver can adjust according to his/her need.
Also, even if the driver is confined more to city driving, it doesn't mean that a tilt steering would not be useful. The driver can adjust the steering according to his/her height which would give him a more comfortable stance of the road.