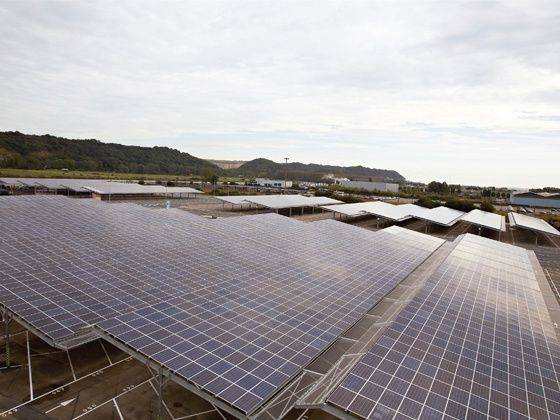 Car makers are forever in pursuit of lower emissions and viable alternate fuels. Renault has taken a more grassroots level approach to lowering their dependency on fossil fuels by introducing 40 hectares of photovoltaic panels at six of its production facilities in France.
The photovoltaic panels that cover the size of 60 football fields makes it the largest system of its kind in the automobile industry. The panels are located at six covered, ISO 14001 certified sites that include its Douai, Maubeuge, Flins, Batilly, Sandouville and Cleon facilities in the delivery and shipping centres as well as employee parking areas.
The 40 hectares of photovoltaic panels will develop 59MW of power and produce 52,600 MWh of electricity per year. That is enough to provide electricity to a town of 15,000 people in a year. The end result will be an emissions cut of 200 tonnes for the French car maker annually judging by the basis of energy generating mix in the country.
The photovoltaic panels will also be used to protect new vehicles in parking lots from storm damage as the panels have been designed to withstand impacts and hail damage in particular.
Renault is also expanding its photovoltaic system internationally at Busan in South Korea and Palencia and Valladolid in Spain. Meanwhile feasibility studies for implementing the system in Slovenia, Morocco, Brazil, Colombia, Chile and Romania are underway.