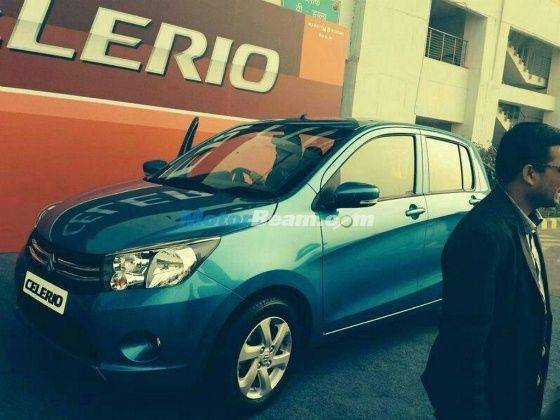 Pic Courtesy: Motorbeam
Maruti Suzuki is going all out to promote its new small car that will debut at the Expo, the Celerio. You can see it in the papers and hear it on the radio almost all the time. Now, we have told you what the Celerio is like, its specs; its variants; and even its engine and gearbox options. Read here for more.
And, since it's a small car, one that will go up against the Hyundai i10, you'd imagine these promotions would be centred on its features, its practicality, ease of driving and fuel economy. But no, Maruti is going to town with Celerio's automatic transmission. It is calling it EZ Drive, but, in reality, the Celerio's auto unit isn't an automatic at all, well not in the true sense at least. Sure, one doesn't need to shift gears if one doesn't want to, and there's no clutch pedal either. But, this one is still a manual.
Let me explain. Maruti has taken the manual gearbox offered in the Celerio and added a smart mechanism to it. A mechanism that uses hydraulic actuators to engage and disengage the clutch and depending on the rpm and the throttle input (which is drive-by-wire, by the way), shift gears as well. Moreover, apart from behaving like a fully automatic 'box, this EZ Drive also allows the driver to shift gears manually by just moving the gear lever up and down in a gate marked + and -. But, there's no P or Park mode like regular automatics here, just Drive and reverse. So, when you switch off the car, it just stays in gear.
Now, this tech isn't Maruti's; it comes from Magneti Marelli. And the Italian component maker has been honing this tech for years. Magneti calls it AMT or Automated Manual Transmission, and it is a more cost effective and efficient tech than regular automatics. There are other benefits too. According to Maruti, thanks to this system, the auto version of the Celerio gives as high a fuel economy as the manual, 23.1kmpl. And when driving in bumper to bumper traffic, it has all the convenience of an automatic. And because it is in fact a lot more cost effective, the Celerio auto isn't going to come at too much of a premium. The downside: The gearbox feels lurchy. It is slow. And it is not the least bit intuitive. Moreover, when driven hard, it begins to get irritating. And did I mention it isn't exactly refined or enjoyable to use.
It's to avoid these negatives that year after year, manufactures across the world and across segments spend huge amounts in R&D in developing and refining automatic transmissions be it torque converter units, CVTs or dual clutch ones. They are constantly working towards seamless shifts, higher refinement, better efficiencies - be it fuel economy or reduction in power loss, and working doubly hard so that the driver involvement doesn't take a back seat.
So, in that sense, the EZ drive from Maruti isn't great news. But, instead of looking at this globally, let us for a moment think local. If this piece of engineering really is so cost effective, it could actually bring about a change the Indian consumer has been asking for a long time - an affordable diesel automatic. So far, no manufacturer has such an option till one moves to the upper C-segment. And even then, it's only the Hyundai Verna that gives you the option of a diesel automatic while none of its competitors, including the recently launched new Honda City, do.
It is only when one moves a class higher that options really begin to surface. And the sole reason for this - and every car maker has said this - is the poor business case a diesel auto makes, because of its comparatively steeper pricing. Taking conservative estimates – the price differential between a petrol and a diesel for the same make, model and trim is about Rs 1.3 lakh. Adding an auto 'box raises this price differential by another Rs 70,000 at least. Add it all up and you are looking at a diesel auto that's Rs 2 lakh more. This difference in price might be alright when a car costs Rs 12 lakh and above, but it seems ridiculous for a car that has a starting price of Rs 5 lakh.
But with AMT, I think, this could change. If AMT can be applied to a manual gearbox in a petrol car, there's no reason, at least in theory, that it shouldn't work on a diesel. And, if it's only going to come for a premium of Rs 20,000 over a manual diesel, I am sure many car buyers here won't mind living with a lurchy, less refined and slow shifting automatic, especially when the fuel efficiency claims will continue to match the diesel auto. Magneti says that it is confident that this tech will be adopted in cars up to the C-segment, even in India like it is in China and Brazil. We just hope diesels aren't left out of the automatic equation this time round