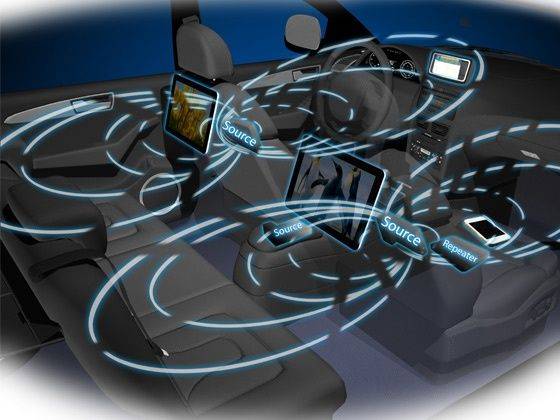 Delphi Automotive is developing a new Wireless Device Charging System that transmits power to an electronic device over a limited distance without having to connect the device with a wire or having to place it at a certain position.
The new system will automatically transfer power to mobile electronic devices within the cabin of a vehicle in a safe and convenient manner. The system is being developed by Delphi in cooperation with a wireless energy transfer technology provider.
The crux of the new Wireless Device Charging System is a highly resonant magnetic coupling via a source resonator located in the vehicle that transfers electric power over short distances and can charge mobile electronic devices.
The components used in the wireless charging system include,
1. Capture resonator and interface electronics,
2. Stationary source or sources resonator pad and
3. Operational repeater coils
Previously inductive charging systems required a mobile electronic device to be placed on a pad which transferred the electricity to the device but as mentioned earlier the new system does away with that requirement and the device can be placed, moved or held anywhere inside the cabin of the vehicle while it is being charged.
"From navigation systems to cell phones to personal computing devices, we are tied to our favourite electronics, but we won't always have to be tied to charging cords for them to work. Instead, our system will use magnetic fields from hidden power source resonators placed in the vehicle interior to automatically power these devices through high-efficiency, hands-free charging," said Christopher Reider, global director of engineering, Delphi Connection Systems.
The system is currently under development and is fitted to Delphi research vehicles, it is likely to feature in production vehicles by 2014. Considering the practicality of the system it can only be imagined that the new system will be ready for use at homes and offices as well.