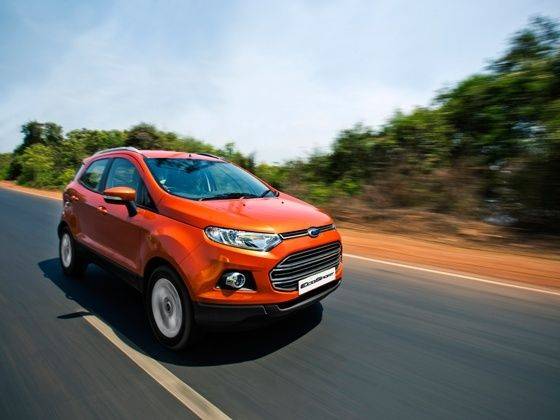 Car buyers and manufacturers the world over are hopping on to the downsizing bandwagon, shelving full-blown, fuel guzzling cars for more efficient and practical compact ones. Following this trend, compact-SUVs have become the flavour of the season and growth seems to be so strong that this boom in sales seems likely to continue in the foreseeable future. Making it one of the fastest growing segments across the globe, and after the introduction of Renault Duster, Ford Ecosport the compact-SUV trend is spreading with equal ferocity even in our country.
One of the major lure in our country is their pocket-friendly pricing. Since most manufacturers prefer to pass on the excise duty benefits (for being under 4-meters in length) to the buyer, there's exceptional growth visible in the tempting sub-Rs 15 lakh price bracket. Last year when Ford launched the Ecosport it stirred the market with its compelling price tag. No wonder you see so many of them on the roads nowadays.
These models have changed the perspective of car buyers who are graduating from hatchbacks to something bigger. Since most of them are young executive, climbing the social ladder, seeking a lifestyle product seems more attractive than to get just another big car. The need is to have a trendy car to flaunt among friends during night outs, and used mainly within the city. With this changing trend, they have the option to either buy an elegant, albeit understated sedan, or to venture into a relatively new car territory which offers rugged SUV-ish appeal with manageable proportions.
Obviously, most of these buyers don't care if the 'SUV' can cross a flowing river or scale a mountain trail, but are instead content with the front wheel (4x2) driven options which are light and easy to maneuver. Most seek nothing more than masculine SUV-like stance, efficient engine and greater ground clearance to tackle speed bumps and our pothole ridden city roads with ease. Additionally not having an all-wheel-drive (AWD) system makes the car light and more affordable, thus enhancing its appeal.
Seeing the potential of this burgeoning segment most car-makers present in our country are preparing to offer innovatively packaged mini-SUV to suit the young Indian pallet. Moreover, developing an SUV reduces the risk for car manufacturers as the demand in this segment is slated to continue for years to come and going by the current price hierarchy in India, SUV can demand a premium over sedans, which certainly makes better business acumen.
The recently held Auto Expo 2014 had clear impact of the growing trend of small SUVs as almost everyone had either a concepts or production-ready models on display. Let's have a closer look at some of them that caught our attention.
Maruti Suzuki SX4 S-Cross
Making its Indian debut at the Auto Expo was the SX4 S-Cross, which was internationally unveiled at the Geneva Motor Show early last year. It's a well packed crossover with robust exterior design, good looking interiors and good option of power-trains. Like the new SX4 the S-Cross sports a pair of larger, re-profiled headlights and freshly styled chrome front grille, and chrome housing for the fog lamps. We particularly like the muscular lines which the bonnet boasts off proudly and also the sporty aluminium roof rails. Smart aluminium sump guards, chrome accents on the door handle, wing mirrors with integrated turn indicators and a double sliding panoramic sunroof adds to the sporty styling.
The interiors follow the Suzuki family design - black dashboard with brush-metal highlights, which is neatly laid out and easy on the eye. The cabin is spacious, and comes with comfortable rear seats with plenty of kneeroom, thanks to the long 2,500mm wheelbase. The 60:40 split rear seats can be folded to increase the 430-litre boot further.
It is speculated to be powered by a FIAT-sourced 1.3-litre Multi-jet oil-burner and a 1.6-litre VVT petrol motor. Both the engines are expected to be paired with a 5-speed manual transmission, while the petrol version will also have an option of a CVT gearbox.
At 4,300mm the S-Cross is a long car and doesn't qualify for the sub-4 meter's excise benefits. We expect the Maruti to be priced around Rs 12 lakh, which isn't really the most competitive in the segment, but the company hopes to offer better features to compensate the high price tag. Internationally, the crossover comes with Suzuki's ALLGRIP 4WD system which would further hike the asking price. The S-Cross would boast of being rated 5-stars by the Euro NCAP for its crash safety protection, and we hope Maruti brings all the international safety features to India as well, when it goes on sale in mid-2014. The company's strong sales network and low running cost, would give the compact-SUV a good foothold against competition.
Datsun Redi-GO concept
Hogging the limelight at the Datsun pavilion was the radical Redi-Go concept. The recently revived Japanese car brand will be introducing a compact SUV in India based on this concept. Though Datsun did not share much information about the yet-to-be-launched model, we know for a fact that Redi-GO would be under 4-metres long as it is based on the same platform as the Go hatchback and Go+ MPV, and would have higher ground clearance to fit the SUV tag. Apart from this, Datsun disclosed that the concept has a wheelbase of 2,350mm, which surprisingly is 100mm less than the hatch and MPV. This means that there are bleak chances of it being a 5+2 seater and would at best seat five adults.
We expect the interiors to be similar to its sibling, with light-coloured dashboard and upholstery to give the compact cabin an airy feel. Though a diesel motor would be ideal for a compact-SUV, Datsun would probably launch this trendy crossover with a 1.2-litre petrol engine, mated to a 5-speed gear-box. Using a petrol motor would help keep the price attractively low, as the Redi-GO targets Indian youth who are seeking for a good looking, lifestyle vehicle. Hopefully, the Redi-Go-based compact-SUV will be formally launched by early next year, and would keep to Datsun's aggressive pricing strategy.
Volkswagen Taigun
The German car maker unveiled their Ford Ecosport rivaling Taigun concept at the Auto Expo. Shown for the first time in India, Volkswagen is betting big on this small SUV as it is the only major unveiling done by them at India's premier auto show. Based on the UP! hatchback, the Taigun has compact proportions and remains true to VW design philosophy with its understated styling.
The concept has its rear door handle neatly integrated along the window line and is equipped with all the necessary SUV traits including a pair of roof-rails, high ground clearance, side-cladding and sump guards. The cabin space of this three-door concept isn't the best in the segment, but interior quality and finish is top notch. It comes fitted with a puny, but efficient, 1.0-litre three-cylinder, TSI (turbo-petrol) engine which can produce 108PS and 175Nm.
As a brand Volkswagen is perceived as a quality car maker producing capable and durabale products, which will help Taigun project build a strong and robust image, which is associated with most SUVs. Though VW claims to be still considering feasibility to launch the Taigun in India, sources confirm that it will be a part of the Indian line-up by 2016, competitively pricing under Rs 10-lakh.
Chevrolet Adra
This is an important addition to the fast-growing compact-SUV segment, specially for India. The Chevrolet Adra witnessed it's global unveiling in India at the 2014 Auto Expo. Besides, it has been designed entirely by Indian designers at the GM technical centre in Bangalore. The company states that this sub-4-meter crossover was penned using Chevrolet's global design language, though there are distinct influences of the Mini Countryman from certain angles.
Whether this concept will become a reality is unclear yet, as GM terms the Adra as purely a design concept to showcase their Indian Technical Centre's capabilities. Unfortunately, there aren't any details about the engine specifications now, but the Adra is GM's best bet to enter the rapidly growing compact SUV segment of India.
Tata Nexon
Tata displayed an interesting sub-4 metre SUV concept called Nexon which has been designed by the company's design teams in Turin, UK and India. It's futuristic and funky design aims at younger car buyers, who are looking for something out of the ordinary. It features DLO (day-light opening) doors that were created with the Megapixel concept and lens-less LED lamps. The interiors are beautifully carved and the floating instrument panel with a wrap-around hub looks appealing.
Despite its coupe-like, sharply sloping roofline the Nexon adopts a 'cab forward design' to improve cabin space. It's based on the X1 platform which also underpins the Manza sedan and the Vista hatchback, and is just under-4-metres in length, both of which will help keep the pricing in check.
A three-cylinder, 1.2-litre, petrol engine producing 110PS and 170Nm powers the Nexon, and is claimed to have a top speed of 180kmph. The official statement states that the SUV would come with an electronic four-wheel drive system and can stretch a litre of petrol to an impressive 17.6 km.
Tata's strength has been competitive components procurement, which makes their current range of cars very cost effective. In the next one year, when the Nexon is closer to production, the car would share many components with the existing models, making it more affordable than most.