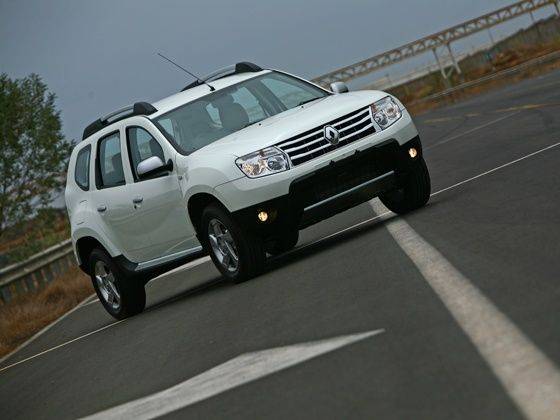 What can we say? Last year, it was the Mahindra XUV5OO that took away the top prize and this year it's the Renault Duster. It's clear that we live in a country of SUV lovers and the Duster is the type of SUV the Indian car buyer has been yearning for a long time. Compact, well equipped, good-to-drive and more importantly, it is a truly international SUV that offers all this at the same price point of an Indian designed product.
Well, calling the Duster an SUV might be a slight misnomer, but this compact soft-roader manages to check all the right boxes in order to satiate the Indian car buyer's SUV cravings, especially when it comes to the design of the vehicle. Flared wheel arches and near-zero overhangs coupled with high ground clearance give it a stance like the big-boys.
The Duster also manages to blend the typical boxy SUV shape with modern lines and details and packs it all into diminutive dimensions that really makes the car look menacing and cheeky at the same time. And those compact dimensions are an absolute godsend in the ever-increasing traffic that is a hallmark of our country's roads. (Also read: Renault Duster: First Drive)
The Duster doesn't do anything that is ground-breaking, but provides a competent and appealing package at an absolutely brilliant price which helped it take the top spot this year by a pretty big margin.
Related Stories:
Segment Winners : 2012 ZW Car of the Year Awards
2012 ET ZigWheels Car and Bike Awards : Special Coverage
2012 ET ZigWheels Bike of the Year : BAJAJ PULSAR 200NS
2012 ET ZigWheels Car & Bike Awards Jury Round : In Pictures!
2012 ET ZW Awards : Jury Member Profiles
2012 ZW Awards Special : Editorial