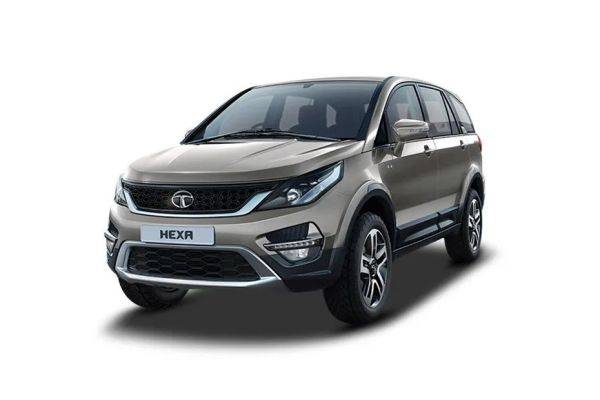 Tata Hexa 2017-2020
Rs. 12.00 - 13.20 Lakh
Discontinued Model since 20 May 2020
---
About Tata Hexa 2017-2020
The Hexa MPV is one of the finest cars ever made by Tata Motors and the decent sales Hexa is churning even in the high price bracket of Rs 12.99-18.36 lakh (ex-showroom, Delhi) testifies its popularity among Indian masses. The styling of Tata Hexa is refreshingly clean and uncluttered although Tata has made sure that Hexa doesn't look plain Jane and boring. The quality of the interiors is a big leap forward and is on par with the rivals. 2.2-liter turbocharged direct injection diesel motor in Hexa puts out 150PS/320Nm and 156PS/400Nm for the VARICOR 320 and VARICOR 400 iterations respectively. While the lower output is mated to 5-speed manual transmission, the higher version channelizes the power to the wheels via 6-speed manual and automatic transmission. Tata is also offering an all-wheel-drive version of the Tata Hexa pitted against the likes of Toyota Fortuner and Ford Endeavour.
Tata Hexa 2017-2020 Overview
Tata Motors has discontinued the BS4-compliant Hexa and stopped accepting bookings for the same. The launch of its BS6-compliant successor has been delayed due to the coronavirus pandemic, but expect it to happen in the coming months. The BS6-compliant Hexa will continue to utilise the 2.2-litre diesel engine that develops 154PS of power and 400Nm of torque. It'll be offered in rear-wheel-drive, all-wheel-drive and automatic variants. The BS6-compliant Hexa is lto be priced from Rs 14 lakh (ex-showroom).
Tata Hexa 2017-2020 Colours
Hexa 2017-2020 Alternatives
Must Read Questions & Answers Before Buying Hexa 2017-2020
Q. Mr. Nikhil, I'm planning to buy an SUV & confused between XUV5OO and Tata Hexa. Which is the best from these aspects: 1) Specifications 2) Ride quality 3) Re-Sale value 4) Value for money The city and off-road travelling would be in the ratio of 80:20.
1-)SPECIFICATIONS_:: XUV500 has so many features that hexa doesn't have automatic rain sensing wipers, automatic headlamps, sunroof, 7 inch led touchscreen, cornering lights, room light, etc. But it's sound quality is not so good.Hexa lacks so many features than Xuv500 but its sound quality is better as it has JBL sound system, and so many other features.2-)RIDE QUALITY_::No doubt hexa's ride quality is better than XUV500 as xuv500's suspensions are stiff and we can feel the potholes there are some rattling noices in the car. Hexa's ride quality is better potholes cant be felt inside the car it's so smooth.3-)RESALE VALUE_::I have no idea of resale value but I have heard that Tata's resale value is more than mahindra.4-)THE CITY AND OFFROAD TRAVELLING-)Both the cars are not made for off-road purposes but small things can be done as they have good ground clearance XUV500 also have 4wheel drive. XUV500 is a bulgy vehicle so you might have some problem in tight spaces but other than that it's nice and there is no such problem. Hexa also feels nice to drive in cities but if there would some more features it would have been better.According to me XUV500 is the best value for money pack because it has more features than hexa at a low price it's power is more it's on road presence is very nice.
Hi, Both XUV500 and Tata Hexa are good cars. Answering to your queries 1) Both the cars have similar specifications and make a good buy for specs and features they have. Although, Xuv score a touch better in terms of power and Torque 2) Ride quality is awesome for Xuv500, not sure about Hexa 3) Mahindra and Tata both doesn't have great resale value but if you drive the car for 5 years or so you shall be able to sell it at a decent price later 4) Xuv500 is certainly a value for money car. Although, Xuv500 will be a better car if you take this on long drives. Thanks
Yes
View All Answers
Q. Which car should I buy Tata HEXA or Mahindra XUV500?
Hexa has a power 440 nm and XUV 500 has just 400 nm but still XUV has little more pick up than Hexa due to it's less weight and built quality. Hexa is more comfortable,stable and luxurious than XUV andhas extra feature like cooling glove box.Hexa's weight 2250kg where as XUV's weight is 1750 kg.So you have select between safety and pick up. Hexa has hydraulic power steering and XUV has electronic power steering.
Hexa has a power 440 nm and XUV 500 has just 400 nm but still XUV has little more pick up than Hexa due to it's less weight and built quality. Hexa is more comfortable,stable and luxurious than Hexa and has extra feature like cooling glove box.Hexa's weight 2250kg where as XUV's weight is 1750 kg.So you have select between safety and pick up.
HEXA is far better than Xuv500 in all areas except features and light steering for city. Thanks ..prefer automatic car..especially Hexa because of its superb gearbox.
View All Answers
More Questions
Hexa 2017-2020 Questions and Answers
Hexa 2017-2020 User Reviews
All

Comfort (18)

Safety (9)

Experience (6)

Performance (6)

Power (5)

Mileage (5)

Engine (3)

Wheel (3)

Interior (3)

Space (3)

Automatic (3)
4.3

Riding this car is a pleasure.The presence it has on road is class apart.It sticks to the ground and revs up so quickly despite its enormous weight.Best thing about this car is its suspensions.The quality of ride is amazing and you won't feel any bumps.The off-road capabilities are also good.Mate it with a k&n filter and performance spark plugs and you are ready to fly.Service cost is a bit high and mileage in city is around 10-11.Pros- great ride qualitygreat visibility aroundgood road presence punchy powerfeels safespacious giantcons-no touch infotainment service cost is high weight.

4.7

I have always been a tata hexa fan since the car was launched. finally i purchased car in 2018. styling features safety everything about the car is perfect except the issues that i have gone through after purchasing the car. Hexa has problem of Engine head leakage s my brand new cars engine was opened before completing a year and even the engine belt is making noise. i feel really sad that my new car engine was opened even if they have fixed it completely still i will suggest if you want to go for 7 seater or 6 seater then go for INNOVA if your budget is around 18-19 lakh.

4.7

The overall package of this SUV is best at this price but it feels too heavy and bulky in city traffic. Mileage is good of approx 13 to 16km/l but the maintenance cost is quite more than others. All part of this segment is available but some time to find their parts take too much time.

4.7

This car is very super car .i have no this car but I want our experience is that locking and1safety wise very nice car milese also.my dream car is xmplus we are found more feature. with big size wheels locking beautiful.

5.0

It is excellent SUV for long trip, Comfortable for six people, make betterment of turbo mechanism it make additional sound while opening of turbo after show room visit it is better now even u can still make it soundless otherwise it is an excellent SUV
User Reviews
Tata Hexa 2017-2020 Expert Reviews

The Hexa is an embodiment of Tata's aspirations to transform into a modern, stylish and sophisticated brand. But, can the Hexa shake off the legacy of the 'old' Tata and make a mark in the full-size SUV segment? And just how different is it from the Aria crossover? We find out.
August 14, 2017
By Siddharth, Photography: Vikrant Date

Can the Hexa help Tata reclaim ground in the thriving SUV segment?
October 21, 2016
By Kartikeya Singhee Photography Vikrant Date
Tata Hexa 2017-2020 Images & Videos