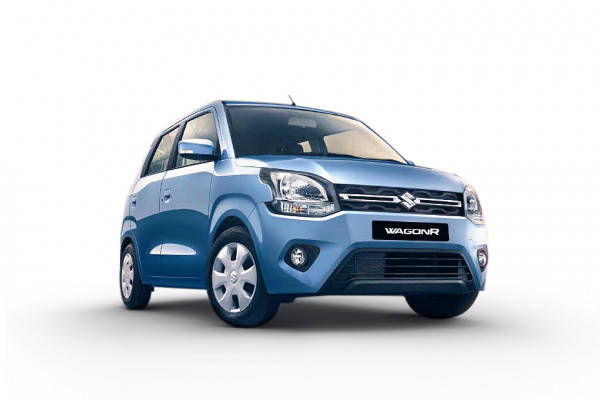 Maruti Suzuki Wagon R 2013-2022
Rs. 3.28 Lakh
Discontinued Model since 23 Jan 2022
---
Maruti Wagon R 2013-2022 Overview
The facelifted Maruti Suzuki WagonR has been spotted at an ad shoot ahead of its launch later this month. It will get new dual-tone shades and blacked-out alloy wheels. The interior is expected to get minor changes, while the features and powertrains will possibly remain the same.
The facelifted model will continue utilising the current model's 83PS 1.2-litre petrol and 68PS 1-litre petrol engines, along with an optional CNG kit. Transmission options will include a 5-speed manual and an AMT.
Expect the facelifted Wagon R to command a premium over the current model that retails from Rs 5.18 lakh to Rs 6.58 lakh (ex-showroom pan-India). Its alternatives are the Maruti Suzuki Celerio, Hyundai Santro, and the Tata Tiago.
Maruti Suzuki Wagon R 2013-2022 Colours
Cars Similar to Wagon R 2013-2022
Must Read Questions & Answers Before Buying Wagon R 2013-2022
Q. Which is better, Wagon R or Celerio?
Both Maruti Celerio and Wagon R are worthy options. The new-gen Celerio with all the latest updates and its fuel-efficient nature does make for a compelling case if you want a frugal city runabout. It will be a great first car thanks to its easy-to-drive nature. Another strong point of the Celerio is the torquey 1-litre petrol engine that feels at home not only in the city but also out on the highway. The low-speed ride is comfortable and the spacious cabin makes it a genuine four-seater even for tall people. However, if you want a bigger engine then the Maruti Wagon R would be a better pick. If the Celerio was priced slightly lower, it would have become a stylish alternative to the Wagon R. But as things stand, you'll have to dish out a slight premium to get one. Moreover, we would suggest you to take a test ride for a better understanding of performance and comfort. Click on the link and select your desired city for dealership details.Read More: - Maruti Celerio vs Maruti Wagon R
Q. Punch or Wagon R, which car should I go for?
Both Maruti Wagon R and Tata Punch are good cars and offer a lot to their customer. Selecting one would depend on certain factors such as your budget, preference of the segment, features requirement, cabin space, safety, etc. The WagonR continues to be a sensible practical hatchback. It's now stronger, more feature-loaded, more powerful and safer. Importantly, the prices have not gone up substantially. On the other hand, Tata Punch could be the ideal alternative for city-friendly hatchback users looking for something more rugged and versatile. Moreover, we would suggest you to take a test ride for a better understanding of performance and comfort. Click on the link and select your desired city for dealership details.Read More: - 2021 Tata Punch First Drive Review: Hard Hitter! - Maruti Wagon R vs Tata Punch.
Q. What are the varaints for Wagon R 1-liter AMT?
The AMT with 1.0-litre three-cylinder engine is available in two variants: Wagon R VXI AMT and Wagon R VXI AMT Opt. The top-spec AMT variant is only available with the 1.2-litre four-cylinder engine.
More Questions
Q. Which is better Swift LXi or Wagon R 1.2 VXi as the on road prices are similar. I need comfort, mileage and fun to drive. Build quality as well.
Considering the swift LXI and Wagon R VXI 1.2, the Wagon r VXI will come with more features. Both shares the same platform and same engine too. Since the wagon r is lighter it will be more peppier to drive. There will be more passenger space inside too as it follows the old tall boy design structure. Since both cars are from the same manufacturer, both are equally good. Swift came from a more premium segment while the wagon r is from the mid class segment. From the version you have pointed out, the wagon r 1.2VXI will be better then the Swift LXI
It depends on factors and how you priorities them. Wagon R has a tall boy design so if you are tall then ingress and egress will be better in wagon R. Creature comforts will be better in comparison to the swift Lxi model. In city riding conditions both cars are good, on highway swift will perform better because of its aerodynamic structure. Overall swift Lxi is a proven brand and model when comparing to the Wagon R 1.2. Engine credential are same for both though swift will be peppier of the two.Hope this helps to make up your mind!
Both have same 1.2 litre engine ..fun to ride opt out you from s cng.Wagon r practical but fun on driving is missing..swift gives all you want with 2 or 3 on board. so swift lxi is my choice for you sir.(shhhh see the price once again in your city).
View All Answers
Q. Which is good to buy between Swift and Wagon R?
Price of swift starts where wagon r ends ..wagon r may seem plasticky but has good Crump zones.swift miserably failed got 2 star for its safety.So do the wagon r unstable in potholes and turns .so as a good city car with airbags ad stsndard along with abs and ebd go for swift petrol or diesel which comes with great mileage. wagon rs cng has 30 kasper lister ....so mind the price .and the aversge use..if senior citizens are there they can walk into a wagon r.if you want a stylish hatch back which don't care of rear space swift.
WagonR is also a fantastic car to drive. You can go for it for occasional tough or adventurous rides. Its (WagonR) driving comfort for tall person is better than with a Swift. However, Swift appears more spacious & good looking than WagonR. If you are a tall man & hv a small family of 2-3 in total, self driving & occasionally like to go out of city.....can go for an WagonR. However, mileage of WagonR might be lesser than Swift.....
Well, it's based on your individual requirements, like daily commute, family use, looks, etc. The WagonR has good ingress and egress and is more of a family car. It is good if you have senior citizens at home. The latest one has a larger boot as well. The Swift on the other hand is more sporty, looks good.Large windows in WagonR give a roomier feel, whereas it is opposite in Swift. The interiors in the Swift are better when compared to WangonR. Both cars offer easy drivability, low maintenance costs and good resale value.
View All Answers
Q. What is difference between 1.0 liter and 1.2 liter engine in new Wagon R
1.0 engine is better in terms of moderate power and best mileage than 1.2. In 1.2 more acceleration means more fuel loss and there is no remarkable increase in power especially in hills n steep hairpins while compared to 1litre. The 1l has spontaneous power in highways when crossing 60km/hr. Cost wise also cheaper and economical and we get the same big sized car without a single difference!!!!
As the name suggests, 1.2 ltr means more power for quick acceleration. but it will also increase petrol bill.
The whole character is different,1.0 is a 3 cylinder making 69hp1.2 is a 4 cylinder making 83 hpRefinement,power,drive is a plus in 1.2 and mileage is plus in 1.0
View All Answers
More Questions
Wagon R 2013-2022 Questions and Answers
Maruti Wagon R 2013-2022 User Reviews
3.9/5
Based on 4487 rating & 1310 reviews
Write Review & Win iPhone
All

Comfort (237)

Mileage (153)

Maintenance (139)

Performance (96)

Space (83)

Safety (73)

Small (69)

Service (58)

Looks (58)

Experience (57)

Engine (54)
5.0

Wagonor is the best car for

Wagonor is the best car for family and beginners, The engine very well refuned, More fuel efficiency and power, Good comfort for nack row passengers and it gives 20-25 avg

Excellent pickup and comfort

Excellent pickup and comfort driving.Good ac.Spacious hatchbackgood family car if carrying a baby in lap, It's easy.

Good space

Its having very good space for driving which provide a comfort driving.Good in mileage about 17 on a/c.Best part is low maintenance and worst part is pickup and cooling.Overall it is good because it is very economic and very good for small family.Its build quality is normal and safety part is also average.Good feature inbuilt and very good in sale and service.Its having service centre every where in india even in rural areas.

Body balance

Body balance was not so good, Ac was not sufficient, Seats are comfortable for front passengers compared to rare, Noise cabin underrated vehicle, A decent amount of mileage 20 on highway and 17 in city

I have 45000 KM driving

I have 45000 km driving experience of wagonr 2017 auto gear shift.I using it for outstation car perform well above 100 also suspension performance is also good my family and friends also have wagonr every body satisfily drive it.Big boot we have whenever we need to take our vegetable to market we fold rear seats and keeps vegetable in car to take city.Also wagonr mileage is also good for me.
Maruti Suzuki Cars in India
Maruti Suzuki Wagon R 2013-2022 Expert Reviews

The WagonR sits between the most affordable cars of India and the more aspirational hatchback space. This segment has grown with the times and now features new players like the upmarket Santro and the feature-rich Tiago. Has Maruti added enough oomph to the WagonR to see it regain its crown?
May 16, 2019
By Team ZigWheels

What has one of India's best-selling practical hatchbacks evolved into?
January 31, 2019
By Jagdev Kalsi