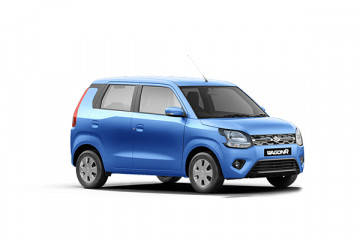 Rs. 4.93 - 6.45 Lakh Ex-showroom Price,

Delhi
View September Offers
View On Road Price
Maruti Wagon R Spare Parts Price List
| Maruti Wagon R Parts | Authorised Dealer Price | Extra GST 28% | Total Price |
| --- | --- | --- | --- |
| Front Bumper | 1319 | 369 | 1688 |
| Rear Bumper | 2020 | 565 | 2585 |
| Bonnet/Hood | 2870 | 803 | 3673 |
| Front Windshield Glass | 3009 | 842 | 3851 |
| Rear Windshield Glass | 2010 | 562 | 2572 |
| Fender (Left or Right) | 1130 | 316 | 1446 |
| Head Light (Left or Right ) | 2225 | 623 | 2848 |
| Tail Light (Left or Right) | 1100 | 308 | 1408 |
| Front Door (Left or Right) | 4538 | 1270 | 5808 |
| Rear Door (Left or Right) | 6522 | 1826 | 8348 |
| Radiator | 4410 | 1234 | 5644 |
| Dicky | 4300 | 1204 | 5504 |
| Condensor | 4490 | 1257 | 5747 |
| Front Door Handle (Outer) | 244 | 68 | 312 |
| Rear View Mirror | 486 | 136 | 622 |
| Back Panel | 1390 | 389 | 1779 |
| Fog Lamp Assembly | 395 | 110 | 505 |
| Front Panel | 1395 | 390 | 1785 |
| Bulb | 361 | 101 | 462 |
| Accessory belt | 542 | 151 | 693 |
| Head Light LED (Left Or Right ) | 8444 | 2364 | 10808 |
| BACK DOOR | 36444 | 10204 | 46648 |
| Oil Filter | 462 | 129 | 591 |
| Air Filter | 179 | 50 | 229 |
| Timing Chain | 855 | 239 | 1094 |
| Fuel Filter | 268 | 75 | 343 |
| Spark Plug | 425 | 119 | 544 |
| Cylinder Kit | 8890 | 2489 | 11379 |
| Clutch Plate | 970 | 271 | 1241 |
| Combination Switch | 1244 | 348 | 1592 |
| Disc Brake Front | 827 | 231 | 1058 |
| Disc Brake Rear | 827 | 231 | 1058 |
| Shock Absorber Set | 2841 | 795 | 3636 |
| Front Brake Pads | 449 | 125 | 574 |
| Rear Brake Pads | 449 | 125 | 574 |
| Side View Mirror | 523 | 146 | 669 |
| Horn | 285 | 79 | 364 |
| Wipers | 352 | 98 | 450 |
*These are estimated price and may vary based on location. Price mention above is in Rs
*SGST (State GST) + CGST (Central GST) = GST
Wagon R Service cost
Fuel Type
Transmission
Service Cost
Petrol
Manual

Rs.

1249
Petrol
Manual

Rs.

3899
Petrol
Manual

Rs.

3004
Petrol
Manual

Rs.

4665
Petrol
Manual

Rs.

3004
Calculations are based on 20000 km/year
Mileage

Performance

Maintenance Cost

+ 3 more
Comfort

Safety

Features & Styling
Preferred For : Family & Daily Commute
31% of users have given a rating of 4.5 and above
Filter by :

All

Comfort (225)

Mileage (140)

Maintenance (133)

Performance (90)

Space (75)

Safety (71)

Small (63)

Experience (54)

Looks (54)

Service (50)

Engine (46)
5.0

supper car top mileage no maintenance

3.3

It is good car but not perfect for every moment and every place it is not a luxury car it is only use for some work

5.0

It's fine and no problem.I enjoyed driving it.It is very well designed its very comfort.Very spacious and visibility of road is very much clear.

5.0

Very good car with all features and millage.Low maintenance, Long run, Space good, Family car, Good ac, Space good.

4.7

The car is in very good condition.New tyre condition.All orginal papers.The ragistration state is haryana.
All Wagon R User Reviews
2.0

Actually the car was bought used, It's a 2007 model with the f10d engine.I am about 6ft in height and the tallboy design helps with the ingress and egress.The car was bought mainly to learn driving in it.And it actually serves quite well as a city car, The compact dimensions mean that its quite easy to park in tight parking spots.Highway stability is decent upto 90 km/hr but at around 100 km/hr, The vehicle starts to feel unstable.The engine has great low end torque thereby making it easy to start in inclines, And it revs over 6200 rpm and the engine is quite l-o-u-d at that level.The gearbox has some synchro issues especially with the first gear so you actually have to double clutch to first (only when vehicle is moving)to make the gear lever move easily.Coming to interior, The plastic quality isn't that great and as such the car rattles quite a lot.Rear seat is pretty much unusable for me but i can manage a bit because of the massive headroom on offer.Front seats are good for the most part except on long drives, Where i get lower back pain.The exterior metal panels feel flimsy but are still better when compared to the newer age marutis, Although i know that exterior panels contribute very less in dissipating the energy when in the event of a crash.Also there are no airbags or abs in this model.I had a few instances where i had a tire lock up situation owing to hard braking but i managed to control by easing the brake pressure thereby regaining steering control, So in that way, It sort of actually teaches you on regulating brake pressure and helps you to be a better driver if that makes sense.The suspension is pretty beat up and there is quite a bit of rust on the underbody.The odo reads at 67000 kms as of writing this post and the car has served well for our purposes till now and we are now considering the altroz turbo petrol as our next car.

3.7

Well, my dad was riding a 10 year old i20, we just wanted to upgrade to a new small car , since he is 65 years old and need a small and automatic car. I did various researches and shortlisted Santro Magna & Wagon R VXI 1.2 Optional. I was shocked to know that Santro has dual Airbags in only Asta model (Does safety feature has any thing to do with models ?) Anyways, finalised Wagon R VXI Automatic (O) since this model is having dual front Airbags but ultimately purchased ZXI AMT.Drive was very good, engine was refined but i had slight issues with the Dealer, who gave me August 2019 Car on 23rd January and even i asked him about model, he said, for 2020 manufactured cars you have to wait for couple of months but when dealer is giving a 6 months old car, then atleast some discount should have been provided. Glad that vehicle is BS6 (As said by Dealer, but I don't trust them) There were some scratches / minor dent in front bumper, which i checked and told to Dealer (He replaced with another new car, Sad that same will be sold to someone else).I was dissapointed by the fact, if someone is buying a new car, then Dealers can make you fool.This is not my first car, prior to this our family already ownedToyota Qualis 2000Toyota Qualis 2003Toyota Qualis 2004Toyota Innova 2006Maruti Wagon R LXI 2007Hyundai I20 Asta 2009Hyundai i20 Asta 2013Hyundai I20 Sports 2013Maruti Wagon R ZXI AMT 2020

4.0

Wagon r is a much underrated car, But it is a very smart choice and value for money.Now i'm going for second car and having driven wagon r for 8+ years i do end up comparing my experience in terms of space- headroom, Legroom and superior drivers field of vision in wagon r where it hard to beat even today with so many options available in the market.Bt wagon r could have been even better, Had if it just come with safety features like tata nexon.But wagon r is a very comfortable family car none the less.Easy to drive, Superb field of vision that gives a lot of confidence when on road - this aspect is even better than many premium cars.Great head and leg rooms both in front and rear, Sufficient boot space.Though storage space on doors is desirable.Greatest advantage is zero maintenance and great milage.I constant get close to 18-19 kmpl in city driving.On an average it cost less than rs.5000 per annum.What i love about wagon r is big rear view mirrors.Also my original tyres lasted 45000+ kms, My original battery lasted more than 7 years.Overall wagon r is best car for those who are good behind wheels and can ignore it's lacking on safety features.Another plus point is when riding a wagonr one does not feel cluster phobic or suffocating inside the car even when driving with 4-5 persons and glass rolled up.

4.0

I have bought my wagon R vxi model on September 2015 and I have driven about 53000kms so far including a single day journey of 1100 kms from Kolhapur in Maharashtra to Chennai via Karnataka. Overall performance of the car is satisfactory. It is extremely comfortable and spacious and can easily accommodate 5 persons. Overall mileage is average . I am getting about 13 km/l in city and about 16-17 km/l on Highway. maintenance cost is satisfactory and if you put company synthetic Engine Oil it goes about 6500/- to 9500/- in one time service visit after 10000 kms.Positive 1. Commendable road visibility and big spacious interiors.2. Lot of room to put bottle holders and other items in the car.3. Hassle free city and highway driving4. Easy on maintainance5. Easy ingress for taller and women due to door opening at 90 Degree angle.6. Decent fuel tank capacity of 34 litresNegative :1. Poor plastic components in interior which start rattling after 15000 kms2. Mileage is less for a 998 cc car3. No bluetooth connectivity, multi functional steering wheel or touchscreen infotainment system at the time of purchase.4. Poor stock tyres that give away in 33000 kms.5. Poor cabin insulation for road noises.

4.3

Pros : Perfect family car...lot of space and good comfort. Powerful 1.2l engine , easy to handle , wide door , good suspension , good ground clearance , head lamp visibility is good , smooth gear shift , average mileage , killer boot space ..best in segment , looks good , wide mirror , leg room and kneene room is good , good stability and low maintenance .Overall it's a practical car .Cons:Fixed head rest , No rear a/c vents , a/c cooling takes time to fill in the cabin , plastic quality is not that great , Built quality is average , no alloys , music system is not good only two speakers , rear headrests is fixed , ties support is not that good no telescopic steering wheel , seat height adjustment is missing , no rpm meter for vxi varients..and no automatic climate control.Over all its one of the best car under 7 lacs and in Hatch back segment and also one of the best selling car in this segment. It mainly focus on practicality in Indian road conditions and attracts family buyer's. Als preferred for people who need lots of space , comfort , relaxed drive in city conditions and who are looking for easy to drive car. Stay safe and drive safely.
All Wagon R User Reviews