Maruti Wagon R On Road Price in Bellary
Change City
Rs. 6.23 - 7.95 Lakh
View January Offer
Petrol

(12)

CNG

(2)

Manual

(9)

Automatic

(5)
Wagon R LXI (Petrol)

Rs. 6,23,740

EMI Rs.9,906

View Breakup

LXI (Petrol)
Ex-Showroom Price
Rs. 5,18,052
RTO + Others
Rs. 80,505
Insurance
Rs. 25,183
On-Road Price
Rs. 6,23,740


EMI Rs.9,906

Highlights of the base variant
Transmission (Manual)
Drive Type (FWD)
Fabric Upholstery
View all

View January Offer

Wagon R LXI Opt (Petrol)

Rs. 6,30,878

EMI Rs.10,021

View Breakup

LXI Opt (Petrol)
Ex-Showroom Price
Rs. 5,24,052
RTO + Others
Rs. 81,438
Insurance
Rs. 25,388
On-Road Price
Rs. 6,30,878


EMI Rs.10,021

Additional features over previous variant
Airbags (Driver and Passenger)
View all

View January Offer

Wagon R VXI (Petrol)

Rs. 6,62,399

EMI Rs.10,528

View Breakup

VXI (Petrol)
Ex-Showroom Price
Rs. 5,50,552
RTO + Others
Rs. 85,556
Insurance
Rs. 26,291
On-Road Price
Rs. 6,62,399


EMI Rs.10,528

Additional features over previous variant
Power Windows (Front and Rear)
Speakers Front
No of Speakers (2)
View all

View January Offer

Wagon R VXI Opt (Petrol)

Rs. 6,70,725

EMI Rs.10,662

View Breakup

VXI Opt (Petrol)
Ex-Showroom Price
Rs. 5,57,552
RTO + Others
Rs. 86,644
Insurance
Rs. 26,529
On-Road Price
Rs. 6,70,725


EMI Rs.10,662

Additional features over previous variant
Airbags (Driver and Passenger)
View all

View January Offer

Wagon R VXI 1.2 (Petrol)

Rs. 6,94,801

EMI Rs.10,968

View Breakup

VXI 1.2 (Petrol)
Ex-Showroom Price
Rs. 5,73,552
RTO + Others
Rs. 89,130
Insurance
Rs. 32,119
On-Road Price
Rs. 6,94,801


EMI Rs.10,968

Additional features over previous variant
Audio Control
Airbags (Driver)
View all

View January Offer

Wagon R VXI Opt 1.2 (Petrol)

Rs. 7,03,139

EMI Rs.11,102

View Breakup

VXI Opt 1.2 (Petrol)
Ex-Showroom Price
Rs. 5,80,552
RTO + Others
Rs. 90,218
Insurance
Rs. 32,369
On-Road Price
Rs. 7,03,139


EMI Rs.11,102

Additional features over previous variant
Airbags (Driver and Passenger)
View all

View January Offer

Wagon R VXI AMT (Petrol)

Rs. 7,21,872

EMI Rs.11,484

View Breakup

VXI AMT (Petrol)
Ex-Showroom Price
Rs. 6,00,552
RTO + Others
Rs. 93,326
Insurance
Rs. 27,994
On-Road Price
Rs. 7,21,872


EMI Rs.11,484

Additional features over previous variant
Transmission (Automatic)
Airbags (Driver)
View all

View January Offer

Wagon R VXI AMT Opt (Petrol)

Rs. 7,30,198

EMI Rs.11,618

View Breakup

VXI AMT Opt (Petrol)
Ex-Showroom Price
Rs. 6,07,552
RTO + Others
Rs. 94,414
Insurance
Rs. 28,232
On-Road Price
Rs. 7,30,198


EMI Rs.11,618

Additional features over previous variant
Airbags (Driver and Passenger)
View all

View January Offer

Wagon R ZXI 1.2 (Petrol)

Rs. 7,35,896

EMI Rs.11,627

View Breakup

ZXI 1.2 (Petrol)
Ex-Showroom Price
Rs. 6,08,052
RTO + Others
Rs. 94,491
Insurance
Rs. 33,353
On-Road Price
Rs. 7,35,896


EMI Rs.11,627

Additional features over previous variant
Transmission (Manual)
Fog Lamps (Front)
Rear Wash Wiper
View all

View January Offer

Wagon R CNG LXI (CNG)

Rs. 7,36,740

EMI Rs.11,723

View Breakup

CNG LXI (CNG)
Ex-Showroom Price
Rs. 6,13,052
RTO + Others
Rs. 95,268
Insurance
Rs. 28,420
On-Road Price
Rs. 7,36,740


EMI Rs.11,723

Additional features over previous variant
Power Windows (Front)
Airbags (Driver)
View all

View January Offer

Wagon R CNG LXI Opt (CNG)

Rs. 7,43,877

EMI Rs.11,838

View Breakup

CNG LXI Opt (CNG)
Ex-Showroom Price
Rs. 6,19,052
RTO + Others
Rs. 96,201
Insurance
Rs. 28,624
On-Road Price
Rs. 7,43,877


EMI Rs.11,838

Additional features over previous variant
Airbags (Driver and Passenger)
View all

View January Offer

Wagon R VXI AMT 1.2 (Petrol)

Rs. 7,54,359

EMI Rs.11,924

View Breakup

VXI AMT 1.2 (Petrol)
Ex-Showroom Price
Rs. 6,23,552
RTO + Others
Rs. 96,900
Insurance
Rs. 33,907
On-Road Price
Rs. 7,54,359


EMI Rs.11,924

Additional features over previous variant
Transmission (Automatic)
Power Windows (Front and Rear)
Airbags (Driver)
View all

View January Offer

Wagon R VXI AMT Opt 1.2 (Petrol)

Rs. 7,62,698

EMI Rs.12,058

View Breakup

VXI AMT Opt 1.2 (Petrol)
Ex-Showroom Price
Rs. 6,30,552
RTO + Others
Rs. 97,988
Insurance
Rs. 34,158
On-Road Price
Rs. 7,62,698


EMI Rs.12,058

Additional features over previous variant
Airbags (Driver and Passenger)
View all

View January Offer

Wagon R ZXI AMT 1.2 (Petrol)

Rs. 7,95,455

EMI Rs.12,583

View Breakup

ZXI AMT 1.2 (Petrol)
Ex-Showroom Price
Rs. 6,58,052
RTO + Others
Rs. 1,02,261
Insurance
Rs. 35,142
On-Road Price
Rs. 7,95,455


EMI Rs.12,583

Additional features over previous variant
Transmission (Automatic)
Engine (1197 cc)
Mileage (20.52 Kmpl)
View all

View January Offer
No results found
View All Variants
View Less Variants
Maruti Wagon R Price in Bellary
Maruti Wagon R price starts at Rs. 5.18 Lakh in
Maruti showrooms in Bellary
. The
Maruti Wagon R top variant price
goes upto Rs. 6.58 Lakh in Bellary. We also have Wagon R on-road price breakup including ex-showroom price + RTO charges + Insurance and other costs for all of its variants.
Wagon R EMI
evaluates to Rs. 9,906 per month @ 10% for
Maruti Wagon R base variant price
. If you want to explore more cars in same price range then
Tata Tiago
priced at Rs. 5.19 Lakh and
Maruti Celerio
priced at Rs. 5.15 Lakh are
top competitors of Wagon R
to explore.
Wagon R Models On Road Price in Bellary
| Wagon R Models | On Road Price |
| --- | --- |
| Wagon R LXI | Rs. 6.23 Lakh |
| Wagon R LXI Opt | Rs. 6.30 Lakh |
| Wagon R VXI | Rs. 6.62 Lakh |
| Wagon R VXI Opt | Rs. 6.70 Lakh |
| Wagon R VXI 1.2 | Rs. 6.94 Lakh |
| Wagon R VXI Opt 1.2 | Rs. 7.03 Lakh |
| Wagon R VXI AMT | Rs. 7.21 Lakh |
| Wagon R VXI AMT Opt | Rs. 7.30 Lakh |
| Wagon R ZXI 1.2 | Rs. 7.35 Lakh |
| Wagon R CNG LXI | Rs. 7.36 Lakh |
| Wagon R CNG LXI Opt | Rs. 7.43 Lakh |
| Wagon R VXI AMT 1.2 | Rs. 7.54 Lakh |
| Wagon R VXI AMT Opt 1.2 | Rs. 7.62 Lakh |
| Wagon R ZXI AMT 1.2 | Rs. 7.95 Lakh |
Loans From Top Banks



EMI Starting from
Rs.
15,000
Price of Wagon R Competitors
Calculate Maruti Wagon R EMI
Wagon R Ownership Cost
Spare Parts Price
Service Cost
Front Bumper

Authorised Dealer Price :- 1792

GST Price :- 501

Total Price :- 2293

Rear Bumper

Authorised Dealer Price :- 3072

GST Price :- 860

Total Price :- 3932

Bonnet/Hood

Authorised Dealer Price :- 3712

GST Price :- 1039

Total Price :- 4751

Front Windshield Glass

Authorised Dealer Price :- 3968

GST Price :- 1111

Total Price :- 5079

Rear Windshield Glass

Authorised Dealer Price :- 2503

GST Price :- 700

Total Price :- 3203
View Wagon R Spare Parts Price List
Fuel Type
Transmission
Service Cost
Petrol
Manual

Rs.

1249
Petrol
Manual

Rs.

3899
Petrol
Manual

Rs.

3004
Petrol
Manual

Rs.

4665
Petrol
Manual

Rs.

3004
Calculations are based on 20000 km/year
Calculate
Running Cost

Maintenance Cost
Fill in your details below to get an approximate running cost
Fill in your details below to get an approximate maintenance cost
Maruti Car Dealers in Bellary
Change City
K P F

Modi Bhavan, Bellary Hospet Road, Alipura, Green Paradise Resort, Bellary, Karnataka 583101

kpf.bel.sal1@marutidealers.com

08392-244600, 08392-244600, 9449876007

Kpf - Nexa Premium Dealership

Infantry Road, Nexa Bellary. KPF PVT LTD, Bellary, Karnataka 583104

kpf.bel.ceo@marutidealers.com

8392-241200, 241300, 9480697305

Muneer Enterprises Private Limited

Badravati Complex, Opp. HP Petrol Pump, Near KSRTC new Bus stand, Bellary, Karnataka 583212

7026609455
Maruti Wagon R Overview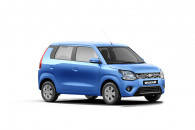 Wagon R User Reviews
All

Comfort (232)

Mileage (152)

Maintenance (139)

Performance (94)

Space (81)

Safety (72)

Small (67)

Experience (57)

Looks (57)

Service (56)

Engine (51)
2.0

Actually the car was bought used, It's a 2007 model with the f10d engine.I am about 6ft in height and the tallboy design helps with the ingress and egress.The car was bought mainly to learn driving in it.And it actually serves quite well as a city car, The compact dimensions mean that its quite easy to park in tight parking spots.Highway stability is decent upto 90 km/hr but at around 100 km/hr, The vehicle starts to feel unstable.The engine has great low end torque thereby making it easy to start in inclines, And it revs over 6200 rpm and the engine is quite l-o-u-d at that level.The gearbox has some synchro issues especially with the first gear so you actually have to double clutch to first (only when vehicle is moving)to make the gear lever move easily.Coming to interior, The plastic quality isn't that great and as such the car rattles quite a lot.Rear seat is pretty much unusable for me but i can manage a bit because of the massive headroom on offer.Front seats are good for the most part except on long drives, Where i get lower back pain.The exterior metal panels feel flimsy but are still better when compared to the newer age marutis, Although i know that exterior panels contribute very less in dissipating the energy when in the event of a crash.Also there are no airbags or abs in this model.I had a few instances where i had a tire lock up situation owing to hard braking but i managed to control by easing the brake pressure thereby regaining steering control, So in that way, It sort of actually teaches you on regulating brake pressure and helps you to be a better driver if that makes sense.The suspension is pretty beat up and there is quite a bit of rust on the underbody.The odo reads at 67000 kms as of writing this post and the car has served well for our purposes till now and we are now considering the altroz turbo petrol as our next car.

3.7

Well, my dad was riding a 10 year old i20, we just wanted to upgrade to a new small car , since he is 65 years old and need a small and automatic car. I did various researches and shortlisted Santro Magna & Wagon R VXI 1.2 Optional. I was shocked to know that Santro has dual Airbags in only Asta model (Does safety feature has any thing to do with models ?) Anyways, finalised Wagon R VXI Automatic (O) since this model is having dual front Airbags but ultimately purchased ZXI AMT.Drive was very good, engine was refined but i had slight issues with the Dealer, who gave me August 2019 Car on 23rd January and even i asked him about model, he said, for 2020 manufactured cars you have to wait for couple of months but when dealer is giving a 6 months old car, then atleast some discount should have been provided. Glad that vehicle is BS6 (As said by Dealer, but I don't trust them) There were some scratches / minor dent in front bumper, which i checked and told to Dealer (He replaced with another new car, Sad that same will be sold to someone else).I was dissapointed by the fact, if someone is buying a new car, then Dealers can make you fool.This is not my first car, prior to this our family already ownedToyota Qualis 2000Toyota Qualis 2003Toyota Qualis 2004Toyota Innova 2006Maruti Wagon R LXI 2007Hyundai I20 Asta 2009Hyundai i20 Asta 2013Hyundai I20 Sports 2013Maruti Wagon R ZXI AMT 2020

4.0

Wagon r is a much underrated car, But it is a very smart choice and value for money.Now i'm going for second car and having driven wagon r for 8+ years i do end up comparing my experience in terms of space- headroom, Legroom and superior drivers field of vision in wagon r where it hard to beat even today with so many options available in the market.Bt wagon r could have been even better, Had if it just come with safety features like tata nexon.But wagon r is a very comfortable family car none the less.Easy to drive, Superb field of vision that gives a lot of confidence when on road - this aspect is even better than many premium cars.Great head and leg rooms both in front and rear, Sufficient boot space.Though storage space on doors is desirable.Greatest advantage is zero maintenance and great milage.I constant get close to 18-19 kmpl in city driving.On an average it cost less than rs.5000 per annum.What i love about wagon r is big rear view mirrors.Also my original tyres lasted 45000+ kms, My original battery lasted more than 7 years.Overall wagon r is best car for those who are good behind wheels and can ignore it's lacking on safety features.Another plus point is when riding a wagonr one does not feel cluster phobic or suffocating inside the car even when driving with 4-5 persons and glass rolled up.

4.0

I have bought my wagon R vxi model on September 2015 and I have driven about 53000kms so far including a single day journey of 1100 kms from Kolhapur in Maharashtra to Chennai via Karnataka. Overall performance of the car is satisfactory. It is extremely comfortable and spacious and can easily accommodate 5 persons. Overall mileage is average . I am getting about 13 km/l in city and about 16-17 km/l on Highway. maintenance cost is satisfactory and if you put company synthetic Engine Oil it goes about 6500/- to 9500/- in one time service visit after 10000 kms.Positive 1. Commendable road visibility and big spacious interiors.2. Lot of room to put bottle holders and other items in the car.3. Hassle free city and highway driving4. Easy on maintainance5. Easy ingress for taller and women due to door opening at 90 Degree angle.6. Decent fuel tank capacity of 34 litresNegative :1. Poor plastic components in interior which start rattling after 15000 kms2. Mileage is less for a 998 cc car3. No bluetooth connectivity, multi functional steering wheel or touchscreen infotainment system at the time of purchase.4. Poor stock tyres that give away in 33000 kms.5. Poor cabin insulation for road noises.

1.7

The car do look like a box ,there is nothing glamorous about the car even the new version are becoming uglier generation by generation .Do not give comfort of even sitting for someone of height 6 ft .The boot space is so less (yeah! Yous hould be like what do you want for that price) but yes the dashboard parts continously hit your knees ,not comfortable at all still I am not talking about the rear seats they are even worse ,engine sometimes gets dead during the shifting of gears (Not only me I have seen every driver struggling on that).There is no safety measures in the car( My uncle once met with accident in our car fortunately he was thrown away from the car when the car fall into a ditch ,if he was not he surely had died ,the car was turned into a heap of metal junk ,there ia not even body skeleton it was like when a kabadiwala come to your house for garbage and he crush everything to be fitted in his bag ,the car was no less than it..Hope they pay attention to safety features and add some air bags and body skeleton to the car .Yes suzuki car are meant for mileage ( we have seen ad on like "kitna deti hai" ) but seriously not only mileage counts plus don"t make it like a box .
Wagon R User Reviews
Have a question in mind?
Get Answers from 7 Lakh+ owners and auto-experts
×

Ask your question from Wagon R owners and experts
Your Question should contain at least 5 characters
Submit
Cancel
Second Hand Maruti Wagon R
Save Big on Used Wagon R
Maruti Wagon R News Updates
Recently Launched
Tata Punch - Priced at Rs. 5.64 Lakh | Launched on 18 Oct 2021
Maruti Wagon R Price FAQs
What is the ex-showroom price of the top petrol variant of Maruti Wagon R in Bellary?
What is the Maruti Wagon R on-road price Bellary?
The on-road price of the base variant of Maruti Wagon R in Bellary is Rs 6,23,740.
What are the RTO charges for Maruti Wagon R in Bellary?
The RTO Charges for the base variant of Maruti Wagon R in Bellary will be Rs 80,505.
What is the insurance cost of the Maruti Wagon R in Bellary?
The insurance cost of the base variant of Maruti Wagon R in Bellary is Rs. 25,183.
What is the Ex-showroom price of Maruti Wagon R in Bellary?
The Ex-showroom price of the base variant of Maruti Wagon R in Bellary is Rs 5,18,052.
What will be the EMI & Downpayment of Maruti Wagon R?
The Downpayment of the base variant of Maruti Wagon R is Rs 170464 and the EMI is 10,021.
Disclaimer
Disclaimer : The data/calculations generated herein is completely and solely based on the information/details provided herein in response to the questions specified by Girnar Software Pvt. Ltd. on its ZigWheels.com Site is only for user's convenience and information purposes in Indian Currency.Read More