Maruti Ciaz Images
All

(50)

Exterior

(16)

Interior

(27)

360 View

(2)

Videos

(3)

Colours

(7)
Front 1/4 left

Side view

Rear 3/4 left

Front

Rear back

Top view

Bumper

Fog lamp with control

Headlamp

Tail lamp

ORVM

Door handles

Wheel arch

Wiper with full windshield

Rear 3/4 Right

Full dashboard center

Full dashboard center

Steering close up

Steering close up

Ignition

Steering buttons left

Instrumentation console on start-up

Trunk Open

AC controls

Gear lever

Gear lever

Audio System

Air bags (3D)

Air bags (3D)

Engine

Engine

Boot with standard luggage

Cabin view

Cabin view

Sunroof controls with rear view mirror

rear and side windows curtain

Rear interior from right side door

Steering tilt and telescopic adjustments

Right Corner Front View

Front passenger's view

Rear ac controls

Seat Headrest

Pearl Snow White

Pearl Sangria Red

Pearl Midnight Black

Pearl Metallic Dignity Brown

Nexa Blue

Premium Silver Metallic

Magma Grey
Front 1/4 left

Side view

Rear 3/4 left

Front

Rear back

Top view

Bumper

Fog lamp with control

Headlamp

Tail lamp

ORVM

Door handles

Wheel arch

Wiper with full windshield

Rear 3/4 Right
Full dashboard center

Full dashboard center

Steering close up

Steering close up

Ignition

Steering buttons left

Instrumentation console on start-up

Trunk Open

AC controls

Gear lever

Gear lever

Audio System

Air bags (3D)

Air bags (3D)

Engine

Engine

Boot with standard luggage

Cabin view

Cabin view

Sunroof controls with rear view mirror

rear and side windows curtain

Rear interior from right side door

Steering tilt and telescopic adjustments

Right Corner Front View

Front passenger's view

Rear ac controls

Seat Headrest
Pearl Snow White

Pearl Sangria Red

Pearl Midnight Black

Pearl Metallic Dignity Brown

Nexa Blue

Premium Silver Metallic

Magma Grey
Ciaz Pictures
Find high-quality images of Maruti Ciaz. New Maruti Ciaz has 16 exterior images, 27 interior images and 360-degree views. Checkout the front view, rear view, side view, top view & stylish photo galleries of Ciaz. Maruti Ciaz is available in 7 colours also.
To get more details of Maruti Ciaz, download Zigwheels App.
Maruti Ciaz Overview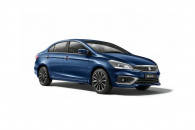 Mileage

Comfort

Performance

+ 3 more
Maintenance Cost

Safety

Features & Styling
Preferred For : Family & Daily Commute
47% of users have given a rating of 4.5 and above
3.7

Suspension is not good enough.Petrol range is showing incorrect and there is vast variation in it for about 10 km of ride the range came down to 82 from 184.

4.7

Good but my mileage is low as compared to what other people get, Good car in its segment, Internal spacing is very good

4.8

Superb car. Love to go on long drives.come with a spoiler.great mileage. Couldn't ask for more.hybrid too

5.0

Overall performance, Mileage, Style pickup, Colour, Design, Looks, Price, Affordability, Luxury, Comfort everything is ok

5.0

A very good car for office to home and vice versa.Gives you a classy and dignified feel.Poor ground clearance, Very stable on highway at high speed.Inside it's very roomy and comfortable.Excellent boot space.Good milage.
All Ciaz User Reviews
4.3

Ciaz is not for car enthusiasts.It's a very comfortable car with a lot of legroom and 3 adults can sit comfortably in the rear seat as there isn't a big h**p in the middle.The cabin is very spacious and the beige treatment in the interior gives a good airy feel.The engine is very refined and has good amount of initial torque.But at the final range there isn't enough power output.The engine loves to rev a lot.I personally feel that msil could have given it a 6th gear.The clutch is super-duper light and shifting is so easy.It is an easy car to drive in the city as well as on highways.The steering is very light that it doesn't give any feel or feedback.The suspension is on the softer side and absorbs most of the bumps and potholes very well.There are few issues with the car, That is, There are panel gaps everywhere.Actually the panel gaps are big and the fit and finish isn't great.The quality levels could have been improved both in the interior as well as exterior.Overall the car suits your parents very well but it doesn't inspire the youngsters because ciaz is much of a comfort oriented car and not a sporty one.

4.3

As this is comfort oriented Sedan, all of its components incl. engine is tuned in such a way. Therefore don't expect any sort of performance. If you floor the throttle the sound of the engine becomes so loud that some wouldn't be liking it. But personally I like its sound when I floor it. Suspension in tuned in such a way that it offers maximum comfort at the cost of handling. Some defects in the vehicle that I found was poor quality of plastics used and the sound from the speakers are below average that you couldn't increase the volume because the rattling all around the cabin is obnoxious

3.3

This car is a cool sedan you will get a feel of seating in a lap of luxury just like any other premium brand. The sole reason I am disappointed is its super soft suspension that gets pressed if we have rear passengers affecting the ground clearance, this vehicle I own is being tested @140kmph and have found it severing while at that top notch that means Suzuki has lacked some aerodynamics too. The worst part which now is being cured in the updated model is its headlight in my model it's ridiculous. By the way I own a ZXI+

2.0

First of all petrol mileage is nowhere near what was promised!! Despite talk claims of smart hybrid. Looks cosmetic with no real value addition. Infotainment is a disaster on 2 accounts 1) They sold a chip for 10k which is supposed to be a GPS along with car. It is totally useless. We can enter only the addresses stored therein. You can"t enter any address which you need to go. Most of the important streets, locations are not even stored in that. May be only New Delhi NCR is mapped. Why then they are selling cars in Chennai and south? 2) First we were told infotainment radio and music features can be controlled by using mobile as remote by downloading an app. After car was bought we were told there is no app which can connect music radio in the car. The lack of this in a premium car is disappointing. Other premium cars have it. They charge Rs 13 lakhs. But these basic features absent.K

4.3

Good leg space , boot space , smooth and comfortable while driving . Mileage on highways 18 km/ltr unlike they promised and very poor on cities . You get a pleasant drive if 2-3 people sitting . If 4-5 people sitting or if you have extra load inside boot then car lags much and wont give you a smooth drive especially with those suspensions which act good with less load but when load is heavy then giving poor performance . I owns a petrol automatic variant .
All Ciaz User Reviews
Images of Ciaz Competitors
5 Offers Available