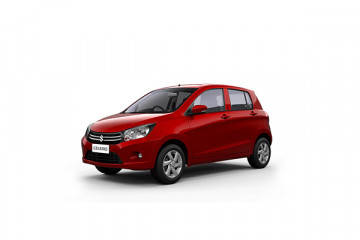 Rs. 4.65 - 6.00 Lakh Ex-showroom Price,

Delhi
View September Offers
View On Road Price
Maruti Celerio Spare Parts Price List
| Maruti Celerio Parts | Authorised Dealer Price | Extra GST 28% | Total Price |
| --- | --- | --- | --- |
| Front Bumper | 1155 | 323 | 1478 |
| Rear Bumper | 2222 | 622 | 2844 |
| Bonnet/Hood | 3413 | 955 | 4368 |
| Front Windshield Glass | 3110 | 870 | 3980 |
| Rear Windshield Glass | 2300 | 644 | 2944 |
| Fender (Left or Right) | 1200 | 336 | 1536 |
| Head Light (Left or Right ) | 2000 | 560 | 2560 |
| Tail Light (Left or Right) | 1041 | 291 | 1332 |
| Front Door (Left or Right) | 4790 | 1341 | 6131 |
| Rear Door (Left or Right) | 5050 | 1414 | 6464 |
| Radiator | 4410 | 1234 | 5644 |
| Intercooler | 3168 | 887 | 4055 |
| Dicky | 4266 | 1194 | 5460 |
| Condensor | 3850 | 1078 | 4928 |
| Front Door Handle (Outer) | 168 | 47 | 215 |
| Rear View Mirror | 486 | 136 | 622 |
| Back Panel | 280 | 78 | 358 |
| Fog Lamp Assembly | 747 | 209 | 956 |
| Front Panel | 280 | 78 | 358 |
| Bulb | 190 | 53 | 243 |
| Accessory belt | 440 | 123 | 563 |
| Head Light LED (Left Or Right ) | 17066 | 4778 | 21844 |
| BACK DOOR | 5066 | 1418 | 6484 |
| Oil Filter | 373 | 104 | 477 |
| Air Filter | 186 | 52 | 238 |
| Timing Chain | 935 | 261 | 1196 |
| Fuel Filter | 270 | 75 | 345 |
| Spark Plug | 100 | 28 | 128 |
| Cylinder Kit | 10655 | 2983 | 13638 |
| Clutch Plate | 1899 | 531 | 2430 |
| Combination Switch | 450 | 126 | 576 |
| Disc Brake Front | 920 | 257 | 1177 |
| Disc Brake Rear | 920 | 257 | 1177 |
| Shock Absorber Set | 2561 | 717 | 3278 |
| Front Brake Pads | 452 | 126 | 578 |
| Rear Brake Pads | 452 | 126 | 578 |
| Fuel Tank | 16925 | 4739 | 21664 |
| Side View Mirror | 855 | 239 | 1094 |
| Horn | 320 | 89 | 409 |
| Wipers | 295 | 82 | 377 |
*These are estimated price and may vary based on location. Price mention above is in Rs
*SGST (State GST) + CGST (Central GST) = GST
Celerio Service cost
Fuel Type
Transmission
Service Cost
Petrol
Manual

Rs.

1997
Petrol
Manual

Rs.

3757
Petrol
Manual

Rs.

4452
Petrol
Manual

Rs.

4157
Petrol
Manual

Rs.

4902
Calculations are based on 20000 km/year
Recently Asked User Questions and Answers
Q. Is available Amt variant?
The Maruti Celerio is available in Automatic transmission. It gets a 1.0-liter three-cylinder petrol engine (68PS/90Nm) but its output drops down to 60PS/78Nm when used on CNG. Maruti offers it with a 5-speed manual or AMT option. The VXi AMT, VXI AMT Optional, ZXI AMT, ZXI AMT Optional are the variants available in Automatic transmission.
Q. How is auto gear car and how about maintenance?
Extracting the engine's performance through the AMT is a bit of an issue though. The Celerio comes with drive-by-wire technology so gearshifts change according to the way you drive. But the rubber-band effect is amply evident, especially in the lower gears. The lag as the engine changes speeds is just a bit too much for comfort in a continuous gear changing environment when you tend to feather the throttle. It isn't easy to predict a gear change and so you tend to focus on the revs as you begin to map these changes. It gets jerky at low revs while the gearbox decides to downshift or not. Power available on tap becomes a bit unpredictable because of the dim-witted gearbox and slotting into gaps in traffic requires some planning as a result. A simple solution is to drive in manual mode where you pull the gear lever for an upshift and push it for a downshift. It makes the car more predictable as you can hold it to the redline and extract more performance out of the motor. It will affect its economy though. But set yourself into an easy driving rhythm and the Celerio AMT will sip fuel with the utmost restraint. The on-board mileage indicator gave us a reading of 17kmpl in a mix of city and highway traffic and it has an ARAI certified economy of 23.1kmpl. That's very impressive. Moreover, for the maintenance, we would suggest you get in touch with the nearest authorized service centre of Maruti in your city as they may assist you better with the maintenance cost and other details.
View More Questions
All Celerio Questions and Answers
Mileage

Performance

Maintenance Cost

+ 3 more
Comfort

Safety

Features & Styling
Preferred For : Family & Daily Commute
31% of users have given a rating of 4.5 and above
Filter by :

All

Mileage (56)

Comfort (43)

Maintenance (26)

Performance (24)

Engine (21)

Small (17)

Space (15)

AMT (15)

Power (15)

Experience (15)

Looks (15)
5.0

Smooth experience, The transmition is smooth also i am happy with mileage it is easier to dirve in traffic also and i feel happy.

3.7

After driving few models of automatic cars line wagonr, Alto k10, Redigo, Kwid and santro, I felt celerio automatic variant is best in terms of performance, Mileage and drive comfort in 1000cc hatchback segment.Compared to the model i purchased in the year 2018, The present day celerio ags has some added features to overcome the interior styling, Comfort and slight performance backdrops.

4.8

I am driving of this car since last 4 Years and car not taken extra services or repair cost....Only Regular service is sufficient to maintain of Car driving

4.8

I am driving of this car since last 4 Years and car not taken extra services or repair cost....Only Regular service is sufficient to maintain of Car driving

4.0

Good vehicle in this segment.Driving is pleasure in this user friendly model.Who fad up with clutch and gear.It is a best vehicles.
All Celerio User Reviews
5.0

Our Datsun Go completed its 4.5 years in January 2019,and we were quite bored with the old car.We were looking for a compact automatic car which could also be used by the ladies in the house.We zeroed in on the smallest automatic available in the Indian market...Alto K 10 AMT. The Maruti guys were called home and we did the booking for Alto K10 AMT.The research was still going on weighing the pros and cons.It was always on the back of my mind that there will be no premium feature even in the top trim.We still had some time so I searched for the next small thing which was Celerio.Now the features which distinguish it from tiny Alto are R 14 tyres, Anti lock braking system (ABS) ,Rear Wiper , all four power windows and bigger cabin which means comfortable seating and storage spaces.All this came at a price of just 1.5 lacs over the earlier choice so we immediately called the dealer and asked him if we could change our selection, and he was more than happy and called this as a fine decision making by us.Now on the delivery day I bargained for the leather steering cover and the leather seat covers which took little extra time in the handover but it was worth.The cabin is quieter, air conditioning is comfortable even in very high ambient temperature conditions.Music system is awesome with bluetooth connectivity , 4 speakers and steering mounted audio controls.Gear shifts in amt mode are smooth.Torque and power are good enough for the size of the car.Ground clearance and suspension is good to take any terrain.ABS allows very good short distance braking.Front , rear window wipers and defogger provides an efficient system to tackle heavy weather be it rain,dust or cold.Talking about more premium features it has automatic speed sensing door locks, seat belt warning for driver and front passenger, high speed warnings, door ajar warning, automatic cabin light, creep function which is disabled if there is an ajar door.For safety there are 2 airbags in front as opposed to only 1 in the The Alto K10 top trim.It's been a little over 1 year and I am still amazed with the choice I made.Overall it is a thrilling yet economical option.Don't think twice just go for it.

4.7

Purchased for city commute and occasional highway drive because it had better looks than Wagon-r. On petrol the mileage in city is around 18-20 and on highway 21-23(again depends on driving style). But in CNG the mileage in city is 22-25 and on highway its around 26-30(speed must be in between 80-100). Interior is average, not very basic not too fancy. Gets 2 airbags but lacks high speed stability due to less kurb weight. Engine performs really well, there is lag in the bottom end but really picks up pace after 3000rpm. I drove it at around 150kmph on petrol and 130kmph on CNG. Reliability of engine is good, doesnt burn much oil even if the car is on CNG mode for months(good practice is to drive it on pertol for 15-20km once a week). Speaking of built quality, its the same as expected from a maruti car. It rattles and squeaks on bad roads but is silent on good roads. Braking is not good nor bad but decent and ABS works well(only engages on places it should). Comfort too is decent for front as well as rear passengers compared to Wagon-r as the rear seats in celerio are not upright(not in kind of bench format). One can easily cover 350+kms without a break. Gearbox too is slick shifting and perfectly matches with the rev happy k10B engine(just judders a bit in reverse gear). Talking about sales and services the my celerio VXI(optional) varient costed me 5.71lakh (18thousand extra for passenger side airbag and ABS which is now mandatory in every car). Sales are good as parts and service stations are available in almost every city of India. The first major paid service costed me 5,516rs after 13000km(which is not bad as oil, oil filter, cabin air filter, intake filter, throttle body cleaning, replacing all spark plugs, wheel alignment and balancing, etc was done). According to me its better alternative than Wangon-r in all aspects. Thank you

1.3

IT WILL NOT GIVE YOU MILEAGE BECAUSE I BOUGHT IT DUE TO MILEAGE AND ALSO TRY TO BUY MANUAL OVER AMT.I AM GETTING MILEAGE OF 14,15 IN CITY AND 18,19 ON HIGHWAY.YOU'LL HAVE TO BE REALLY LIGHT ON FOOT TO GET MILEAGE.Try to go for more powerful car LIKE SWIFT PETROL OR WAGONR 1.2 PETROL(BODY IS THERE).If you're looking for a car in which you get instant acceleration.Good performance than it not for you.Once at speed of 30 my car hit ford Figo (nothing happened to it) but my front bumper came out with several cracks and fender bend.Once again a dog instantly came in infront of my car at speed of 60 kmh and then it hit him a little and my grill +crack on bumper +fog lamp position and bumper was lowered by that.Not satisfied with this car at all.After this I am buying another but not Maruti at all very bad build quality.Service experience is all really bad and they don't listen to you.

4.0

A second class family car with basic features.In this segment its best to get.But when it comes to build quality celerio is outperforms.I like the way it drives.Owner since 2016 manual transmission.Petrol variant.Abs brake and airbags are available at the starting 555k bugs.Performance wise this is a 1.0 litre engine and the output is decent as a family drive or long tour.Getting approx 21 kmpl is quite efficient.Enjoy those smooth driving with easy driving technology by the amt system.No lagging and tiredness on long drive.Feels relaxed after miles.Thanks to the better seating posture and comfort interior platform.The biggest thing is that interior.It is well crafted to enjoy the views and drives.All power windows and stereo setup is beautiful.Cealing is good and the bonnet is wide.But the front view is easy to watch.

4.3

About Celerio X zxi: 1. Best in class mileage, I use in city and weekend higway drives, I get city mileage of 18 to 19.2kmpl and in highway average 20.5 to 21.4 (speed below 90kmph)2. Cost: Service cost after all the free services, they charge 4k (including1500/- for engine oil too)3. Comfortable: Comfortable for 4 heavy people. and the drive is butter smooth.4. Power: Drive is butter smooth, but it lacks power for immediate pickup.5. Speed: As I tested its top speed till 165kmph, but feeling uncontrolled and scary after 145kmph, untill then it looks planted.Overall, best city and long drive car for 5 people. But power does not come immediately, it takes time when car is fully loaded.
All Celerio User Reviews