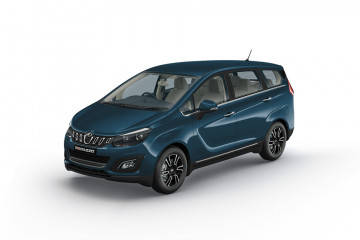 Rs. 12.80 - 15.00 Lakh Ex-showroom Price,

Delhi
View January Offer
View On Road Price
Mahindra Marazzo Spare Parts Price List
| Mahindra Marazzo Parts | Authorised Dealer Price | Extra GST 28% | Total Price |
| --- | --- | --- | --- |
| Front Bumper | 9507 | 2661 | 12168 |
| Rear Bumper | 7641 | 2139 | 9780 |
| Bonnet/Hood | 10867 | 3042 | 13909 |
| Front Windshield Glass | 14739 | 4126 | 18865 |
| Rear Windshield Glass | 8828 | 2471 | 11299 |
| Fender (Left or Right) | 7166 | 2006 | 9172 |
| Head Light (Left or Right ) | 7737 | 2166 | 9903 |
| Tail Light (Left or Right) | 4642 | 1299 | 5941 |
| Front Door (Left or Right) | 10818 | 3029 | 13847 |
| Rear Door (Left or Right) | 9661 | 2705 | 12366 |
| Radiator | 8541 | 2391 | 10932 |
| Intercooler | 650 | 182 | 832 |
| Dicky | 25785 | 7219 | 33004 |
| Condensor | 19511 | 5463 | 24974 |
| Front Door Handle (Outer) | 867 | 242 | 1109 |
| Rear View Mirror | 1774 | 496 | 2270 |
| Back Panel | 7166 | 2006 | 9172 |
| Fog Lamp Assembly | 3520 | 985 | 4505 |
| Front Panel | 7166 | 2006 | 9172 |
| Bulb | 849 | 237 | 1086 |
| Fog Lamp (Left Or Right) | 6170 | 1727 | 7897 |
| Accessory belt | 3192 | 893 | 4085 |
| Oil Filter | 242 | 67 | 309 |
| Air Filter | 654 | 183 | 837 |
| Timing Chain | 5061 | 1417 | 6478 |
| Fuel Filter | 296 | 82 | 378 |
| Cylinder Kit | 47914 | 13415 | 61329 |
| Clutch Plate | 3274 | 916 | 4190 |
| Combination Switch | 2897 | 811 | 3708 |
| Disc Brake Front | 2476 | 693 | 3169 |
| Disc Brake Rear | 2476 | 693 | 3169 |
| Shock Absorber Set | 3287 | 920 | 4207 |
| Front Brake Pads | 3393 | 950 | 4343 |
| Rear Brake Pads | 3393 | 950 | 4343 |
| Side View Mirror | 7737 | 2166 | 9903 |
| Silencer Assly | 28862 | 8081 | 36943 |
| Horn | 532 | 148 | 680 |
| Engine Guard | 6927 | 1939 | 8866 |
| Wipers | 813 | 227 | 1040 |
| Engine Oil | 810 | 226 | 1036 |
| Tail Light LED (Left Or Right) | 3690 | 1033 | 4723 |
| Spark Plug | 322 | 90 | 412 |
| Fuel Tank | 12450 | 3486 | 15936 |
*These are estimated price and may vary based on location. Price mention above is in Rs
*SGST (State GST) + CGST (Central GST) = GST
Marazzo Service cost
Fuel Type
Transmission
Service Cost
Diesel
Manual

Rs.

5013
Diesel
Manual

Rs.

5756
Diesel
Manual

Rs.

5013
Diesel
Manual

Rs.

8712
Diesel
Manual

Rs.

7213
Diesel
Manual

Rs.

8712
Calculations are based on 20000 km/year
Recently Asked User Questions and Answers
Q. Mostly wil buy m6 variant bt wanted to understand from you that hw it is doing nw any rattiling noise ..hw is performance of Ac.. engine... gearbox...what abt front ground clarance is it n isssue?
The 1.5-litre engine would manage this full-sized MUV when it's fully loaded. we're quite happy to say that in town and on the highway, loaded up with seven passengers, it faced no problems at all. In town, it's completely at ease even when fully loaded, with the 300Nm of torque cleanly pulling anything we could throw at it at city speeds. The only place where you need to start working the gearbox, using 2nd and 3rd gear more, is when climbing a ghat. Thankfully, the six-speed gearbox is smooth in operation, and driving up slopes was never a problem with the shorter lower ratios giving the engine good drive. This new D15 engine is also quite a refined mill that stays fairly quiet at idle, though it does make its presence audibly felt when revs rise. Its power delivery is delightful - there's a friendly, linear spread of torque and barely any spike in the drive when the turbo kicks in. The suspension is another area where Mahindra seems to have really done its homework. The Marazzo rides over practically any road really comfortably. Bumps are taken care of with ease and with practically no complaint, in the form of bangs or thuds, from the wheel wells. The only complaint we had was a slight vibration felt through the floorboards caused by smaller imperfections in the road. Even when fully loaded, the Marazzo's cabin remained nicely composed with barely any side-to-side or up-and-down motion, something that long ladder-frame vehicles like its predecessor, the Xylo, tended to suffer from. Moreover, for a better understanding of compatibility and driving comfort, we would suggest you to take a test drive. Follow the link and select your desired city for dealership.
Q. How is the cabin noise for Mahindra Marazzo, is it Quiet or not?
The Marazzo is offered with a 1.5-liter diesel engine rated at 122PS and 300Nm. The engine is quite a refined mill that stays fairly quiet at idle, though it does make its presence audibly felt when revs rise. Moreover, the cabin insulation is pretty good in the MPV and you do not hear the engine rattling or road noise in the cabin. For a better understanding of performance and driving comfort, we would suggest you to take a test ride. Follow the link and select your desired city for dealership details.
Yes. it is super quiet. but not so absurdly quiet. you can hear the horns of other vehicles so don't worry of not hearing horns
More Questions
Marazzo Questions and Answers
Marazzo User Reviews
All

Comfort (9)

Power (7)

Price (7)

Experience (5)

Pickup (4)

Engine (4)

Mileage (4)

Small (3)

Ground Clearance (3)

Looks (3)

Gear (3)
5.0

After lots of speculation and apprehension finally we bought our 2nd family car, A marazzo M8. After driving 1000 km in the first week ; now i share my view on this car. My requirement was a 7 seater good car in a decent price . Innova is good, but was out of budget for me. I had to decide among Ertiga, Lodgy, marazzo, BRV and lower variant of Hexa. Marazzo was chosen after a lot of R & R . It proved to be Superb sedan comfort in a MPV at a reasonable price. The ride quality is really very good. Driving is superb , easy steering, light pedals,easy visibility. Gear Transmission is smooth and braking response is very gently precise. I did not have to worry for the path holes or speed breaker , because suspension is the best in class I have ever driven.Regarding engine power: it generated so much power that it glided my fully loaded(7 adults) ahead of crystas ,XUV 500 etc on the highway. Look is definitely a personal choice. But with practicability of cornering lights,infotainment screen, good supporting seats... I will say Marazzo gave me the best value of my hard earn money.I am impressed with this crafted piece of good automobile engineering.Experience after 8 months(19000km): my experience and view remains same about Marazzo. Each time I drive this car , m actually impressed with the responsiveness of this car. After completing many family outings with this companion, I can say that I purchased a great value car.

5.0

Marazzo is a beautifully crafted car keeping in mind the quality of ride for the passengers .The ride quality is too good and as far the cabin noise is considered its far better than petrol cars. Having a diesel engine under its hood and having a quite cabin is a perfectly match of refined engine and good insulation..On the mileage front without AC with an average speed of 70Km-80km one can easily churn out 20KM/L whereas with full AC on one can easily get between 18 -18.5 KM/L. In city the mileage drops to a decent 16Km/l to 17km/l with AC. In a whole Mahindra Marazzo is an excellent package of features bundled together. After a long time mahindra has put a perfectly balanced MPV in the market

5.0

It's a great and one of the most refined car by Mahindra, as it have many luxurious features and material quality in a good value as compare to others.. Marazzo have developed on ladder framework, It also looks much bigger, more muscular, more stylish, more powerful and the mpv promising features which are also beautifully packed in this car such as It is more specious, comfortable and fuel efficient car...I think its a best car between ertiga and innova which has both mpv as well as suv features which makes it excellent package by Mahindra

5.0

Took test drive out of curiosity and booked it immediately... Thanks to Indeed motors, indiranagar, Bangalore.. Awesome cool guys with great product knowledge and easy for processing documentation... And more importantly got more than online calculated price for my previous car. Marazzo is family car... Driving experience is great handling is awesome ease.. Spacious and adult third row- you know what I mean there:).. M8 has all the features and value for money.. Go ahead if you are thinking of 7 seater for family...

5.0

I purchased Marrazzo M8 as an upgrade from a 5 seater car. Below is the categorized feedback after driving 30k . ProsPerfomance 1. Very smooth2. Has economy mode that improves mileage3. Great pickup4. Good brakingComfort1. Quiet cabin 2. Comfortable seating even in the 3rd row.3. Great Rear AC4. Automatic Climate control 5. Tall seating 6. Light steering and easy to handleConsComfort 1. Slight body roll (which 5 seaters usually don't have)
Marazzo User Reviews