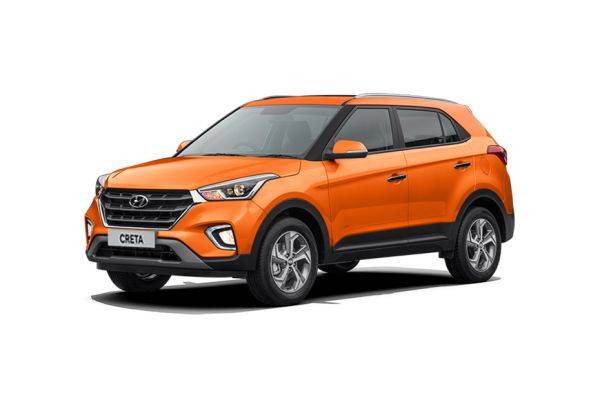 Hyundai Creta 2015-2020
Rs. 9.15 Lakh
Discontinued Model since 16 Mar 2020
---
About Hyundai Creta 2015-2020
We've just compared the Hyundai Creta to two of its biggest rivals - the Maruti Suzuki S-Cross and the Renault Captur. Which one's the right choice for you? You can find out by heading over to our detailed comparison review. In case you're looking for a detailed review of the updated Creta, you can find that here. The Creta also had the distinction of being Hyundai's 8 Millionth car in India. The South Korean brand achieved the feat in a little under 20 years.
Hyundai Creta 2015-2020 Overview
Hyundai has finally unveiled the 2020 Creta in India at Auto Expo 2020. The SUV, which is based on the Kia Seltos, gets a complete overhaul and will come with BS6 engines. We expect Hyundai to launch the 2020 Creta on March 17. Meanwhile, Hyundai also gave us a sneak peek of the interior through some sketches.
The carmaker still offers the current BS4 Creta, which is available with huge discounts. Hyundai is offering benefits on both BS4 1.6 petrol and diesel variants of the Creta. The latter comes with benefits of up to Rs 1.15 lakh.
The petrol 1.6 unit is good enough for 123PS/150Nm, while the diesel churns out 128PS/260Nm.Gearbox options on offer are a 6-speed manual and an automatic transmission. The Creta features a sunroof, a 7-inch touchscreen, cruise control, wireless phone charging, an Arkamys sound system, and Auto Link connected car features.
The Hyundai Creta is currently priced from Rs 9.99 lakh to Rs 15.72 lakh (ex-showroom New Delhi).
Hyundai Creta 2015-2020 Colours
Polar White With Phantom Black
Creta 2015-2020 Alternatives
Must Read Questions & Answers Before Buying Creta 2015-2020
Q. Is there GPS inbuilt in Creta SX petrol model?
Yes, the Hyundai Creta SX variant is equipped with a Navigation System, Multi-function Steering Wheel, Touch Screen, Engine Start Stop Button, Automatic Climate Control, Fog Lights - Front and rear, Power Windows Front and Rear, Power Steering, etc.
Q. My monthly average run is less than 1500km most city drive is it ok with diesel engine?
Selecting the right fuel type depends on your utility and the average running of the car. If you drive less than 50km in a day then we recommend you to go with a petrol car as they are easy to maintain, have a longer life span and they cost less initially than the diesel car. On the other hand, diesel cars are preferred if the average daily run is more than 50km which makes it a feasible purchase.Diesel cars are more fuel-efficient and provide more torque, therefore, are preferred for a person who drives more than 50km. Whereas, petrol engine has a low service cost, more life span, generally have a well-controlled NVH level and are cheaper in cost than the diesel engines. Since you drive around 50km in a day, diesel engines the right choice for you.
View More Questions
Q. How is the suspension in Kia Seltos? Is it better than Hyundai Creta 1.4 diesel?
As per my understanding, Creta suspension is more on softer side as compared to Seltos which is stiff. So you may feel more comfortable in creta on uneven roads but on the other hand Seltos gives you more enthuastic feel while pushing the accelerator as compared to Creat even though they have same engine specifiction but there is a difference of fine tunning.
Creta gives a car type riding feel where as Seltos give a sporty crossover feel
Q. There have been a lot of negative reviews for Seltos off late and this is really getting me confusing as to whether I should stick to Seltos or cancel the booking and opt for Creta, thus being safe?
Don't cancel your booking. I have clocked 5800 km on my diesel 1.5 seltos and i have faced NO problems at all till date. The only problem with seltos is in case you meet with an accident then it will take some lil bit more time for spares to arrive in workshop but it is obvious as the brand is new. Seltos is perfect package according to me and iam happy with my Seltos. Even i had cancelled creta 1.4 crdi booking after seltos was launched. And iam very happy that i bought KIA SELTOS. Just go ahead for seltos without a second thought
For your information KIA Seltos and Hyundai Creta both are built on the same platform. If you are concerned about the crash test ratings then you should know that Creta would have performed similarly in the crash test due to the same build. So yeah, If you are looking for a safer option consider may be harrier or XUV 300
Plz don't buy seltos . Now Indian crash test has given only 3 stars to seltos . you should surely go for creta.Even brezza is been given 4 stars . I have seltos GTK 2019 model . As soon as I saw the rating given in Indian crash test I feel bad for my decision.plz think before buying .
View All Answers
View More Questions
All Creta 2015-2020 Questions and Answers
Creta 2015-2020 User Reviews
2.3

mileage is 11km per ltr in city.Comfort is not up to mark.Break system is too risky on highway.No road grip.

4.7

Expensive to maintain diesel variant

4.7

Feeling happy to drive my creta, Mileage not bed for me.Even i drive around 68000 km but my car still behave excellent like new one.

5.0

Best car ever had.Hyundai creta is one of the best car which deliver all the need of a customer.Waiting for the upcoming altraz to hit the market and lead the segment.

4.3

Superb car.It really feels comfortable to drive tho it can be a bit sturdy.The pick up is good but shld have more safety features.
All User Reviews
3.0

I have purchased Creta Petrol Executive in Mar-19. When you will go through the creta catalog, you will see a lot of attractive features,but will you get those features ..no absolutely not. Hyundai has launched many variant of creta...each have some stand apart features but no version have got all those features. I have purchased petrol top model but it misses on many features such as, Cons of this top model: 1. No voice command- You cannot call anyone through voice command. You need to stop your vehicle to call someone from your contact list. You can only call recent dialed number through pressing a botton on steering twice . This is a big feature miss. No Hyundai have this features which is a common in s cross, Ford eco etc.2. No Auto link- Creta catalog have a dedicated page for auto link which will help monitor your vehicle health and driving pattern. But this is limited to Dual tone varient only. Creta Executive doesn"t have this feature. A big miss again.3. No child seat anchor points: This model doesn"t have this. Only automatic transmission features child seat mount. Again a big miss for creat ex.4. No 60:40 split seat: If your child wants to play inside car then this one is a great features. Even in case of three person and big luggage this feature helps. This is missing in Creta Executive.5. No Remote boot opener- it is not there though featured in it"s catalog.6. No voice recognition for GPS : A big miss again. You need connect to Android auto for voice recognition . This doesn"t work. System will always tell you " I couldn"t understand but I can learn". Disappointing.7. Low powered petrol version: don"t go by engine size . 1.6 litre petrol is fuel hungry but powerless specially when you climb an incline.8. No light in vanity mirror: My wife always tells me why it is not there when other low budget cars have this.9. No Auto retract rear view mirror: Rear view mirror doesn"t get retracted upon locking the vehicle this makes the ORVM damage prone. This feature is prevent in other cars like i20.10. Useless Mirror link: This is a feature for making Creta catalog attractive but this is useless. This comes on outdated phones which no one carry. Upon insisting, Hyundai sent a outdated phone model of 2017 which supports mirror link.11. No Tyre pressure monitoring system: This is a good safety feature specially for them who fail to recognize if their Tyre has low or no air. This can prevent a lot of accident upon Tyre air leak. Missing features in Creta.12. No 4 wheel drive: Though this is also not common in other cars.13. Hill hold not of any use: This feature is not of any use as I have experienced. I often run in hilly roads.It gives around 1 second hold when you leave brake at incline to press accelerator but I couldn"t able to use it.14. Need foot step to go inside car: For children and short height family members specially ladies. Foot step need to be fitted by dealer at extra cost and it is prone to get rubbed in walls due to projected portion. 15. Hard dashboard: it doesn"t have soft touch dashboard.Pros of this model:1. Sunroof : Entertaining for children if there is any among your family. 2. Ventilated seat: It can give a little bit of comfort during your long drive. Comes at a price of your home AC. 3. Rear View camera: Helps you park confidently.4. Premium leather seat: Looks and feel premium.5. Six air bags: It is fitted with.6. ESP: It has Electron stability program which might be working during sudden steer but not experienced so far.7. Good sound system: It features an arkamys sound system enabling you localized sound inside cabin.

4.3

Hyundai Creta sx Auto The name it self's convey the msg that you r in premium segment car.I own my first new car in d year 2016 Oct .But before that let me tell you that I had own maruti zen then maruti wagonr and after words. Chevrolet captivata all are very good and family Car .But when I purchase My Beast Creta Must tell you that it's one of the finest model from Hyundai Family. It's give you a pleasure of Richness, comfort of driving SUV , family car, and must say a premium high profile car segment.I usually drive car 90 %in city driving and that too in Mumbai heavy traffic from Borivali to Andheri All 365 days full jam.But thank God I bought CRTEA and that too automatic.Otherwise it's horrible experience of driving manuals car in full traffic jam.Well talking about Milage I would say in city driving the Beast is giving me 15/16 kmpl And on highway I will be 20 /22 And that too non stop driving.AC cooling is superb in 5 min entire cabin is cool.One thing I would like to share with every one that the maintenance cost is too high.Seriously guys whenever I send my car for servicing the minimum bill amount is 18000 And not below that.I mean it seriously.I have all bill from hyundai sai service center. I don't understand why Hyundai is not taking action on this kind of Loot from service center. I want hyundai to grow in Aisa market then they should think on that other wise they will also become like Chevrolet car .No one going to buy in future.But apart from maintenance cost the car is SUPERB.

4.0

2020 Hyundai Creta will receive the new bumpers, different grille upfront, and slight changes in the interior. The SUV is based on second-gen ix25, which was revealed in China in the previous year. The company has said that the SUV comes with a futuristic and muscular design, improving its road presence. The side profile of the SUV looks quite right, it has 17 inches alloy wheels and bold side creases. The details about the interior of 2020 Hyundai Creta is yet to be revealed, and we can also expect some minor changes in the interior. The SUV offers new LED tail-lamps and a revised bumper. Installation of the dual exhaust is also expected. The SUV will share its transmission and engine with the KIA Seltos. The sale of the car will be comm3enced in later in this year in the month of March.

2.3

The clutch is so hard that my entire leg is paining. Driving on the crowded Bengaluru roads is a nightmare, especially with half clutch presses. I am afraid that my inguinal hernia would reappear due to the constant thrust that I"ve to exert with my left leg. The car requires frequent down shifts in the city traffic. I would have expected the creta to be fine in 3rd gear for the speed range of 20 - 40 kmph. At 25kmph, if you try to accelerate in 3rd gear, the response is so poor that even auto drivers would start honking from behind. You have to down shift to 2nd and immediately upshift to 3rd within a few seconds. Imagine doing this every now and then with a hard clutch. This is a bigger problem in highways. You are behind a bus waiting to overtake it at say 30kmph. For sudden acceleration you have to downshift to 2nd and immediately upshift your 3rd - all required before even you complete the overtaking.On ghat roads, it is between 2nd and 1st gears. I saw many cars going better than mine in those roads.Mileage in city varies from 7.5 to 10.5. In the highways you get around 15 to 17.The pros: ventilated seats, sunroof (let"s hot air escape fast), leather seats, spacious interiors, beautiful exteriors

4.7

It's comfortable for city & highway, leg room is adequate both front and back for six footer like me. Mileage is far than expected on NH and pretty decent in city around 14-15kmpltr. However predominantly clutch plate problem inbetween 25k to 30k...is quite bothering. On the whole iam satisfied and pat my back for choosing Creta .....
All User Reviews
Hyundai Creta 2015-2020 Expert Reviews

All of them get the basics, including beefed up ground clearance, a dollop of swag and a dash of tech, right. Which one scores extra credits?
June 13, 2018
By Team ZigWheels

The cool kid in the Hyundai family gets a makeover. More of the same or a whole new dimension?
May 25, 2018
By Team ZigWheels