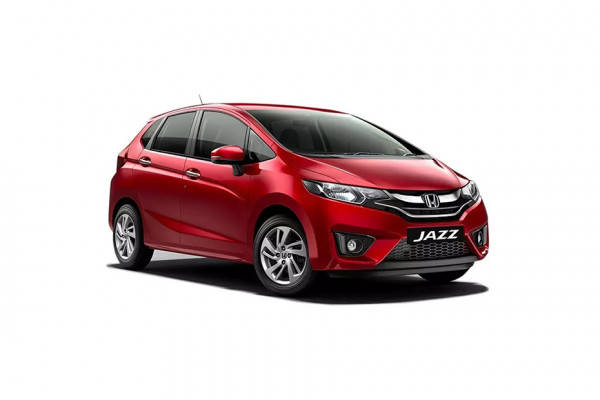 Honda Jazz 2018-2020
Rs. 5.59 Lakh
Discontinued Model since 24 Aug 2020
---
Honda Jazz 2018-2020 Overview
Honda has fully revealedthefaceliftedJazzahead of its launch in India in the coming weeks. It has also commencedpre-bookingsof the updated hatchback at a token amount of Rs 21,000 via an authorised dealership. This reduces to Rs 5,000 if you book it under the'Honda from Home' platform on the carmaker's website.
It features cosmetic updates like a revised front end, sporiter bumpers, and new LED headlamps and fog lamps.The cabin remains as it is, but it will get asegment-first sunroof among other feature additions.Under the hood, the Jazz retains its 1.2-litre petrol engine albeit with a BS6 upgrade. The1.5-litre diesel engine will be axed from the Jazz lineup. It willcontinue to be offered with a 5-speed manual transmission and a CVT.
The current Honda Jazz is sold at Rs 7.45 lakh to Rs 9.41 lakh (ex-showroom). Expect the updated Jazz to be sold at a premium over its predecessor owing to the upgrades on offer. It will compete against the likes of theMaruti Suzuki Baleno,Hyundai Elite i20,Toyota Glanza, and theTata Altroz.
Honda Jazz 2018-2020 Colours
Jazz 2018-2020 Alternatives
Must Read Questions & Answers Before Buying Jazz 2018-2020
Q. I am confused between Honda Jazz and elite i20 both petrol versions. kindly help me decide which one has better driving dynamics, performance, mileage, features and low maintenance cost?
It will be better to go with elite i20 compare to Jazz, Elite i20 is a good car, very good comfort level, good build quality materials used inside & outside of car but need to compromise with mileage of petrol i20. One thing is sure once you enter inside of car & drive it, you feel premium car like Audi driving experience. Performance wise car takes times to get pick up in 2nd gear, It easily go 60 - 100 km without any extra efforts very smoothly. Need to say if you are looking for premium class with good comfort can go blindly with i20 but mileage wise slightly slow compare to any Maruti vehicles... What else to say further.... As i have Elite i 20 Asta O Petrol 2017 model and driving busy Bangalore city traffic gets around 12 -13 km in city & highway around 17 - 18 km depends on driving pattern. You can easily get around 17 km with smooth driving on highway & 12 km in city with full time Ac. Even i gets same till now. Maintenance come around 4- 5 thousands with service interval around 10000 km...
I suggest that you should go for i20, it is far more responsive than jazz, in terms of service costs i20 beats jazz, so according to me i20 is the best option.
Q. Which car is good to buy Honda Jazz or Honda WRV?
Jazz is the best in Petrol CVT. It gives extreme comfort driving experience using CVT + Paddle shifts+ Cruise Ctrl along with a decent kmpl (14 -traffic, 18-20 - highway). If you are not considering to buy an automatic gear vehicle there are plenty of other options. But if you are planning for an auto-gear car, in India Jazz is one of the globally proven models in CVT transmission (easy for City or Highway drive). Other auto gear options are either jerky (AMT) or not reliable in long term view though good for driving for first few years (like DCT or DSG). For Indian roads and traffic my personal recommendation is CVT. Currently you have very limited models in CVT in India. Jazz stands out the competition with CVT + Paddle shifts+ Cruise ctrl + Decent kmpl though it misses some features like projector head lamps, DRLs, Auto head lamps and rain sensing wipers (Though non of them are 100% useful features for Indian climatic conditions). However it misses out some key features like Adjustable rear head rests and auto dimming IVRM. If you can manage with the given features keeping in mind you buy a best motor coupled to a proven transmission along with convenience and comfort driving, go test drive JAZZ...you may like it too.
Wrv petrol is a failure for all terrain roads. In highways you will feel lack of pickup when required for overtaking and in hilly terrain once you stop the vehicle while climbing uphill, it will be difficult to move up without pulling the hand brake to wait and get the engine to develop sufficient rpm. May roll back and be careful. Actually the vehicle should have been equipped with 1500 cc engine.
Both are good cars , Wrv booth space highJazz back row seats is modifiedBirth wrv and jazz is updated digipad 2It is really nice
View All Answers
More Questions
Jazz 2018-2020 Questions and Answers
Jazz 2018-2020 User Reviews
All

Comfort (21)

Mileage (13)

Space (13)

Engine (9)

Maintenance (8)

AC (6)

Performance (6)

Clearance (6)

Maintenance Cost (6)

Service (6)

Ground Clearance (6)
4.3

The current Jazz offered in both petrol and diesel variants is very pricey compared to its rivals. The only value plus points of Jazz are well refined 1.2 L petrol engine(+), CVT(++) and cabin/ boot space(+++). The attractive feature is rear tail LED lamps. The body built of the Jazz is sturdy and seems a real metal. All other specifications and features of Jazz fall far behind the competition. Even top variants do not get: R16 tyres, Auto head lamps, Rain sensing wipers, Rear head rests, Rear AC, DRLs, LED-projector head lamps, Cooled glove box, Rear arm rest and IVRS auto dimming that are offered on Altroz, i20, Baleno, Kwid, Micra etc.The main dis-advantages of Jazz are: too many blind spots, expensive service costs (with horrible 6 month interval), touch AC- not easy to set while driving, dual horn may not be reachable to small palms (so you have to remove one hand from steering to use the horn), spare tyre is R14 steel and front arm rest which is positioned too low to use. In some areas, after sales-service is also not professional. There are some other features in the top variants which are of rear use on Indian roads like cruise control and paddle shifts (that gives a sporty feeling though).Of course Honda dedicated years on cosmetic changes like addition of DRLs, LED projectors (this year), push start, rear LED tail lamps, Digipad 2.0, capacitive touch door handles (Last year) etc.6 x bottle holders are standard across all the variants of JAZZ (petrol and Diesel). No worries.For a solid built hatchback with best in market auto-transmission(CVT), with refined engine and lots of space inside cabin and as well boot space I suggest you go for Jazz. If you are looking for a manual transmission car.....m m m m m.

2.7

I have the automatic and it's for my daughter. It's a well engineered petrol vehicle, the automatic is fine but not peppy enough. If you are looking to overtake at high double digits on a highway, you really have to rev it up. What's disappointing is the lack of nice features that are engineered in but not made functional. It has a provision for keyless but not enabled. Of the two sets of keys - one has remote door opening the other is a standard insert and turn. The turn indicators are little cheap, plastic inserts on sides though the rear view mirrors have a notch for the same. The cabin is drab and unimaginative. Anyone with an i20 experience will feel the difference. For its price it is highly underscored. Drive is fine though torque build up is poor. True to Honda petrol, the car has never given me any issues at all over the last 4.5 years. It has decent enough storage (400L + I think) and good for long drives. Overall solid, functional but completely unimaginative and low featured.

3.3

A good family car. Always loved Honda Jazz. Good on space and comfort. Engine is super refined. The ivtec is silent and works like a charm. The missing rear seat head rests and magic seats on the top VX CVT trim is really disappointing. Still the love for Jazz mad me go ahead with it and own one. Mileage in city is around 10 to 11 kmpl as Jazz drinks fuel handsomely. However out on the highway it returns a decent 15 to 16 kmpl. I just did it"s second free service and it"s 3000 kms run on board. So far it"s good except the mileage in the city which could be a lil more. Overall I would give it 3.5/5. A good overall purchase.

1.0

I will suggest never buy a Honda car instead go for Baleno or any other car from different company never buy this car.. Tyres of new car just run 200kms are getting burst and company is least bothered. No customer service.. They just need money. Dakshin honda and honda cars india have cheated me. Very disappointed and will never ask anyone to be a prey of their trap. I cannot use my cars at high speeds fearing tyre burst.. Very bad response and no solution for the customer. Received tyres with a buldge which will burst if driven fast. Very bad totally unacceptable

2.0

Honda is the worst compared to Maruti and Hyundai. I have a maruti car and a hyundai car. My buying experience was thrashed with 6 months old car and 2 different purchase dates i.e. 31-March-2018 and 21-July-2018. When I bought the car on 21-July-2018. And, Honda still protecting its dealer and taking 15 days to respond. With Maruti and Hyundai, the customer is most important. With Honda, the customer is secondary. So, I would not recommend any honda car because of Honda car India customer service and customer centricity.
User Reviews
Honda Jazz 2018-2020 Expert Reviews

Do a few new chords make the 2018 Jazz sing a new tune?
July 23, 2018
By Tushar Kamath