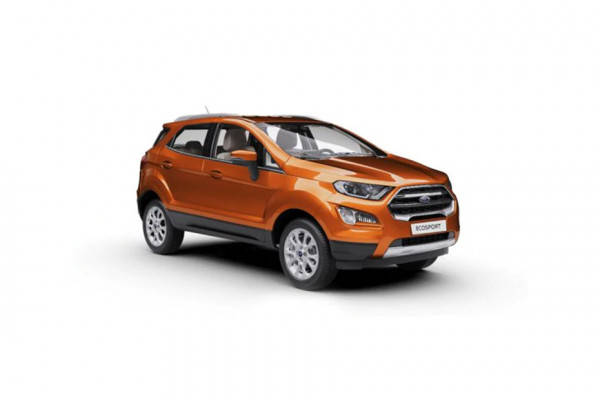 Ford Ecosport 2015-2021
Rs. 6.68 Lakh
Discontinued Model since 4 Jan 2021
---
About Ford EcoSport 2015-2021
Launched in the price range of Rs 7.67 - 11.20 lakh (ex-showroom, Delhi), the Ford EcoSport comes with stylish exteriors, premium interiors, and a new 3-cylinder 1.5-liter petrol engine mated with a 6-speed automatic transmission. The Ecoboost 1.0-litre petrol and the 1.5-liter diesel motor has been carried over and claimed mileage figures for petrol manual, petrol automatic, and diesel manual are 17 kmpl, 14.8 kmpl, and 23 kmpl respectively. The EcoBoost claimed mileage sits at 18.1kmpl which should make it the most efficient of the lot. The new EcoSport is available in total of 7 variants and the top of the line S trim comes loaded with features like six airbags, electronic stability control, ABS with EBD, traction control, large touchscreen infotainment system, projector headlamps, Apple CarPlay and Android Auto, brake assist, and tyre pressure monitoring system. Ford Ecosport comes with the boot capacity of 352-litre and features 200 mm of ground clearance. In Indian market, 2017 EcoSport is up against the likes of Maruti Suzuki Vitara Brezza and Tata Nexon among others.
Ford EcoSport 2015-2021 Overview
Ford has introduced the EcoSport Active in Europe. It features a more rugged look with body cladding around the wheel arches, doors, and "Active" badging on the exterior. Even the seats come with "Active" badges.
Ford offers this variant with the standard 125PS 1.0-litre EcoBoost petrol engine and a 95PS 1.5-litre TDCi diesel engine in Europe.
It is yet to be determined if Ford will launch the EcoSport Active in India.
The Ford EcoSport rivals the likes of the Mahindra XUV300, Hyundai Venue, Maruti Suzuki Vitara Brezza, Tata Nexon, and the Kia Sonet.
Ford Ecosport 2015-2021 Colours
Ecosport 2015-2021 Alternatives
Must Read Questions & Answers Before Buying Ecosport 2015-2021
Q. Is Nexon best to buy, Will I get a good resale value after 3 years and is Tata Nexon better then Ford EcoSport, Honda WRV, Hyundai Creta & Maruti Brezza
The delay for Tata #Nexon has started since Oct 2020. earlier The Showroom Sales executive will say the waiting period is 4-5 weeks. However, if you raise a complaint through Higher authorities you get a call and the TATA person will inform you that the waiting period is 8-10 weeks and not 4-5 weeks. Same thing happened with me, I booked #TATANEXON on 26th Dec 2020. I was assured by Showroom that car will be delivered by End of Jan 2021. I'm writing this on 17th Feb 2021 and still there is no sign from the Dealer. During Last week of Jan 2021 I raised an Online complaint, so I received a call from a Territory Manager. He told me that waiting period is not 4-5 weeks but 8-10 weeks, I was disappointed with the reply, so he connected me with Dealer on the same call, there the Territory manager asked the Dealer what is the Waiting period for Tata Nexon as per their official email, and dealer said its 8-10 weeks. Then I intervened and said I was told by the Executive as 4-5 weeks, then the dealers said we are sorry for the Misinformation, we would try our best to deliver it at the earliest. Since then I've not received any Call or any info about my Car I booked almost 2 months back. I'm not sure if you guys who has recently booked Nexon are facing the same issue.
Yes ... resale is good ... I sold my petrol vehicle 2017 model which ran 23000 KMS at 6 Lakhs at TATA showroom in Hyderabad. My petrol Nexon XM was giving me close to 14 KMPL in City and 16 KMPL on highways. I got a new diesel Nexon XM vehicle which is giving me 22.3 KMPL in city and 27.4 on highway ... excellent car ... drive safe ....
Please don't buy this. maine aur mere friend ne ek sath do ecosport lia. mera gadi 16500 km run hua toh gadi ka front do tyre aur front break disc change karna pada. aur mere friend ka 35k run hua usko 4 tyre, break disc, shock absorber diesel pump change karna pada. toh please agar aap ko ecosport lena b hai toh soch samaj k
View All Answers
Q. How is the performance of Tata Nexon petrol engine? I am bit confused which car to buy ecosports titanium plus petrol, XUV300 W8 or Nexon XZ petrol? Which car will be good in terms of mileage and performance?
I have Nexon XZ petrol with me...speaking about the engine performance it purs like a kitchen.. best part you get a 1.2 ltr turbo charged from base variants where as most of the competition is having a 998cc turbo in top varaints.not just performance even the ground clearance is best in segment even better than some cars from the mid size SUV segment. the comfort of driving is awesome and not to forget the comfort for travellers is also awesome...plus decent range of features which includes almost all features that you might need...
Please don't buy this "ecosport". maine aur mere friend ne ek sath do ecosport lia. mera gadi 16500 km run hua toh gadi ka front do tyre aur front break disc change karna pada. aur mere friend ka 35k run hua usko 4 tyre, break disc, shock absorber diesel pump change karna pada. toh please agar aap ko ecosport lena b hai toh soch samaj k.
So just because you two morons dosent know how to drive or had fault in your cars, we shouldn't buy ecosport. slow claps. I have a 2016 diesel ecosport which has crossed 1lakh kms without any major problems and still going strong. with an average of 17. my brother has a xuv300, it's great but only top end models.
View All Answers
Q. I want to purchase car up to 10 lakh, so what to choose EcoSport, Tata Nexon, Hyundai Venue. Please suggest.
Go with the Tata Nexon, its a very good car. Performance and power is superb, comfortable drive, with a amazing build quality, Also it's the safest car and has been rated 5 out of 5 in global safety ratings. Suspensions are very good, it has hill assist, and an very good ground clearance of 209mm. Its will be perfect choice and Tata is an Indian brand so it feel proud that Indian Automobile is improving really very well.
All are good options but You can buy in this sequence 1. hyundai venue(automatic DCT TEC model available in S Variant very smooth and very easy driving) , 2. option is tata nexon(it has also amt variant ) and after that eco sport , in this automatic model would be over than 14 lakh
You can blindly go for the ecosport.
View All Answers
More Questions
Ecosport 2015-2021 Questions and Answers
Ecosport 2015-2021 User Reviews
All

Comfort (68)

Mileage (62)

Performance (45)

Safety (36)

Service (26)

Maintenance (25)

Experience (24)

Looks (23)

Engine (22)

Power (16)

Compact Suv (12)
5.0

Writing review for ecosport diesel thunder variant driving experience is amazing especially in cities.Pick up is superb with diesel engine in city as well as highways.Have driven the max stretch of 600-700 kms a day and didn't feel any lag or tiring.Comfortable with 4 adults and 1 childgood ride handling.A pillars could be trouble in view while turningbuild quality is awesome much better to the competitors.Fuel average if you drive decently keeping accelerator in control can get you to 17-18kmpl.Highways keep your speed within 80 easily 21-22interior and exterior dual tone looks very sporty.Especially with the partial black sticker on bonnet.Music system is really good.Still can't compare to bose thoughif mileage not on priority hit the accelerator and you will see the power of the dragon engine.Haven't gone above 120, Till there don't feel any vibrations and or any wobble in steeringafter sales- been using fiesta both models, Aspire till date haven't faced any major issues with service.It has been always at par to satisfaction with ks ford.Ecosport 1st service is due in some months.Although heard it's the lowest to its competitors.If ford isn't been planning to leave india then would have recommended to everyone to get this robust machine to thier home.

4.7

The Family car of my house . dad gifted this car to my mom on 22/09/19 after her grand i10 drowned in floods in baroda and went in total loss and she generally uses it in the city and i use it occasionally to college (50kms both up and down) and this is the best compact SUV in india . Take anything its the best - highest water wading capacity (REQUIRED in baroda 😂) , looks , power , SAFETY , features are not too tacky but all available are useful in daily times , mileage , ground clearance, We recently took our Fordy out in the diwali from baroda - ajmer - jaipur for 5 days and 2400 kms we just had to refuel (full tank ) it just twice for 3200 rs each. first full tank from baroda on the first day and the second one while leaving from Jaipur and we came back home in half tank pending . means 4800 was the fuel price for this trip gave us close to 22-23 KMPL. Totally worth it . i planned to buy a venue for me now this Feb'20 but why would i if i have uska baap at home ❤ ?

4.7

I bought titanium plus automatic model.I was very impressed with the safety features but was worried about the mileage part, as almost all reviews said , poor mileage.. around 8 km in city drive and about 10-11 km on highway.. since my usage was limited , took the risk and bought it. Now. I am pleasently surprised to note that the mileage I am getting is much higher. In city bumper to bumper traffic with AC on, I am getting around 10 , and with moderate city traffic the mileage is around 11-12. However on highway I got 15 km with AC on.. which is very good considering it is an automatic transmission. I have driven about 2000 km and keeping the RPM around 2000-2500, as it is still engine run in phase. It depends on the driving pattern as well and I switch off the engine if the wait for green signal is more than 60 second, probably it helps.

3.0

I purchased Ford Ecosport on 14th Feb 2020. Soon after the purchase, noises has been coming from different sides of the car. The dashboard, the four side doors, and even from the back, it keeps making non continuous noises. These noises are causing me irritation and distraction while driving. I got car's first service at 3000km which was a little late due to nationwide lockdown. Even after the service, noises/ sounds keep coming from either parts. The sounds sometimes stop coming own their own and sometimes don't stop at all. Its very troublesome and extremely annoying. I purchased Ford car because it has been reviewed as good quality/ heavy material built car but I am highly disappointed and unsatisfied with it. My experience with the Ford is a drastic let down.

4.5

A brilliant car with best combination between the engine and the automatic gearbox...the gearbox works very..the gears shift is too fast and isnt lagy in any way -10/10 for gearbox and engine.There are enough features that can make u feel happy,comfortable. High speed stability is too good...u can take a sharp turn even in triple didgit speeds.Space in the rear is a bit of issueMileage that i got was 10-12 in the city and 14-15 on highway if you drive in linear wayIf u need any automatic SUV, just go for this one....its the both of performance and feature....its truely a performance orientated car...Reaally happy after purchasing this isntead of venue
User Reviews
Ford Ecosport 2015-2021 Expert Reviews