Royal Enfield Thunderbird 500X Questions and Answers
Q. What's your experience and review after riding the bike is it worth or not - Thunderbird 500X?

View 2 More Answers

Q. Is it stable in high speed or does it shake a lot - Thunderbird 500X?

View 2 More Answers

Q. How is Royal Enfield Thunderbird 500X while riding Is this bike reliable What is the mileage in city roads and also on highways

View 2 More Answers

Q. Which is better between thunderbird 500 and Pegasus edition?

View 1 More Answer

Q. Which one is better Thunderbird 350X or 500X for regular use and lower maintenance?

View 1 More Answer

Q. I am confused between Thunderbird 500X and Apache RR 310.Thunderbird has 500cc but Apache RR 310 has only 310cc.Thunderbird has nice seating position comfortable for long rides plus the bike has power whereas Apache RR 310 is pure sporty and has got super sexy look. Guide me between these two bikes.

View 2 More Answer

Q. I am confused about TB 350X and 500X! Both seems same in spec except cc and torque. What would you recommend? Carburetor for 350 and fuel injection 500, so in long run which one is reliable?

View 2 More Answer

Q. What is the difference between 500 and 500x and who is better for me I am 5'7" - Thunderbird 500?

View 2 More Answers
View More Questions
View More Questions
Q. Which bike is better for city ride and occasional touring, Thunderbird 500X or Interceptor 650?

Q. When is the Thunderbird 500X 2020 coming?

Q. Whether Thunderbird 500x have radiator?

Q. I am in so much dialama to opt between Thunderbird 350X and 500X. I have driven the bike and felt 500 has much more to give than 350 but my concern only started when I heard from some people regarding EFI (peolple have even changed back to carburetors) and fuel pump problems in 500. not to mention 500cc comes with costly spares than 350. Thunderbird is my dream bike so not able to select other vehicles eighter(Himalayan or Interceptor). So please 500 owners can u suggest me which to go for?

View 1 More Answer

Q. I am using Classic 500 for last 4 years, now I want change to Thunderbird 500X or Interceptor 650, which is better for me?

View 2 More Answers

Q. As you said, When there will be new a "Avtar" of Thunderbird 350X with more refined engine and many other changes. Of course I am also looking for the colours which are coming in Thunderbird 500X specially the blue one in Thunderbird 350X. Would look forward your prompt & positive response to make my decision.

Q. Is the fuel injection system of Thunderbird 500X as reliable as that from Himalayan?

View 1 More Answer

Q. Is there any major flaw with the Thunderbird 500X?

Q. कितने किलोमीटर में इसका इंजन गर्म हो जाता है। और इसमें अब तक कोई इंजन कूलिंग सिस्टम क्यो नही आया - Thunderbird 500X?

Q. Me and my son wants to share a bike for occasional biking touring and again occasional city riding experience. Finally we zeroed on on Bullet classic stealth black or Thunderbird 500X. I am 47 years of age with 6.1 height and 89 KG weight. My son 20 years 5.10 weighing around 80, which one we will buy zoncerns 1. Orange colour of 500X at my age 2. Pillion riding on 500X 3. Stealth Black matte black finish durability or whether we'll go for smaller 350 engine ?
View More Questions
View More Questions


Have a Question about Royal Enfield Thunderbird 500X?
0+ Answers from Experts & Owners
Didn't find the question you were looking for?
Search your question about Thunderbird 500X
E.g - Which variant of Thunderbird 500X is best to buy?

Royal Enfield Thunderbird 500X Overview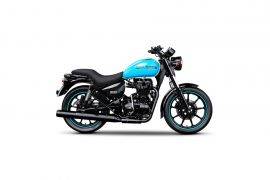 Royal Enfield Thunderbird 500X User Reviews
Performance

Comfort

Features & Styling

+ 2 more
Preferred For : Daily Commute & Tours
55% of users have given a rating of 4.5 and above
I bought RE TB 500X Orange on 25th Oct 2019. Drove 300 plus Kms in a week. Excellent styling, comfort and torque. One must buy a 500X over 350X to get the max thrill and motorcycling experience out of this class offered by RE. The weight to power ratio is 0.75 CC per kg higher for 500X than 350X. Value for money for bike enthusiasts. My little experience tells me that this bike this bike will require attention and care / regular maintenance checks, to optimise high performance. But this stands true for all heavy bikes above 300 CC. The new handle bar adds to riding experience, but you need little rest after 120 km on a stretch, as it strains your back. Pick up and torque are true to RE spirit for 500X, offering higher torque at low RPMs. GO for it, you will love this machine!

it's been a week since I got the vehicle, so far it's a beast with new costume. simple and elegant seating,ready to capture long distances attitude, instant power and thump whenever we rev, all of it makes me find a reason to got on to bike more often.Totally worth cruiser

Gets Mileage of 28 kmpl

Although it weighs 197 kgs, i found it much lighter to handle as against classic 350. Bucket seat and ergonomics are the two key factors. Comfortable - it takes a couple of days to get used to bucket seat after classic 350 habituated posture and it also depends on the height of the person. It is s beauty.

Gets Mileage of 25 kmpl

Maintenance is the worst. Oil gets burned every 2000- 2500kms. Tank paint loss @ 3500km&3months. Chain will get rust when not lubed every 500 kms. Rusting on every chrome surface.

Gets Mileage of 35 kmpl

bike is giving low milage. There is air leak from rare tire.

Gets Mileage of 20 kmpl
All Thunderbird 500X User Reviews
I bought RE TB 500X Orange on 25th Oct 2019. Drove 300 plus Kms in a week. Excellent styling, comfort and torque. One must buy a 500X over 350X to get the max thrill and motorcycling experience out of this class offered by RE. The weight to power ratio is 0.75 CC per kg higher for 500X than 350X. Value for money for bike enthusiasts. My little experience tells me that this bike this bike will require attention and care / regular maintenance checks, to optimise high performance. But this stands true for all heavy bikes above 300 CC. The new handle bar adds to riding experience, but you need little rest after 120 km on a stretch, as it strains your back. Pick up and torque are true to RE spirit for 500X, offering higher torque at low RPMs. GO for it, you will love this machine!

bike is giving low milage. There is air leak from rare tire.

Gets Mileage of 20 kmpl

it's been a week since I got the vehicle, so far it's a beast with new costume. simple and elegant seating,ready to capture long distances attitude, instant power and thump whenever we rev, all of it makes me find a reason to got on to bike more often.Totally worth cruiser

Gets Mileage of 28 kmpl

Nice and very comfortable to use

Gets Mileage of 30 kmpl

Not satisfied with Quality & Service

Gets Mileage of 25 kmpl
All Thunderbird 500X User Reviews
Frequently Asked Questions about Royal Enfield Thunderbird 500X
More Bikes in Same Budget