Royal Enfield Classic 350 Price in Dausa
The ex-showroom price of
Royal Enfield Classic 350
in Dausa starts from Rs. 1.72 Lakh. The Classic 350 comes with 11 variants. The base variant that is Classic 350 STD is available at Rs. 1.72 Lakh (ex-showroom Dausa) whereas the top-end variant, Classic 350 Chrome Black is priced at Rs. 1.98 Lakh (ex-showroom Dausa). We also have the on-road price including ex-showroom price + RTO charges + Insurance and other costs which you can check for Classic 350 and its variants. The
EMI of Classic 350
is available at Rs. 4,969 per month @ 9.45%. The top competitors of Royal Enfield Classic 350 are
Royal Enfield Meteor 350
(ex-showroom price in Dausa is Rs. 1.84 Lakh),
Honda Hness CB350
(ex-showroom price in Dausa is Rs. 1.86 Lakh),
Royal Enfield Bullet 350
(ex-showroom price in Dausa is Rs. 1.61 Lakh).
Royal Enfield Classic 350 On Road Price in Dausa
| Variants | On Road Price |
| --- | --- |
| Classic 350 STD | Rs. 2.11 Lakh |
| Classic 350 Pure Black | Rs. 2.21 Lakh |
| Classic 350 Metallo Silver | Rs. 2.21 Lakh |
| Classic 350 Classic Black | Rs. 2.21 Lakh |
| Classic 350 Gunmetal Grey Spoke | Rs. 2.23 Lakh |
| Classic 350 Signals Edition | Rs. 2.33 Lakh |
| Classic 350 Orange Ember | Rs. 2.37 Lakh |
| Classic 350 Gunmetal Grey | Rs. 2.37 Lakh |
| Classic 350 Mercury Silver | Rs. 2.37 Lakh |
| Classic 350 Stealth Black | Rs. 2.41 Lakh |
| Classic 350 Chrome Black | Rs. 2.41 Lakh |
On Road Price of Royal Enfield Classic 350 in Dausa
Change
Rs. 2,11,491
On-Road Price Dausa
Rs. 2,21,275
On-Road Price Dausa
Rs. 2,21,275
On-Road Price Dausa
Rs. 2,21,277
On-Road Price Dausa
Rs. 2,23,539
On-Road Price Dausa
Rs. 2,33,855
On-Road Price Dausa
Rs. 2,37,992
On-Road Price Dausa
Rs. 2,37,992
On-Road Price Dausa
Rs. 2,37,992
On-Road Price Dausa
Rs. 2,41,888
On-Road Price Dausa
Rs. 2,41,888
On-Road Price Dausa
Royal Enfield Bike Dealers in Dausa
Change City
ASHIRWAD MOTORS

Plot No. F-346, AGRA ROAD, PATEL NAGAR, , Dausa, Rajasthan, 303303

ashirwadmotor77@gmail.com

7062500088
Price of Classic 350 Competitors
Royal Enfield Classic 350 Overview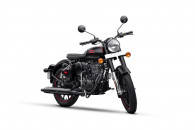 Have a question in mind?
Get Answers from 7 Lakh+ owners and auto-experts
×

Ask your question from Classic 350 owners and experts
Your Question should contain at least 5 characters
Submit
Cancel
Classic 350 Ownership Cost
Side Stand

Authorised Dealer Price :- 557

GST Price :- 155

Total Price :- 712

Leg Guard

Authorised Dealer Price :- 1354

GST Price :- 379

Total Price :- 1733

Rear Brake Pads

Authorised Dealer Price :- 350

GST Price :- 98

Total Price :- 448

Front Brake Pads

Authorised Dealer Price :- 350

GST Price :- 98

Total Price :- 448

Speedometer

Authorised Dealer Price :- 599

GST Price :- 167

Total Price :- 766
View Classic 350 Spare Parts Price List
Best Cruiser Bikes in India
Performance

Comfort

Features & Styling

+ 2 more
Preferred For : Daily Commute
46% of users have given a rating of 4.5 and above
3.8

Petrol cost in high so i think buy battery bike in my use at with out cost use in petrol expenses reduce i committed

1.8

Worst every 5000 km or less i changing chain bracket and then no cover for the latest re bikes because of that we must change the chain bracket on or before 5000 km

1.0

Not buy the vehicle worst quality not comfort for this vehicle not value for money worst bodybuild waste product not smoothness vibrate worst service worst performance not quality for in this vehicle not buy this vehicle please full test drive in your satisfaction in ok buy the vehicle

3.4

Good and fast vujjgbbgff gyi vdsdgjkmmmjjjjjhvdrgn by gffh ghnmvg gfhnnvb hueswhk hedhj hrygc kkkkmkhdexg gdchjjjbfg htdehjihgg hdfgdgnkkkgeysb hfdhnbfghnkcd hdhfjmmhfjk vesadgjkjmn hdhjkjkjhfr vfjmhgddgjkmhgb vgdgjkmngdgjjkkbfghn gyj

3.4

Maintenance coast heavy.Digital bhi nahi hai.Bahut kharcha deti hai.Har mahine kuch na kuch problem hoti hi hai.
All Classic 350 User Reviews
3.0

I'm 6ft1in tall. I previously own a Royal Enfield Classic 350. And let me share my experience.I'm one of the several people who fell for the looks of the motorcycle, who fell for its connect with the person who rides (possibly due to the vibrations), who fell for its low end torque, who fell for its sound.Initially it will attract you a lot and it will make you feel like a King of the Road. As you are on love with the bike, you will love its pros and love even more for its cons!Now coming to the performance it is a lazy elephant which took almost 16seconds to reach 100Kph, with a ton of vibrations. But you will love it during short rides and can't cope with after 30minutes. Because after riding over 100Kph over 30minutes, your hands will be numb and your whole body vibrates. And to come over this feeling, you need a healthy 30minutes of break. So riding under 80Kph helps but not much by a significant margin.So, let's talk about the comfort, with the stock handlebar, I've had a lot of lower back pain. With RD350 handlebar, Classic's perch is better for atleast 30 minutes if ridden sanely under 80KPH. After that, I've sharp pain in my knees due to constant vibrations from footpegs no matter the RPM you choose to ride. If ridden above 80Kph, two more pains will shoot: one from my shoulders and other from my b**t due to the vibrations it has on offer.Talking about mileage, it will provide me 33Kpl if ridden over 100Kph, 38Kpl if ridden at 80Kph, 44Kpl if ridden under 60Kph.Throttle response is lazier due to carburettor, now it is much better due to the addition of FI. Brakes are poor, front disc is less bitey and rear drun brakes are wooden (now even comes with rear disc, but still feels wooden). Ride quality is good. Tube tyres are a problem. (Tubeless is on offer today)And coming to the maintenance part, it digs a hole in your pocket during paid service. Free service costs a maximum of INR.1500. But paid service cost minimum is INR.2500. And at 24000kms, a paid service costed me around INR.10,000. People at Royal Enfield Service Centre never repairs but just replaces. It may be due to the Sub-par quality of the spare parts. So, on even years (after first year with free services) you need to allocate around INR.6000 for servicing it. And on odd years, you must pay INR.8000-10,000 for servicing. In 3years of ownership, I've spent around INR.25,000 for services alone.I've used it for 3years and ridden it for 30thousand Kilometers and finally have sold it due to heavy vibrations which causes me consistent right shoulder pain and also high maintenance it demands over years.Finally the resale value is good.Conclusion: It is pointless to buy 350cc machines from Royal Enfield today. Better opt for their 411cc or 650cc machines. If you want to buy a 350 from Enfield, wait for their J platform launch. Thank god, they bid adeu for their 500cc UCE engines. Don't commit the mistake I've once committed.Still in August 2020, this Classic 350 is their best seller. Royal Enfield doesn't want to let their milching cow, that's why they are gonna introduce the new J platform engines in their lower selling model, Thunderbird. People must change!!! For those who are in a hurry to buy a Classic or Bullet 350, Wait till J platform's lauch.

5.0

Why we should not force someone to love us loving a person can be the most wonderful thing that will happen to us.It brings us a lot of joy and a lot of inspiration to get through life.Love really does wonders especially when the person you love loves you so much too.There is no other thing that is more precious than to be loved by the one you love the most.I think that with love, A lot of people have become better and they have become optimistic because of their pair.But there are some people who really wanted to be loved and because of this, They force people to love them.They do things to pressure people to show them love even though they have no feelings for them at all.With this, Forcing someone to love you is never alright.Here are some of the reasons why we should not force someone to love us.We will never be happy.If we force people to love us, We will never be truly happy because we know that they never love us and that we just forced them to do so.With this fact in our mind, We can never truly achieve happiness by their side since the romance between you both is fake and that your feelings were just forced upon one of you.Happiness can only be achieved if both of you willingly love each other from the bottom of your hearts.If you do love each other dearly, Everything comes naturally.They will resent us.If we force a person to love us, Tell them how to love us even though we know that they will never feel anything for us, Then they will resent us.They will be so angry with us and they will hate us that no love will ever be formed no matter how much time we spent together.If we force things to happen deviating from its natural flow, Then you can expect that things will be awkward and there will be a lot of complications.We will never feel loved.If the only thing you are looking for is to feel loved then forcing a person to love you will never make you feel loved at all.If you want a person to love you, You should work hard for it, Make an effort to show them that you are worthy of loving but if you pressure them, If you force them to be with you against their will, You will never feel what it truly feels like to have someone love you genuinely.I just read this article which might interest you, You can read it here.They will never have genuine feelings for us.Forcing a person to love you is not good.It is like making them do something that is against their will and if you do this to them, They will never have genuine feelings for you.If you think that forcing them to love you is a way to make them truly love you then you are utterly wrong.Love happens naturally between two people who understand and care for each other, Love can never be forced, Love can never be made just because you wanted to.

4.6

One of the best affortable cruiser in india, Its an easy go enjoyable cruiser and good for its price with a good comfortable ride with its ergonomics best things about the bike is definitely its comfort which it is supposed to give as it vehicle category being a cruiser, The absence of a fuel meter is a thing however retro they classify it to be being its one of the drawback for a low end torque bike its not bad and its ability to pull is good given the terrain, Being a classic owner if you were to just open throttle and fly when you would be disappointed as this doesn't allow that but given its power to its lower 3 short gear transitions that will not disappoint you with commuting toogetting to build quality is another factor for a post war engine the company has only changed few parts from its roots to adjust with the government norms, However there are problems if you don't take care of cleaning as a thing you are supposed to do in this bikeof course the vibration has really went down from its previous generation bike as the engine is more refined now with the fuel ejection as well as power a notch turned down to align with the new emission normsone of the new feature is the low fuel indicator which had to be installed because there is no fuel meter or carburetor, The spoke rims are cool and more practical too to begin with.Being one of the hefty priced biggest motorcycle production company in the whole india and with native production units too they should turn the price.Another main factor which they should really consider is to have are service canters which should be loyal to its customers, The costumers are the one thing that keeps the company running so just not rob them because to so many the bullet isn't just a bike its an emotion for them that, A sense of love to the ride, For retro, For simplicity, For the love of riding and loving the bike like a part of part themselves.

1.0

I Took my Royal Enfield classic 350 BS6 in Erode Senthil Murugan Auto agencies Dealership Tamilnadu as their service is decent but sales department is worst specifically a person called as Madan idiotic guy who delivered my bike with a Right side footrest with a bend but they havent fixed the issue i went to a local mechanic and fixed the issue then for what exhausted A*S they are dealers once they get yours money then no respect for you in my first service instead of my name in the bill that morons mentiones someones name but my bikes details were correct but my name is not correct that is the only issue they fixed after few months malfunction indicator started to glow even after starting the Bike i went to the service center they were checking then bike in the testing kit it was showing as CRANK SENSOR ERROR but that illiterate idiots have resetted the ECU and they said it is sensor disturbed and THE ISSUE was not happening for few days again today 12/10/2020 my bike after starting the MIL started to glow continuosly what to do with this poor company tell me people Royal enfield must take civiere actions against them and the bikes quality to be improved too for cash which is got from us and finally they have competitors now surely Royal Enfield must windup in the hands of useless company Eicher and Royal Enfield must be handed over to a good companies for fans like us

4.6

The best thing about the motorcycle is that it is not perfect and never claims to be.It is not the fastest, Nor the most powerful, Nor the cheapest and neither is it the most luxurious.It most certainly is not fuel efficient and neither is it maintenance-free.When you ride it, You are the king of the road, But when it stops, It strips you down to a donkey pulling a load thrice its own weight.It is moody.It might start within seconds despite having lain idle for the better part of a month and sometimes doesn't start even when the engine is still warm.You can't explain why it does what it does.You can't even begin to understand it.People who feel that these qualities are more endearing than irritating never move to another bike.Fact is, Its just like my brother or sister or a girlfriend(most probable option).These qualities make it more alive and more human than any other bike.This is what makes it all the more lovable.Only a person who rides a bullet understands what it really is.It teaches you life like no other bike does.I could just go on and on and on, But i guess you get the flow.❤ ❤ ❤️.
All Classic 350 User Reviews
Calculate Royal Enfield Classic 350 EMI
Royal Enfield Classic 350 News Updates
Royal Enfield Classic 350 Price FAQs
What is the Royal Enfield Classic 350 on-road price Dausa?
The on-road price of the base variant of Royal Enfield Classic 350 in Dausa is Rs 2,11,491.
What are the RTO charges for Royal Enfield Classic 350 in Dausa?
The RTO Charges for the base variant of Royal Enfield Classic 350 in Dausa will be Rs 29,087.
What is the insurance cost of the Royal Enfield Classic 350 in Dausa?
The insurance cost of the base variant of Royal Enfield Classic 350 in Dausa is Rs. 9,938.
What is the Ex-showroom price of Royal Enfield Classic 350 in Dausa?
The Ex-showroom price of the base variant of Royal Enfield Classic 350 in Dausa is Rs 1,72,466.
What will be the EMI & Downpayment of Royal Enfield Classic 350?
The Downpayment of the base variant of Royal Enfield Classic 350 is Rs 64191 and the EMI is 4,969.


Disclaimer
Disclaimer : The data/calculations generated herein is completely and solely based on the information/details provided herein in response to the questions specified by Girnar Software Pvt. Ltd. on its ZigWheels.com Site is only for user's convenience and information purposes in Indian Currency.Read More
Thank you! Your question has been submitted and is under moderartion.
You will receive all communications on :
Shortlisted