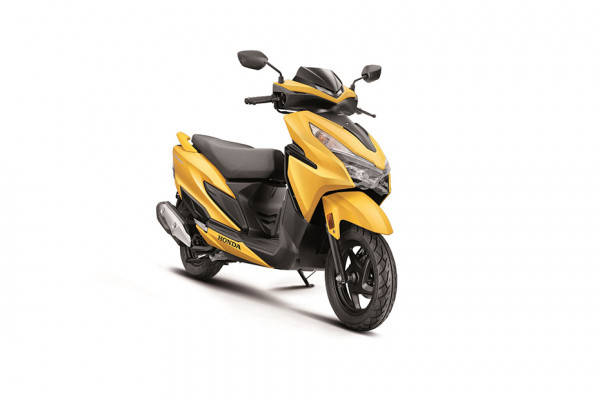 Honda Grazia BS4
Rs. 72,000
Discontinued Model since 5 May 2020
---
Honda Grazia BS4 Overview
Honda has launched the BS6-compliant Grazia 125 in India. This is the final BS6 scooter from Honda's portfolio. It comes with the same set of features seen on the BS6 Activa 125 and commands a premium of around Rs 13,000 over the outgoing BS4 model. The Honda Grazia BS6 gets a starting price of Rs 73,336 for the standard variant. The Grazia is also available in a Deluxe variant priced at Rs 80,978 (both prices ex-showroom Delhi).
Must Read Questions & Answers Before Buying Grazia BS4
Q. Can i do long ride of 300 km from Honda Grazia BS4 ?
It would not be a good option to go for a long-distance ride on the Honda Grazia. However, if you do, we'd suggest you to keep some pointers in mind such as taking regular intervals, keeping a check on the engine's health, service your vehicle before leaving, stick to a steady speed, plan your route before leaving, etc. You may check out the following article for more details: 11 Tips to help you get there!
Yes you can. I done that many times. But give 10mins rest for every 1-1.5 hr
View More Questions
Q. Which scooter is best Honda Grazia or TVS NTORQ?
Grazia and Ntorq cannot be compared as the two belong to two different segments. The former is an ideal commuter with a good dose of performance and comfort. Ntorq is for outright performance (that doesn't mean it's not comfortable). Also note that the wheels and tyres are totally different on Ntorq, they much resemble those of an Apache. If for some reason you cannot buy a 125-150 cc motorcycle, buy an Ntorq. You'll never regret your decision. I have regularly done group tours when my friends were riding Pulsars, Apaches plus two RE Classic 350s. My Ntorq never lagged behind though it is a mere scooter.
It depends on your preferences such as weight of bike, bluetooth navigation, seating comfort, how many people you will be taking, what distance you will be travelling, and so on. Please do not just blindly buy a bike based on ratings. Even if the bike is good you have to check if it will be good for you.
Both of them are good but if you want power, style, features, etc then go for NTORQ. But if you just want the Honda tag then go for Grazia as there is nothing new in it except the body styling. I would suggest NTORQ as three of my friend own Grazia and two of us(including me) own the NTORQ and they said that the Grazia is good only till first service and after that it becomes a liability. P.S- The other friend of mine sold his Grazia to get the NTORQ!! So, think wisely!!!
View All Answers
Q. What is the difference between alloy and dlx varient - Grazia?
Alloy varient does not have front disc brake, but DLX or DX version is having. Also DX is having 2 stickers mentioned DX at the front side of the GRAZIA.
Difference between STD and DLX is only on break system, STD : front break drum, DLX: fron break disk. No difference in mileage.
See there are two variants in alloy. One is Drum alloy and one is disc alloy . In dlx you get disc alloy...
View All Answers
Q. I am looking best suspension scooter?
Suspension somewhere also related to rider weight and height. Piaggio (Aprillia and vespa) has best suspension but they charge premium for the products because these are really premium rides. Normally Mahindra Gusto and TVs Ntorq has pretty good suspension.
I'm selling my access 125 2018 model to buy Honda active because suspension is very hard. I have severe back pain. Access engine is amazing but severe back pain.
I'm selling my access 125 2018 model to buy Honda active because suspension is very hard. I have severe back pain. Access engine is amazing but severe back pain.
View All Answers
View More Questions
All Grazia BS4 Questions and Answers
It's a good looking scooter and performance is same as activa.Previously i own a dio which is way far better in performance if we compare to grazia.The cons are low mileage and weird jerky clutch which you need to repair every 3000kms.

Perfect i really feel comfort and satisfied of using my grazia bs4 about my journey during two year of experience i don't have any complain.

I love this scooter but the main issue in facing currently is that whenever i try to give it an early morning start, It doesn't startup even after self and kick starting it.It pisses you off whenever you have to deal with it in the early morning.

Honda grazia 125 bs4 is an overall good scooter.But the build quality is not up to the mark.The performance is good even after two years.

Jgfgghfffy gfdhuyfh jgfguhgfy jgffthgffy jgfguhgfy jgfguugf bfffuuff hgdfygff gfdtygfft gfdtyufdft ggfdt
All User Reviews
Honda Grazia BS4 Expert Reviews

The Honda Grazia is the latest entrant in the 125cc scooter segment. But how does it fare against one of our favourites in this space, the Suzuki Access 125?
December 15, 2017
By Arun Mohan Nadar Photography - Vikrant Date

Honda's all-new 125cc Grazia is here to offer a lot more flair and poise, showcasing many firsts in the segment. We get astride it to find out if this is the scooter every teenager should look forward to
November 12, 2017
By Karan Narsu