Ducati Panigale
The Ducati Panigale is a family of bikes manufactured by Ducati 2 wheelers in India. Ducati offers a series of 1 new Panigale models in India.
The Panigale series from Ducati brims with performance-oriented technology that makes it one of the best superbikes to scorch the racetrack. Features like advanced electronics, racing suspension, slipper clutch, ABS and traction control make the Panigale series stand out when it comes to track oriented motorcycles. The prices start at INR 13,97,000 ex-showroom, New Delhi for the 959 Panigale, all the way to INR 49 lakh for the Panigale S.
Ducati Panigale Price List (2021) in India
Ducati Panigale Models in India
Latest Questions on Panigale Bikes
Yes bullet is a bullet ...zigwheels has explained every thing..one doubt remains ..is imperialle little unstable in very low speeds?..bullet once you start is weightless!!!

High octane petrol is the best.

Sorry bro I perceived the question wrongly.v4 R is a race bike with a road licence. Changes are in the good as a different stroke × bore which make it quick in a track. its 998cc while v4 has 1103cc. Power is MORE than 235ps at 13000 romans torque 121 Nm which makes way to a top speed greater than 312km/hour. on the other hand v4 is having 221 ps at 13000 rpm112 Nm of torque. From outside it can be distinguished from v4 by its shark grill.,metal touch on the tank and a white line over its body.visors are hard in v4R. safey features same but on track R version shed his wright by 7 kg to 165 kg and should meet sll criteria of a race bike . In short its a race bike eith a road licence.Ducsti will give to its race team il take toThanks

No it's a track oriented sports bike which is tamed in a way that you can take/conquer streets.New age electronics different driving modes,traction control,abs,slide controls make it equipped to conquer track and street. Week end rides is fun!!

R1 has a 4 cylinder legacybut VR still creeps towards R1 in terms of design which is definitely European ,will last. Also it 3 versions to choose from to its service centres in main centres.
Ducati Panigale Expert Reviews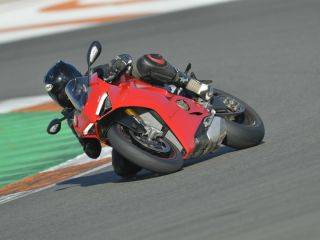 Ducati's flagship superbike, the Panigale, has been revered and respected. With the new Panigale V4, Ducati feel it has the undisputed king of superbikes. Is it?
Jan 29, 2018
Ducati Panigale News Updates