Bajaj CT 100 Spare Parts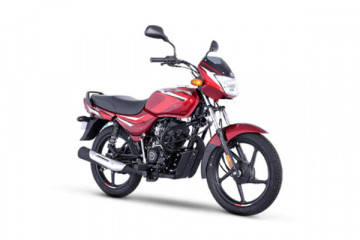 Rs. 43,994 - 51,674 Ex-showroom Price,

Delhi
Bajaj CT 100 Spare Parts Price List
| Bajaj CT 100 Parts | Authorised Dealer Price | Extra GST 28% | Total Price |
| --- | --- | --- | --- |
| Sticker Kit | 490 | 137 | 627 |
| Side View Mirror | 114 | 31 | 145 |
| Visor | 144 | 40 | 184 |
| Tail Panel | 719 | 201 | 920 |
| Silencer Assly | 1855 | 519 | 2374 |
| Side Panel Set | 749 | 209 | 958 |
| Rider Foot Rest | 88 | 24 | 112 |
| Mudguard Rear | 342 | 95 | 437 |
| Lock Set | 397 | 111 | 508 |
| Kick Lever | 261 | 73 | 334 |
| Horn | 203 | 56 | 259 |
| Headlight | 613 | 171 | 784 |
| Handle Bar | 341 | 95 | 436 |
| Fuel Tank Cap | 280 | 78 | 358 |
| Fuel Tank | 3608 | 1010 | 4618 |
| Mudguard Front | 884 | 247 | 1131 |
| Fairing Front | 707 | 197 | 904 |
| Clutch wire | 204 | 57 | 261 |
| Chain Sprocket | 699 | 195 | 894 |
| Chain Set / Chain Kit | 1309 | 366 | 1675 |
| Chain Cover | 543 | 152 | 695 |
| Cam Chain | 198 | 55 | 253 |
| Shock Absorber Set | 1536 | 430 | 1966 |
| Brake Shoe | 150 | 42 | 192 |
| Combination Switch | 287 | 80 | 367 |
| Battery | 1538 | 430 | 1968 |
| Timing Chain | 183 | 51 | 234 |
| Spark Plug | 87 | 24 | 111 |
| Cylinder Kit | 1741 | 487 | 2228 |
| Clutch Plate | 114 | 31 | 145 |
| Carburettor Rubber | 110 | 30 | 140 |
| Fuel Pipe | 30 | 8 | 38 |
| Labour Charges ( Paid Service ) | 236 | 66 | 302 |
| Oil Filter | 42 | 11 | 53 |
| Engine Oil | 390 | 109 | 499 |
| Air Filter | 110 | 30 | 140 |
| Alloy Wheel Front | 1420 | 397 | 1817 |
*These are estimated price and may vary based on location. Price mention above is in Rs
*SGST (State GST) + CGST (Central GST) = GST
Recently Asked User Questions and Answers
Q. I am going for Kerala on my CT 100 ES from Pudukkottai does it suits for it?
From Trichy Pudukkottai to Kerala near Moloor road (332km) in Google map. It is suitable. Don't speed above 80 the bike drags while braking and for seat if you opt for bead like material used in cars you can ride with ease. Iam using Hp20 40 oil changing it every 2000kms. Great for long rides too.
I've done a 10k km ride to complete north east on this bike by my experiences its not at all uncomfortable and you can easily go on 60kmph and do it
You BETTER TAKE AN BUS TO AVOID BACK PAIN
View All Answers
View More Questions
Q. I'm going to buy a new bike..i have sorted two Bajaj CT100 bs6 and Bajaj CT110 BS6 (both electric start varient) suggest any one..
Q. Want to know about Bajaj CT 100