4.1
(39 reviews & ratings)
Rate this bike
Engine Displ.

:

154.8 cc
Mileage

:

NA
Power

:

NA
Gear Box

:

CVT
Fuel Type

:

Petrol
ABS

:

Single Channel
Head Lamp

:

NA
Wheels Type

:

Alloy
Tyre Type

:

Tubeless
Standard Warranty (Years)

:

NA
View Booking Offer
View On Road Price
Aprilia SR 150 Race Specifications Summary
SR 150 Race Variants
Key Specifications
Key Features
Edition Rs. 79,124
154.8 cc, 43 Kmpl, 10.5 PS @ 6750 rpm, Petrol

view all

CVT Gear Box, Halogen Head Lamp, Alloy Wheels, Tubeless Tyre

view all

Connectivity Rs. 84,498
154.8 cc, Petrol

view all

CVT Gear Box, Head Lamp, Alloy Wheels, Tubeless Tyre

view all

ABS Rs. 91,761
154.8 cc, 43 Kmpl, 10.5 PS @ 6750 rpm

view all

CVT Gear Box, Carburetor Fuel System, Single Channel ABS, Halogen Head Lamp, Alloy Wheels, Tubeless Tyre

view all

Connectivity ABS Rs. 92,984
154.8 cc, Petrol

view all

CVT Gear Box, Single Channel ABS, Head Lamp, Alloy Wheels, Tubeless Tyre

view all
Aprilia SR 150 Race Overview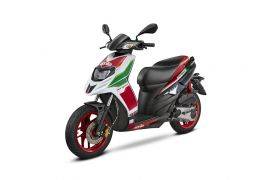 Specs of SR 150 Race Competitors
Must Read Questions & Answers Before Buying SR 150 Race
Q. Is it good for family use - SR 150 Race?
Aprilia SR 150 Race has slightly quicker acceleration, which makes the SR 150 a wee bit peppier at low speeds in city, which is the scooter's typical domain. You do lose out on top speed, which, however trivial, may matter to some buyers. But on the whole, the SR 150 Race does sound like a good deal. If you like the concept of a sporty scooter, then being able to brag about the quickest one around would seem better still. In that case you can forget about the small pinch to your wallet, walk down to the nearest Piaggio dealership and put your money down on the grey one. : By Zigwheels | 1 year ago
Nope : By Akhil | 5 months ago
Q. Hi I would like to buy a two wheeler preferable a scooter to zip around in busy streets. I prefer Aprilia 150. How is the service network in south India especially in Coimbatore?. - SR 150 Race?
As we can check there are two Aprilia dealerships in Coimbatore. As we expect yu won't face problem regarding the availability of the service center in Coimbatore. Moreover, you may check the link below for the dealerships in Coimbatore.Click here for the dealership: https://www.zigwheels.com/bikes/dealers/Aprilia/Coimbatore : By Zigwheels | 6 months ago
Aprilia 150 is not for busy streets. Regarding service network in south India, no idea : By Partha | 6 months ago
Good but aprilia is not made for buzy Road : By Ravi | 6 months ago
Q. Does Aprilia SR 150 ABS 2019 model has dual lights?
Yes, Aprilia SR 150 comes equipped with a setup of dual-halogen head lamps. : By Zigwheels | 2 months ago
Yes.. : By Sadashiv | 1 month ago
Yes : By BORUTO | 1 month ago
Q. Bro what is the average per litre and top speed - SR 150 Race?
It is 43.39 kmpl as claimed by the company and it can reach the top speed of 101.3 kmph. Click on the link to know more: https://bit.ly/2syDW3O : By Zigwheels | 1 year ago
Per litre 27. mine top speed 115 : By Santhosh | 6 days ago
Thank u : By Shreekant | 1 year ago
Q. I took my aprilia SR 150 race on May 2017 and completed all services from authorized aprilia showroom service centre. After the third service my bike pick up getting down by down like 110, 100 and now it's 85 top speed. Even mileage is also dropping down from 44 to 30. I raised this complaint at the time of 2nd & 3rd service but the problem is not getting resolved. The showroom technician and their manager told claimed mileage is 38 kmpl & you already getting 30 to 34 in economy speed. That is the best mileage you are getting already as said by their service engineer. I don't understand the company is giving bad service or bike is made in this way. Can anyone help me to resolve this issue as I already raised a complaint twice in aprilia service care number. They just took a sign of mine in service station to close the complaint without even resolving the issue. And I'm upset by spending 95k on road cost and planning to sell this in just year and few months by riding 24k kms. Please suggest.
We feel sad to hear about your experience. This is something which is never expected from a brand like Aprilia who is well known for its bikes and performance. Hope we could have helped you here in this scenario but this is something that you need to take further to the brand / dealership directly. Our reason behind redirecting you to the brand directly is to ensure that you get to speak with them and take a final opinion on the concern. If we talk about mileage, the mileage will depend on the way it was maintained and your driving style as well. It will be dificult to give a proper verdict without checking the actual condition. Moreover, in order to improve the mileage, we would suggest you to drive slower. Driving fast can reduce your fuel efficiency by up to 33% if you are traveling above 40 Kmph. The tire pressure should be checked at least monthly because properly inflated tires can improve fuel efficiency by up to 3%. Turning off air conditioner in city driving reduces stress on your engine which increases fuel economy greatly. Whether you use synthetic of natural oil, using an additive can improve fuel efficiency by up to 15%. Apologies for not being of much help here. : By Zigwheels | 1 year ago
Keep good tyres and check oils regularly.. register a proper complaint in aprilia india : By Akhil | 5 months ago
Are you serious??? about turning off air conditioner.. this is a scooter! : By Karthik | 4 months ago
Q. Bro I am in great tension. I have driven my new sr 150 race in more than 100 kmph before 1st service...I did not follow proper run in period. In fact i did not now about that.... I asked to aprilia showroom people about speed limit.. They said it does not matter.... Will it cause any serious damage to the engine.....
No, it won't cause any serious damage but it is always advisable that you should ride the scooter around 40-50 kmph before first service as a new scooter takes time to accustom - the Engine, Piston, Fuel Lines all takes time to lubricate. : By Zigwheels | 1 year ago
No not much : By Crazy | 2 months ago
All SR 150 Race Questions and Answers