Home » Reviews & Comparison » Skoda Rapid
Skoda Rapid
by
Kunal Khadse

Posted on
25 Jun 2012

2
Views

0
Comments
Date Acquired: 15 May 2012, Total kms till date: 13766 kms, Efficiency: 17 kmpl, Costs: 0
First impressions are great and especially after the little Eon, the Rapid feels like a luxury car. Big on the outside, nice lines with the typical Skoda face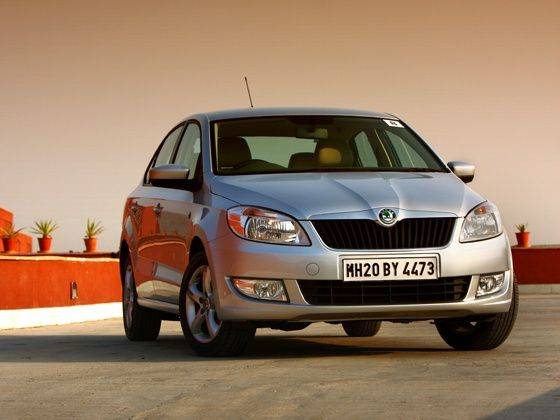 The Hyundai Eon's term was finally over and fuel prices had just risen. Considering my long daily commutes I was praying for my next long termer to be a diesel. And apparently my prayers were received quite well and in came the Skoda Rapid TDI. I loved this new Skoda the first time I shot it in Rajasthan and was really glad to have it as my next long termer.
First impressions are great and especially after the little Eon, the Rapid feels like a luxury car. Big on the outside, nice lines with the typical Skoda face. The beige interiors feel nice and roomy. There is plenty of space inside and 5 people can get in quite comfortably. The boot easily swallows my camera equipment and then some. The only problem is the beige interiors getting dirty especially now in the monsoons. As a result one has to take extra care to not stain those bright insides.
The best bit as I mentioned before is that engine. The 1.6 litre TDI unit is an absolute beauty. A gentle dab on the throttle and this baby is ready to talk to the winds. Abundant torque means I barely have to change gears in the city or on the highway. The car is especially in its element on the highways. Ride quality is slightly on the stiffer side and as a result the Rapid takes corners with aplomb. While it's a great engine, its slightly noisy especially when the engine is cold. But not enough to complain about considering one can barely hear anything once the mirrors are rolled up.
Haven't driven the car enough to calculate the mileage yet as I'm still on my first full tank. But considering how much I'm enjoying driving this car, there are sure to be a lot more full tanks to look forward to without lightening my wallet too much.
Ownership Score: 8 out of 10
Ownership Rating
Performance
7 out of 10
Fuel Efficiency
8 out of 10
Ride & Comfort
8 out of 10
Maintenance
7 out of 10
Drivers Delight
7 out of 10