Home » Reviews & Comparison » Mercedes-Benz GL350 CDI
Mercedes-Benz GL350 CDI
Posted on
10 Apr 2012

591
Views

1
Comments
Date Acquired: 10 Mar 2012, Total kms till date: 17524 kms, Efficiency: 10 kmpl, Costs: 0
While the huge dimensions might look imposing, driving this hulk around town can get a little tiring and that only because you're scared about lunatic motorcyclist scraping your prized possession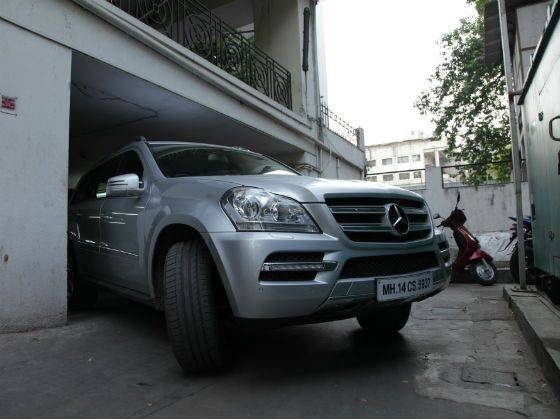 It's been a while that GL has been in the ZigWheels long-term fleet this big behemoth of an SUV goes about its daily job like clockwork. The daily job can be anything from the everyday commute to work to on and off Mumbai trips or the occasional weekend getaway. The best part is that one does not even have to consider any sort of limitations before choosing the destination. Good roads, bad roads no roads, anything goes with the GL. The brilliant air suspension adapts to any and every surface you set out to conquer.
The vast interiors take in friends and family in absolute comfort and as a result the need to take along a second car seldom arises. Top notch quality and features galore means even the kids have fun in the cosseting interiors.
The best thing however is that big V6 lump under the hood. Monster torque means, the GL just clambers over any and everything and what feels even better is after doing all that the GL does not really guzzle a lot of diesel. Even with the air conditioner on for 100 percent of the time the GL still manages 9 kmpl in the cut and thrust of the city and upwards of 14 kmpl on the highway if driven sedately. Not bad at all for almost 2 tons of SUV.
While the huge dimensions might look imposing, driving this hulk around town can get a little tiring and that only because you're scared about lunatic motorcyclist scraping your prized possession. Finding a parking spot can get a little bothersome too since the GL just wont fit in tight spaces. The GL then does everything it's asked off and does it well too and I'm enjoying every bit of this big Benz and plan to keep doing it till the end of its stay.
Ownership Score: 8 out of 10
Ownership Rating
Performance
7 out of 10
Fuel Efficiency
6 out of 10
Ride & Comfort
8 out of 10
Maintenance
7 out of 10
Drivers Delight
8 out of 10