Home » Reviews & Comparison » BMW X3
BMW X3
by
Adil Jal Darukhanawala

Posted on
22 Jun 2011

1579
Views

0
Comments
Date Acquired: 15 Sep 2009, Total kms till date: 15000 kms, Efficiency: 11 kmpl, Costs: 0
Nothing has changed about the car apart from how much it has impressed us with its great balance between SUV character, sedan-like roadholding and in-town practicality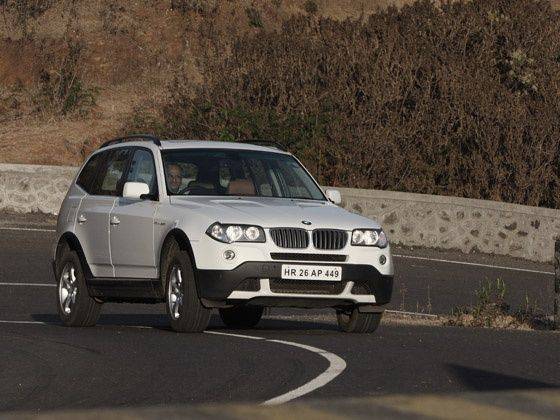 The BMW X3 from the ZigWheels garage is doing duties with aplomb, handling everything from daily commutes to drives to the airport in Mumbai over the expressway, right through to serving as the tracking car for our shoots. The kilometers are ticking off at pace thanks to this – while we got the car with around 12,000 km on the odo, that figure has stepped up to around 15,000 km in just a matter of a month.
Meanwhile, nothing has changed about the car apart from how much it has impressed us with its great balance between SUV character, sedan-like roadholding and in-town practicality. Its dimensions have made parking in the tight lane at our 577, FC Road office much easier than most SUVs, many thanks to the ParkTronic. But it is not while going slow that the X3 has been exciting us. With great grip from the permanent all-wheel drive system and fanastic feedback for a vehicle its size, the X3 feels more like a sports sedan around corners than an offroader.
Its ability to tackle bumps leaves a little to be desired, but we haven't quite been to offroading locations with it yet so we can't say for sure. Irrespective, just the versatility of this car along with the BMW badge are making this a longtermer that's going to be tough to part ways with.
Ownership Score: 8 out of 10
Ownership Rating
Performance
7 out of 10
Fuel Efficiency
8 out of 10
Ride & Comfort
7 out of 10
Maintenance
8 out of 10
Drivers Delight
8 out of 10