Honda CBR250R vs KTM Duke 200 vs Bajaj Pulsar 200NS: Comparison
Forget your 100cc commuters, your kilometres-to-the-litre top trumps... this is war. A war for the hearts and minds (and wallets) of Indian bikers, and by bikers, we mean those who love motorcycling...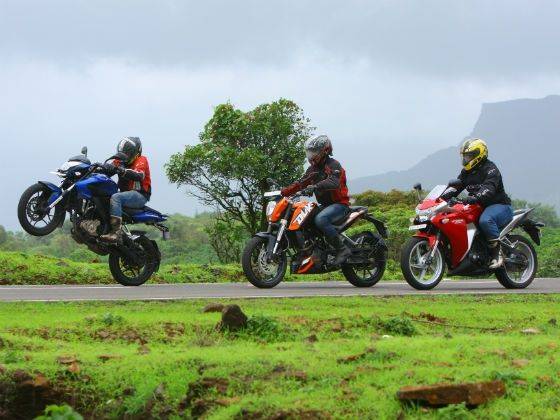 The last word
Three very capable bikes; three bikes that excel in their own unique ways. So which one of these three is our favourite? No points for practicality here
By now we've established that the KTM 200 Duke is the best looking, the Honda CBR 250R offers the best outright performance while the Bajaj Pulsar 200NS is the best handler. When you factor in the final test, that is, which bike gives you the most bang for your buck, the Pulsar is once again the clear winner. So, on paper at least, the Pulsar is the winner of this comparison. Being diplomatic about the matter, it would be pertinent to explain that every bike has its strengths and weaknesses. If covering hundreds of kilometres of highways and B-roads at one go is your thing, if you want a bike that can cruise at ton-up figures all day long without breaking a sweat, or your back, then of course it doesn't get better than the CBR.
The KTM on the other hand offers pure hooligan thrills. Its revvy engine sounds absolutely bonkers and offers the kind of instant acceleration that was once only the realm of two-strokers. Combined with its low mass, perfect weight distribution and aggressive posture it's the perfect wheelie machine. And to top it off, the build quality on the bike is simply phenomenal, far exceeding that of the Pulsar and even the CBR for that matter. The Pulsar's strong suit is of course its handling prowess. And true to its genealogy, it pretty much redefines the notion of 'power to the people', offering oodles of performance at a price point that, at less than half the CBR's, is absolutely unbeatable.
We can go on all day about how each of these motorcycles is quite impressive in its own right. But to hell with political correctness! While it is true that you won't be unhappy choosing any one of these bike, the one that we'll go with has to be the Pulsar. It really does offer the best of all worlds, and is quite literally the most fun to ride in every imaginable condition. And when you consider that all of this can by yours for well under a lakh of rupees, how can the verdict swing in any direction other than the Pulsar's?
We pitch the latest entrant in the 150cc...

How do these naked streets stack up against each...

What started as a healthy discussion about...