Ford EcoSport TDCi vs Nissan Terrano dCi 110 PS: Comparison
by
Anand Mohan
Photography:
Vikrant Singh

Posted on
30 Dec 2013

82,974
Views

19
Comments
If you want the best diesel compact SUV on offer in India, which one would you go for? The choices aren't many but the fight for the crown is close, so we break it down for you in this comparison test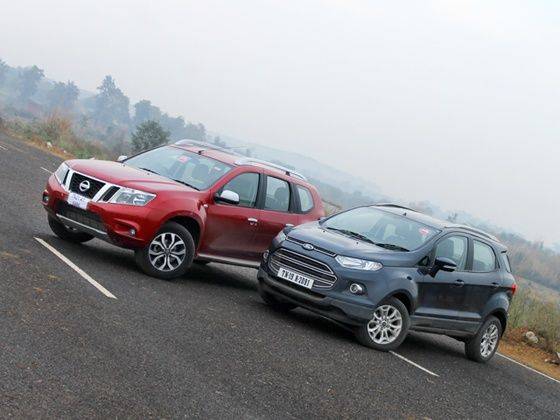 In one corner, you've got Ford's EcoSport TDCi, that's taken the Indian car market by storm and ruffled a few feathers across segments, be it hatchbacks, sedans or MPVs. In the other is the Terrano dCi 110 PS. The Nissan is everything what the Duster is but does it wearing a dapper outfit. Now you have a dilemma, the city-cool EcoSport or the urban yet rugged Terrano.
While the EcoSport diesel has 91 PS on tap, the Terrano has 110 PS so does that give the Terrano it's edge? It does, yet loses it as quickly since it is about Rs 3 lakh costlier than the EcoSport. There's more though to these two cars than just power and price, and before I start sounding like a politician, let me start by telling you why these cars are catching the fancy of every Indian car buyer around the Rs 10-12 lakh mark.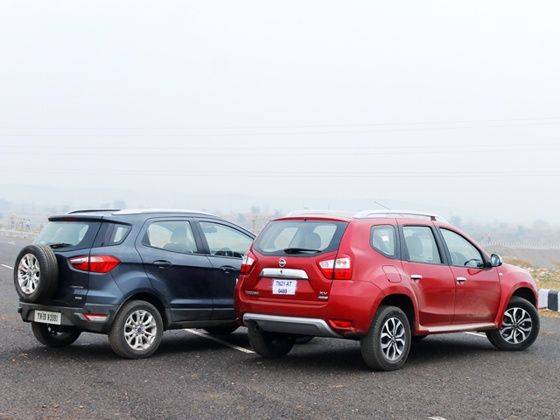 Standing Tall
Both these compact SUVs have everything from premium hatchbacks like the Hyundai i20 to midsize sedans like the Hyundai Verna and VW Vento in their crosshairs. That's because both offer the space of a sedan, the practicality of a hatchback and the imposing stance the hatchback and the sedan lack. This coupled with a frugal diesel engine and the ability to tackle broken roads like they should, give both these SUVs the edge. Between the two when seen from their side profile, the EcoSport's stubby front end and relatively odd dimensions compared to the Terrano's proper SUV stance give the Nissan a point over the Ford.
SLIDESHOW
Ford's EcoSport has a fresher competitor in the form of the Nissan Terrano. Will the Nissan with it's smarter styling and positive traits of the Renault Duster take on Ford popular SUV and win? We solve your compact SUV dilemma

Do you like this story?
FEATURED SLIDESHOWS
TOP VIDEOS

The Suzuki Alivio, recently showcased at the Shanghai Motor Show, is the near production version of...


Rolls-Royce Ghost Series II: Official Video
Rolls-Royce decided it was time to give a minor facelift to the Ghost and unveiled the Ghost...