Yamaha Ray: First Ride
by
Rahul Basu
Photography :
Priyadarshan Bawikar

Posted on
18 Sep 2012

229,605
Views

73
Comments
With the launch of the new Ray, Yamaha hasn't merely filled up a few blank spaces in its two wheeler arsenal for the Indian market, but rather engineered a product that despite its primary motive of catering to the country's growing female rider population, should immediately see mass appeal. On a recent test ride in Hyderabad, Rahul Basu got thinking while craftily circling cones on this purple pastel scooter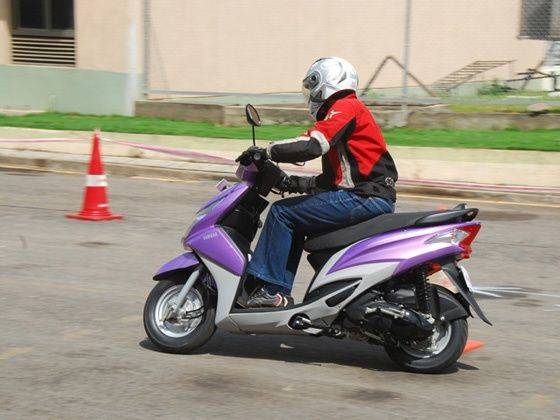 Verdict: Women should buy it! Others should at least try it
It was incidentally an overpowering majority of young male journos who attended this pan Indian launch and test ride event in Hyderabad, and while our female counterparts had only nice words to share about the scooter in general, it was in fact the guys who went absolutely gaga over what stood before them. Definitely raised some questions about the Ray being marketed as a mere female fancy as opposed to a collateral crowd puller.
As unisex looking and rider friendly as I may perceive Yamaha's latest scooter to be, it leaves little discord over the impending truth that it is indeed women who will initially if not for the long term see the Ray as their light of the day. The reasons are manifold. This is the first time in India that a company has developed scooters for women assembled by women. Yamaha has also developed a riding training program called Yamaha Female Riding Training Program for female customers, which will be implemented across the country.
Never before has a two wheeler maker indigenous or international developed a product so viscerally for female scooter riders in the country. The Pleasure from HeroMotoCorp and the Scooty from TVS come close to earning this distinction, but with the Ray Yamaha has most definitely gone over and beyond its unique product placement to ensure a smooth purchase and after sales experience for all its female customers.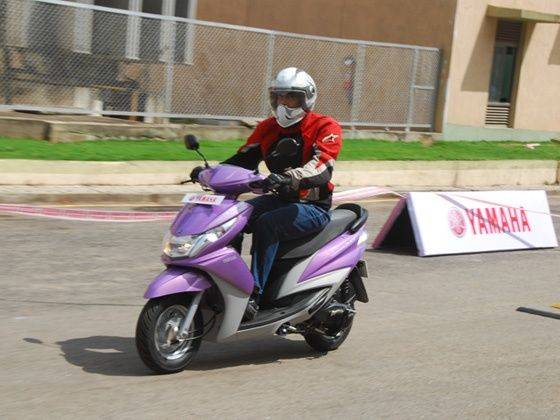 Anytime on road assistance from any Yamaha dealership located within a 5km radius is huge incentive for female buyers who strive for independence but not at the cost of their personal safety. If that's not enough, for its fashion conscious young female buyers Yamaha has introduced an entire range of Ray branded apparel and after market accessories for its female customers, which include seat covers, floor mats, sporty stickers, helmets and funky T-shirts. The first of its kind Yamalube engine oil has also been specially developed for the Ray further endorsing a sense of personalisation even in matters related to the vehicle's upkeep and smooth operation in the long term.
Yamaha seems to have found an interesting balance between power, proportions, efficiency and handling with the Ray. That being said a single-minded focus on marketing such a capable machine solely to its female customers would be an ill-advised decision for the Japanese bike maker in the long term.
SLIDESHOW:

Do you like this story?
Previous Story

Next Story

Sign up for our customized BIKER newsletter today.
FEATURED SLIDESHOWS
TOP VIDEOS

Here is the exhilarating clip of the 2010 BMW S1000RR being tested at the Portimao Racetrack in...


Bajaj unveils its new Pulsar 200 : ET Now Reports!
Bajaj has unveiled its next generation Pulsar 200 for India and has slated its launch sometime...