Home

Reviews & Advice

Skoda Laura 2.0 L &K TDI Performance
Skoda Laura 2.0 L &K TDI Performance
by
Vikram Gour

Posted on
12 Aug 2009

17,653
Views

Comments
Thanks the response received on the 'Skoda Laura Long Term Test' article, and on behalf of some comments made by regulars on the Zigwheels.com site, here is an elaborate article about how the Skoda Laura 2.0 L&K TDI automatic behaved on my drive from Pune to Gurgaon
After a night halt in Nasik, it was time to tackle the Satpura range that stretches into Gujarat. The road happens to be neatly paved and the panoramic view along the drive is just brilliant. As the road rolls through the hills, we were witness to our share of inclines and downhills. The Skoda Laura proved its mettle on these roads as well. Firstly there are more than enough horses under the hood to take you up any incline with ease. On most cases the Laura didn't drop to even second gear to handle the climb. Power delivery is linear and available at the tap of the accelerator which makes it easy to overtake slower moving traffic in the hills. This proved to be a big boon as stretches to overtake trucks are short, and thanks to the Skoda's ability to just power up meant that we were able to overtake trucks and buses without having to run out of road or enter a corner dangerously. We were also able to maintain a decent speed through the hills. Our average speed worked out to a decent 40 km/h for this 200 km drive and again this would go to the fact that the Skoda imbibes a sense of confidence in the driver to maintain higher speeds without taking risks. Thanks to small electrical gizmos like ABS and ESP we didn't have to worry about losing traction and even on wet roads the Laura stuck to its line around corners.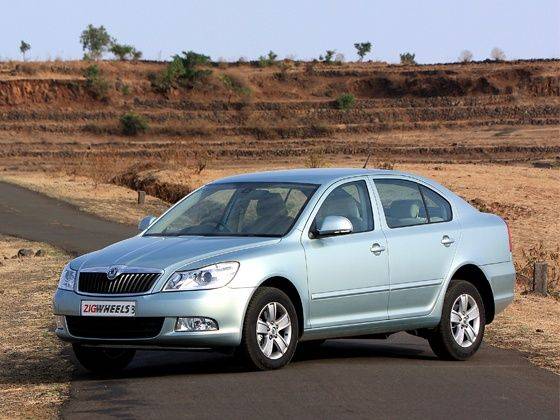 There were a couple of stretches of road that we encountered in the Satpura range that were pothole ridden, yet we were able to traverse over them without a hitch, thanks to the high ground clearance the Skoda Laura offers. Suspension is a little taunt, but that is common of a lot of European cars and though it might be a small sacrifice on comfort, it leads to great benefits on handling.
Once on the highway, the Skoda Laura stepped into its element. Unleashing the horses under the hood, the car thundered past the 100km/h mark and literally pulled forward like a locomotive. The smooth shifting of gears actually goes unnoticed, that is how brilliant a gearbox it is. Steering response is spot on, and though it does feel a tad bit heavy, you get used to it after driving the car for a bit. In fact the way the car behaves will actually grow on you and it is very tempting to push the car even more, but that could take you into dangerous driving territory so it is best to follow road rules and maintain speed limits.
More on this Car

Do you like this story?
Previous Story

Next Story
FEATURED SLIDESHOWS
TOP VIDEOS

Tata Pixel Zero Turn Drive Video
The Tata Pixel concept that Tata Motors showcased at the 81st Geneva Motor Show is a revolutionary...


Coming soon: BMW Bikes in India
Luxury car maker BMW is thinking to re-enter in Indian bike market with high end bikes.