Home

Reviews & Advice

Nissan Micra: First Drive
Nissan Micra: First Drive
by
Muntaser Mirkar

Posted on
29 Jun 2010

31,480
Views

3
Comments
Nissan's first small car for India, namely the Micra is all set to compete in the already overloaded small car market. We take a look to see if this little hatch packs enough punch.
Slated for launch by mid-July this year, the Nissan Micra has been on the cards for a while now and the best thing about it is that the Japanese manufacturer is coming in with the latest generation of the car that has enjoyed huge success all over the world in the small car space. They've teased us with images and kept the hype up with small bits of news time and again but now it's finally here. Nissan even displayed the car in showrooms by the end of May and opened bookings for those who were willing to take the risk and put down the Rs 50,000 booking amount without even knowing the actual price of the car. Well, the Micra has already been booked by over a 1000 people and the one thing that they're all dying to know is whether it was a bad call. Before we start off with any details then, all you pre-order people can breathe a sigh of relief because judging by the short drive that we had in Chennai, it sure seems worth having taken all that risk!
Design Impressions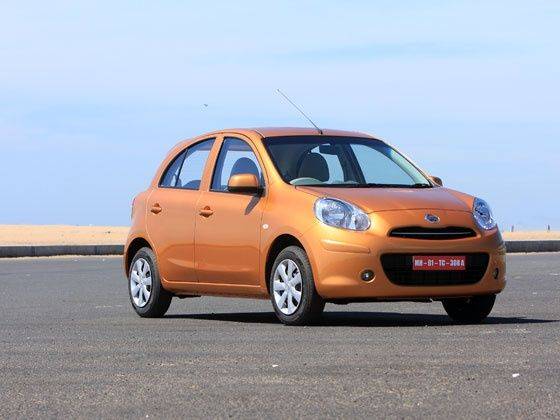 By now almost everyone's seen what the car looks like and in the flesh; it looks pretty cute in an inexplicable way actually. You see, we generally associate 'cute' with either feminine or animal-cute designs. But the Micra can't really be placed as feminine or masculine even, but it's certainly not half-way in between either. There's just this very nice feel you get when you look at the car and that emotion just gets further deepened when you take a closer look at how well the Micra has been put together. Panel gaps and shutlines are minimal and the quality of the car's assembly is phenomenal. The multi-grain plastic dash works well to look good and at the same time, keeps reflections low. The design theme overall - whether on the outside or in the cabin, is clearly round. Starting from the headlamps, tail lamps to the centre console that houses the music system and air-con controls are all shaped to be round. Quality of the fabric is pretty neat too - even on the base variant. There are a few bits that we didn't really like much, but we'll come to that a little bit later.
SLIDESHOW:
More on this Car

Do you like this story?
Previous Story

Next Story
FEATURED SLIDESHOWS
TOP VIDEOS

Tata Pixel Zero Turn Drive Video
The Tata Pixel concept that Tata Motors showcased at the 81st Geneva Motor Show is a revolutionary...


Coming soon: BMW Bikes in India
Luxury car maker BMW is thinking to re-enter in Indian bike market with high end bikes.