Home

Reviews & Advice

Maruti Suzuki Ertiga : First Drive
Maruti Suzuki Ertiga : First Drive
by
Vikram Gour
Photography :
Kunal Khadse

Posted on
09 Apr 2012

264,634
Views

36
Comments
Maruti Suzuki India Limited has finally decided to set foot whole and heartedly into the passenger MPV space with the Ertiga. While the segment could do with some competition, the real question is whether Maruti can pull off such a vehicle in the first place. After having spent two days behind the wheel of the Ertiga, Vikram Gour has returned convinced of the fact that Maruti has a stonking winner in the making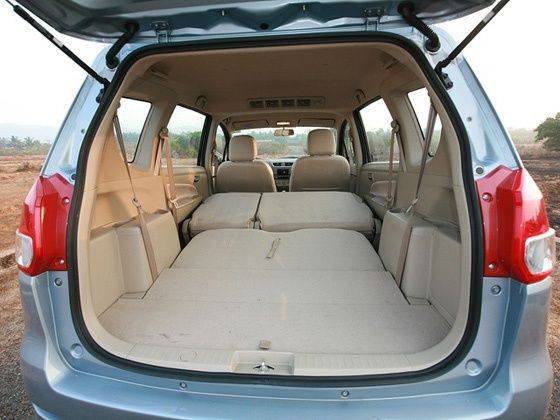 While the interiors might be top notch in terms of fit and finish as well as equipment levels, the real question that is plaguing everyone's mind is the sensibility behind having seven seats on board a vehicle that is much smaller in length than a Toyota Innova. That is where you get to enjoy the innovative packaging that MSIL has executed on this vehicle for the Ertiga actually manages to offer a ride to seven passengers in reasonable comfort!
Ok, with seven adults on board there is no scope of any luggage coming along except for a few small bags, and that is a bit of a let down. My personal outlook is that the Ertiga should best be utilised as a plush five seater and if you feel the need to take along some extra folks, it's just a simple fold of the rear seats and, viola, you can house a whole new row!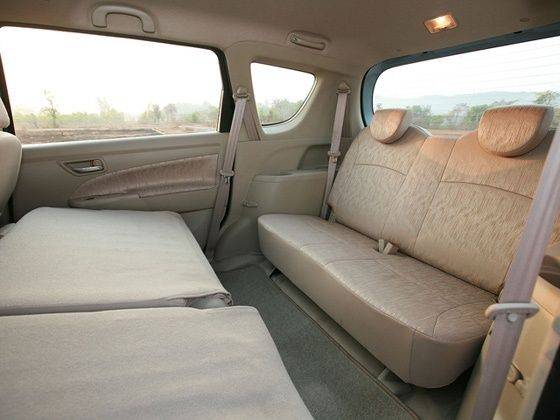 The flexi seating is great and what is a revelation is the fact that the rear two rows of seats fold flat to free up tonnes of loading space, which adds that element of versatility to the Ertiga's all-round reputation as well. The bottom line is that the Ertiga should come to be known as a 5 + 2 flexi-seater, rather than a 7 seater. This equation speaks leaps and bounds about the intention as well as where the Ertiga fits in terms of market space.
When it comes to what lies under the hood of the Ertiga, there essentially lie two choices, namely a brand-new 1.4-litre VVT petrol engine and the tried-and-tested state of the art 1.3 DDiS diesel unit fitted with a turbocharger. Both engines are highly refined units and have their merits and post having driven the Ertiga in its petrol and diesel avatars, I can safely say that the petrol engine was quite the revelation. I didn't expect so much grunt from a 1.4-litre petrol motor; however I was in for a surprise as this engine proved to be an able performer. The 1373cc mill features a VVT system and is capable of making 95PS @ 6000rpm and a rather decent 130Nm of torque @ 4000rpm. Mated to a five speed gearbox, the power translates to great in city driving and fantastic cruising along highways. A bit of downshifting does become apparent, but it's nothing to write home about.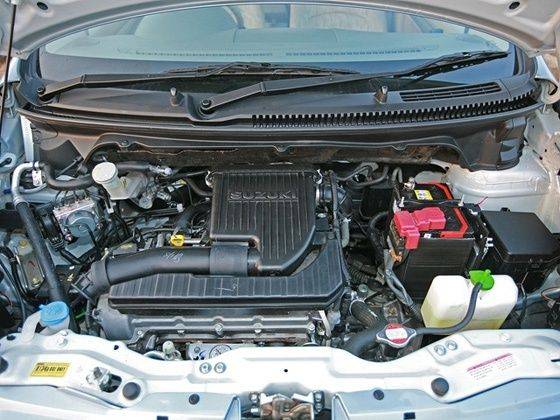 The diesel mill is a familiar unit and can be found under the hood of the SX4 diesel. The 1248cc DDiS unit churns out 90PS @ 4000 rpm and a solid 200Nm of torque @ 1750 rpm. The numbers sound great and performance is in that region of judgment as well. A little bit of turbo lag is apparent, however once you get the diesel motor running at a boil, it offers a driving experience that will always bring a smile to your face as the simple joys of driving a competent vehicle shines through.
The Ertiga also proved its mettle in the ride and handling department. While I expected the ride quality to be in check considering MSIL's expertise in that department and the fact that they have almost three decades of experience on delivering comfortable cars for Indian conditions. The question that I needed answers for were in the handling department; after all MSIL has extended the Swift's floorpan by 300mm to accommodate the Ertiga. The first few minutes and a couple of corners later, I had my answers, which was only fortified after powering through some twisties later on in my drive. The Ertiga impresses in terms of handling.
The steering feels well weighted and precise, the body roll is under control and it's only under rather tight corners that the length of the vehicle can be felt, or rather that the back steps out a bit. In city driving is enhanced by the Ertiga's tight turning radius of 5.2 meters, and the overall dynamics definitely benefit from the large 15 inch wheels fitted on as standard, regardless of variant. The reasonably high ground clearance of 185mm allows the Ertiga to traverse over rough roads in considerable ease and there isn't any reason to cringe while trying to tackle large speed breakers in the urban jungle either.
SLIDESHOW:
More on this Car

Do you like this story?
Previous Story

Next Story
FEATURED SLIDESHOWS
TOP VIDEOS

Tata Pixel Zero Turn Drive Video
The Tata Pixel concept that Tata Motors showcased at the 81st Geneva Motor Show is a revolutionary...


Coming soon: BMW Bikes in India
Luxury car maker BMW is thinking to re-enter in Indian bike market with high end bikes.