Home

Reviews & Advice

Maruti Suzuki Alto K10: First drive!
Maruti Suzuki Alto K10: First drive!
by
Adil Jal Darukhanawala

Posted on
09 Sep 2010

123,701
Views

11
Comments
Maruti's new mini-sizzler is here and it is out to captivate many hearts big time, with its peppy and easy-sipping K10 engine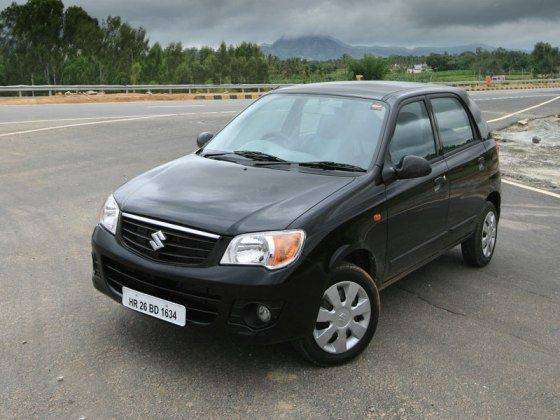 It is confession time and I have no qualms in stating that I have had a soft spot for the Suzuki Alto ever since the first iteration for India was launched as the 800 way back in the mid-1980s. However, this liking for Suzuki's best known name plate the world over truly ticked into overdrive when the present generation Alto appeared on Indian roads in the year 2000. What began with the 800's engine plus a larger 1.1-litre mill from the Wagon R was later rationalized to just the 800cc engine. After a slow start the Alto leapfrogged all else, even in Maruti Suzuki's line-up to go top of the heap. Understandable this fact, given this was the most modern extension of the 800's theme of providing a no-nonsense, simple and easy to operate small car for the masses. Add in legendary Maruti-Suzuki build quality and a strong service set-up nationwide, the Alto did its job admirably for country and consumer alike.
One of the key things which have happened in India over the last few years has been the hectic action seen in the hatchback category with new models dominating the senses from both existing as well as spanking new manufacturers! The entry level hatchback segment however didn't see much innovation or for that matter any new model action whatsoever and while the more premium larger hatchbacks seemed to grow, the entry level category has seemingly stayed put. No wonder then that the Maruti 800 is virtually on its last hurrah as far as off take is concerned and not much is happening when you take in class rivals from other brands.
It is here that the leader has moved to shape and shake the market in the entry-level segment even when - in the Indian scheme of things - it didn't actually need to. At least not right now. However, it is a given for large successful corporations to be proactive rather than reactive and this is the case with Maruti-Suzuki's new Alto K10. Get it in now as a complementary rather than replacement model to the present Alto F8D and you make the Alto brand even wider ranging in its entry-level appeal while also arming it for the coming years.
More on this Car

Do you like this story?
Previous Story

Next Story
FEATURED SLIDESHOWS
TOP VIDEOS

Tata Pixel Zero Turn Drive Video
The Tata Pixel concept that Tata Motors showcased at the 81st Geneva Motor Show is a revolutionary...


Coming soon: BMW Bikes in India
Luxury car maker BMW is thinking to re-enter in Indian bike market with high end bikes.