KTM 390 Duke: Road Test
by
Varad More
Photography :
Kunal Khadse

Posted on
30 Aug 2013

129,979
Views

23
Comments
After a brilliant first ride on the twisty B-roads of Austria, the KTM 390 Duke gets ridden on the streets of Pune and the surrounding highways and hills for a full-fledged road test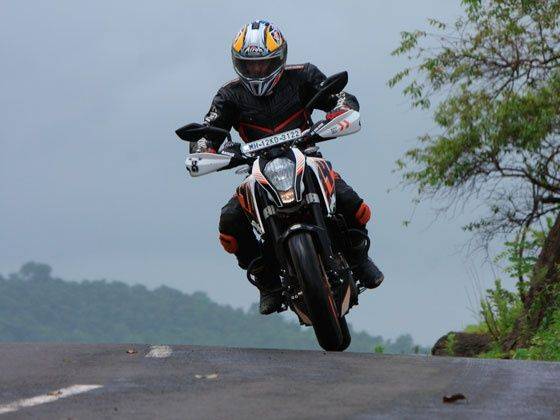 Sitting amongst friends, there is strumming of guitars in the background and occasional sound of someone pouring himself a drink. My head is rolled back, eyes shut and I am taken back to the storm before this evening calm. The eight hours that I took to reach this friend's farmhouse on the western coast of Maharashtra from Pune, were the most fun I have had on this route ever before. And the credit for it goes to the newly launched KTM 390 Duke which I have been riding for over two weeks now.
Usually there are the scary fast litre class motorcycles that give most riders the jollies of short acceleration bursts but they are impossible to tame and hence the pleasure cannot last for the entire ride without risking life. I mean before whacking open the throttle of a litre class bike on our roads and keeping it open, I know it will be a good idea to distribute my half a dozen motorcycles amongst good friends, tell mom I love her and probably tell that one girl that I have always loved her. That's the litre class story.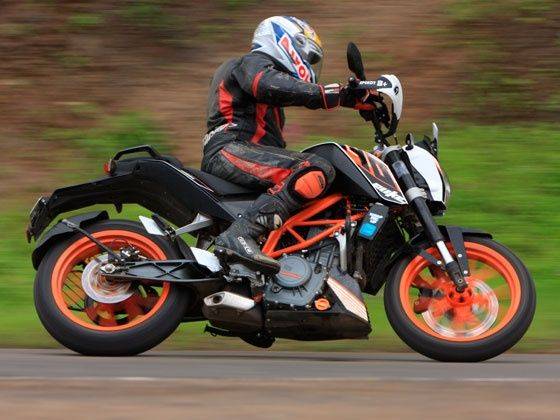 But the 375cc liquid cooled single cylinder engine powered 390 Duke that I have been piloting recently, is an altogether different machine. One that can scare you silly in a matter of few seconds or one which can keep you happy for the entire duration of the ride or impress even when trudging along the city traffic in a peaceful manner with its low slung exhaust humming out a throaty note - a machine that is many things to many riders and can do all those things better than any of its rivals. Even after spending two weeks on the saddle of the 390 Duke, there was no point where I could actually exploit each gear redline of the 390 on our roads, (barring the test runs of course) - the highways too dangerous, the twisties too tight and the cities too clogged.
That is why I would go on and say that the KTM 390 Duke falls in the 'just right for our roads' class of machines in India and by that I do not mean slow by any chance. That rather tiny 375cc single cylinder engine pumping out 44PS of power at 9000rpm and 39Nm of torque peaking at 7000rpm is by no means a slouch.
Packaged inside the lightweight tubular space frame helped by liberal use of aluminium and alloy bits (including the gorgeous swingarm, the footpegs, etc) to keep her lean on mass and mean in character, the 139kg of dry weight turns this little motorcycle into an angry Hulk within a fraction of a second of opening the throttle wide open in the right gear. For which the vote of thanks chiefly goes to KTM's emphasis on making lightweight motorcycles that hands the 390 Duke with a class leading power-to-weight ratio of 316.5PS/tonne.
SLIDESHOW: KTM 390 DUKE ACCESSORIES
PowerParts are the official range of after market accessories provided by KTM which allows its customers to spec their rides according to their individual taste
More on this Bike

Do you like this story?
Previous Story

Next Story

Sign up for our customized BIKER newsletter today.
FEATURED SLIDESHOWS
TOP VIDEOS

Yamaha Tricity: Official Video
Japanese two-wheeler giant Yamaha launched its innovative three-wheeler scooter, Tricity in Thailand


Yamaha Revstation: Teaser Video
Yamaha has released this teaser video showcasing the soon to be launched production version of the...