Kawasaki ZX-10R ABS: First Ride
by
Arun Mohan Nadar
Photography:
Cyrus Dhabhar

Posted on
24 Nov 2013

38,308
Views

35
Comments
We take a spin on Kawasaki's flagship litre-class offering, the ZX-10R to find out whether it has the apt amount of ammunition to taken on its Japanese and European rivals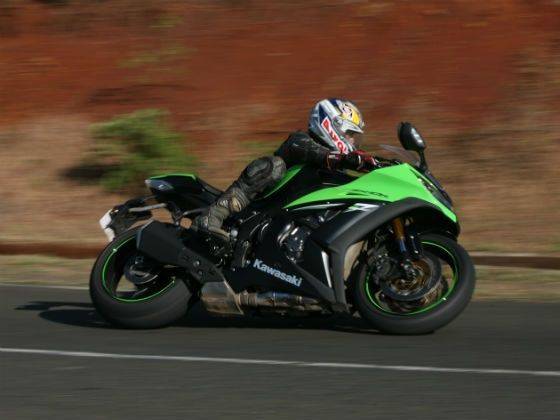 I haven't slept properly the whole night yet I have no signs of fatigue, I am up by 5am without my alarm shouting its head off to wake me up which normally is a futile effort. Why this excitement one might think? Well when you know that one of the fastest production motorcycles is all by yourself for a day and it is resting in your parking lot then sleeping isn't an easy task as exhilaration kicks in which no amount of caffeine can pull off. These were the feelings which were running through my mind and body as I braced myself to ride the Kawasaki ZX-10R ABS over the beautiful twisties on offer en route to Lavasa. The Kawasaki's litre-class faired offering is among the elite motorcycles on sale globally but surprisingly it made a late foray into the Indian market years behind its traditional Japanese rivals, Honda's CBR 1000RR, Yamaha's R1 and Suzuki's GSX-R1000. So was the wait for the ZX-10R worth it? Let's find out…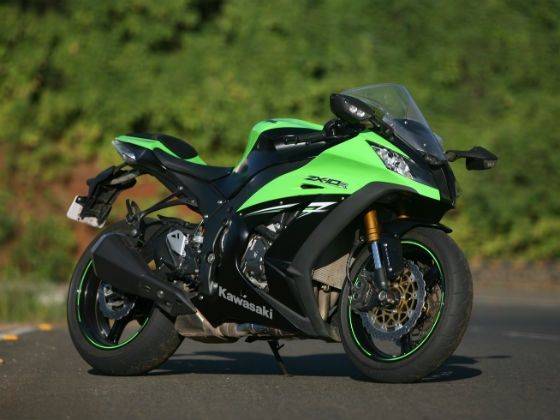 Looks that matter:
It seems the front is where the designers have focused their attention as it sports a very sharp and beaky kind of façade with that twin eagle-eye headlight being separated by a ram-air system vent. Also it has a very low slung and aggressive stance as if to convey that it wants to pounce on its victim and it is ever ready for an opportunity to attack. Other details which make the front of the Ninja so appealing are the nicely sculpted windshield, rear-view mirror integrated turn lights and the beautiful finish of gold on the forks which add so much drama. The 10-R becomes more striking due to its vibrant shade of Lime Green which is highlighted intricately by black ascents on the bike. It sport an all-digital instrument cluster with LED tachometer, which also acts as a custom shift indicator and below it a LCD info panel which displays a plethora of information.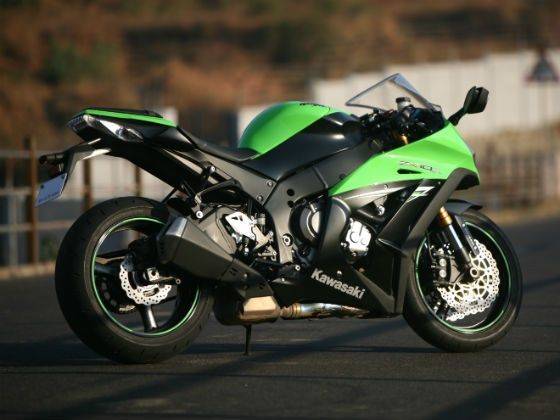 One of the major design trends followed by two-wheeler manufacturers around the world is to make their bikes as compact and small as they can and the Ninja is no different. The 10R feels chunky in the front but looks skinny at rear and even with its hefty exhaust pipe, the rear feels a little incomplete and un-proportionate. This would have been done by the designers with aerodynamics in mind and we can understand it, but it misses out a little in terms of design aesthetics. The other major disappointment for me was the 3-spoke forged aluminium wheels which looked like more than a decade old with respect to their form. In terms of overall design and concept, the ZX-10R is a well-rounded package and has to be the most striking motorcycle when compared with its Japanese rivals but loses out a little to its Italian counterparts.
SLIDESHOW:
We take a spin on Kawasaki's flagship litre-class offering, the ZX-10R to find out whether it has the apt amount of ammunition to taken on its Japanese and European rivals
More on this Bike

Do you like this story?
Previous Story

Sign up for our customized BIKER newsletter today.
FEATURED SLIDESHOWS
TOP VIDEOS

Yamaha Tricity: Official Video
Japanese two-wheeler giant Yamaha launched its innovative three-wheeler scooter, Tricity in Thailand


Yamaha Revstation: Teaser Video
Yamaha has released this teaser video showcasing the soon to be launched production version of the...