Home

Reviews & Advice

Hyundai Sonata 2012: Road Test
Hyundai Sonata 2012: Road Test
by
Muntaser Mirkar
Photography :
Kunal Khadse

Posted on
31 May 2012

54,057
Views

13
Comments
A little bit of magic, and a lot of engineering; some science, and loads of art - the new Hyundai Sonata makes every other car in its segment look like they belong in a bygone era. But can this barge hold its tune on tarmac?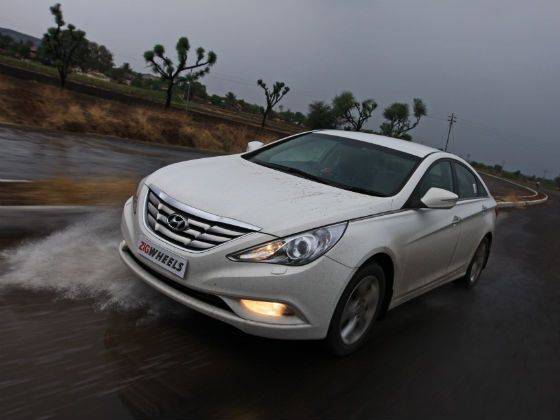 Get alerts on new cars reviewed by ZigWheels
It's almost uncanny how almost every story about any of Hyundai's new cars starts off with a reference to how much good their new fluidic design philosophy has done to the brand. So, for once, I'm going to be a little critical about the Sonata.
Let's face it – the car hasn't had a distinct character of its own ever since its inception into the Indian market all those years back. The first one looked pretty much like a straight lift from the super hot Jaguar S-Type and then the next redesign which later on got the 'Embera' moniker was as plain as a box of morning cereal. That said, having flattered the Jag wasn't too bad a strategy at all and it pretty much helped establish Hyundai as an acceptable maker of high-end equipment. Now that's saying quite a bit, considering that Maruti hasn't been able to pull the same off with the Kizashi.
The Sonata has until now always been a bit of an exclusive automobile but not because of its price but more so because not many wanted one when they could opt for one of the Japanese offerings. The car was always a comfortable one though, but always seemed a tad outclassed by the competition. All that looks like it's about to change though and after all that criticism above I can't help but say that the new one is, well, pretty impressive – and that's quite the understatement!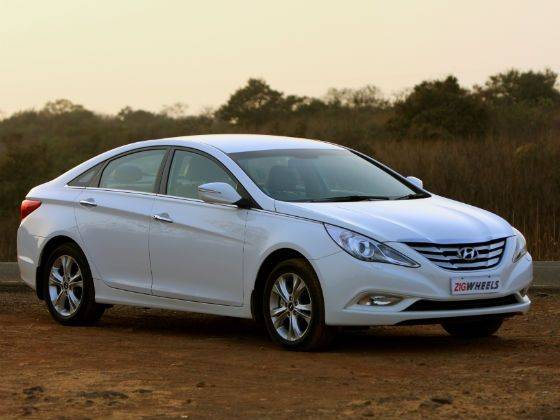 Aesthetics: Original, finally?

Yes and No. The new Hyundai Sonata has been designed at the Korean manufacturer's design studio in Irvine, California and at first glance it simply melts your heart. Modern family design cues have seen quite a few brands falter in their approach and all their cars have started looking the same but Hyundai have somehow kept things fresh with each and every new model that they've come up with yet.
So the Sonata instantly bares resemblance to the fluidic Verna, but yet manages to look completely different at the same time and that is quite the achievement. If you aren't a fan of the Korean company's designs yet, you sure will be after having seen the Sonata in the flesh. The lines reek of an art form that Da Vinci would have been proud of and Michelangelo would have put up posters of on his bedroom walls.
But the Sonata's true brilliance lies beyond the flowing lines and svelte curves because once you soak in all the details it really starts to touch you deep within your soul. I'm not a big fan of too much chrome on cars but that metallic strip that runs all the way from its rear quarter glass along the waist line to the head lights is pure brilliance.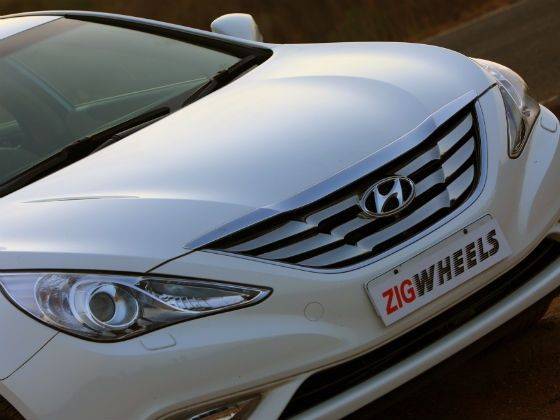 And then there's the kink in all of the slats on the front grille that not only break up the visual mass there but also seamlessly flow into two strong character lines along the length of the hood. And don't you dare miss the metallic red 'GDi' badge on the boot lid while you're at it. All of the car's lines seem to genesis from some invisible point on the front bumper and flow outwards – squint your eyes a little and you'll almost have visions of the Big Bang and the birth of the universe!
So maybe that's saying too much, but you've got to admit, the new Sonata makes every other car out there look like a relic from medieval times. Original then, isn't it? Well, remember the first-generation Mercedes-Benz CLS? I guess we'll leave it at that then.
More on this Car

Do you like this story?
Previous Story

Next Story
FEATURED SLIDESHOWS
TOP VIDEOS

Tata Pixel Zero Turn Drive Video
The Tata Pixel concept that Tata Motors showcased at the 81st Geneva Motor Show is a revolutionary...


Coming soon: BMW Bikes in India
Luxury car maker BMW is thinking to re-enter in Indian bike market with high end bikes.