Honda CBR150R: Road Test
by
Priyadarshan Bawikar
Photography:
Kunal Khadse

Posted on
07 Jun 2012

179,299
Views

25
Comments
The CBR150R is Honda's attempt at populating the 'middleweight-in-India' sportbike segment, which till date had been occupied by a grand total of one bike. But how well does it hold up by itself? Nothing that a quick bout in the saddle can't sort out...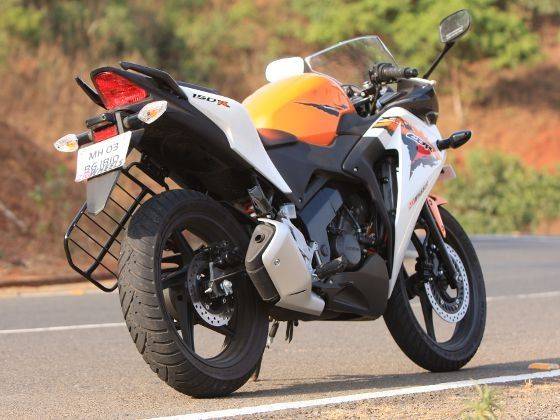 So, what's the word?
In one word, brilliant! I mean, yes, there are some slight niggles here and there. The plastics and switch gear quality is not becoming of a bike with this large a price tag. And the price tag? Well, that's a cool Rs 1.19 lakh ex-showroom Delhi – that's over ten grand more than the Yamaha R15 V2.0 and a couple of grand more than the extremely desirable KTM 200 Duke. And yes, below the powerband, it moves like a little commuter bike. I guess, the biggest gripe with the CBR150R is that when you get on the bike, it doesn't feel like something that should cost over a lakh and thirty thousand rupees. But that, by no means, is the complete story and leaving it there would be doing a great injustice to this bike. All you need to do is take it for a ride on winding roads (or even a race track if you have access to one) to realise the point of this bike – a realisation which doesn't creep in, but in fact hits you like a fully loaded freight train coming the other way.
More on this Bike

Do you like this story?
Previous Story

Next Story

Sign up for our customized BIKER newsletter today.
FEATURED SLIDESHOWS
TOP VIDEOS

Here is the exhilarating clip of the 2010 BMW S1000RR being tested at the Portimao Racetrack in...


Bajaj unveils its new Pulsar 200 : ET Now Reports!
Bajaj has unveiled its next generation Pulsar 200 for India and has slated its launch sometime...