Honda CBR150R: Road Test
by
Priyadarshan Bawikar
Photography:
Kunal Khadse

Posted on
07 Jun 2012

179,514
Views

25
Comments
The CBR150R is Honda's attempt at populating the 'middleweight-in-India' sportbike segment, which till date had been occupied by a grand total of one bike. But how well does it hold up by itself? Nothing that a quick bout in the saddle can't sort out...
Ocular delight
Of course, at first glance, obvious visual parallels will be drawn to its larger sibling, the 250, but closer inspection reveals subtler details that really set this machine apart. While I'm not going to get into the tedium of describing how the bike looks, especially when you have Kunal's fantastic pictures to do that job for you, just bear with me while I touch upon the visual 'feel' of the bike. While the 250 with its silver trim bits, the bulbous panels and the massive exhaust has a striking similarity to the VFR1200F, the 150 with its short exhaust can and restrained proportions has the distinct appeal of the CBR600F, Honda's latest middle-weight 'for-the-street' sportbike. And this has a lot to do with the short 1305mm wheelbase of the bike, which gives it a significantly more compact feel. Overall, with a lither and more athletic stance, this smaller Baby 'Blade looks even sportier than the original Baby 'Blade.
There are some slight design boo-boos though, and the most blatant of those is the switchgear, which has been pinched straight from the Honda Stunner. So not only does this exude a sense of unpremiumness, it also means that there is no engine kill switch nor is there a pass switch, and in all honestly, at this bike's price point, it's rather unforgivable. And all of us here who rode the bike at ZigWheels have a bone to pick with the front number plate, which is mounted on a bracket that's way too stretched up front. Go over any bump, and the front mudguard comes rushing to meet the number plate, and more often than not, does, with a sound that can only be described as cringe worthy.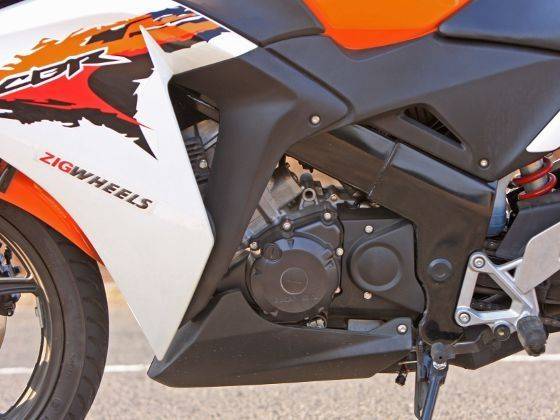 Under the skin
Peel away the body panels and you'll realise that this machine is far removed from any other Honda motorcycle available in India today. Where the 250 has a tubular diamond type frame, the 150's skeleton sports a proper twin-spar set-up much on the lines of the Yamaha R15. What it does for the bike is endow it with fantastic handling characteristics, but more on that later. The real talking point of what lies underneath all the body work is, of course, the engine. Now this isn't that same air-cooled 150cc mill that has been making rounds on a host of Honda as well as Hero MotoCorp nee Honda motorcycles for donkey's years now.
Instead we find a brand new liquid-cooled 149.4cc liquid motor with a 4-valve head that features a 63.5mm wide piston with a 47.2mm stroke configuration. With Honda's Programmed Fuel Injection (PGM-FI) to handle fuel delivery, this engine produces 17.82PS of power (the highest amongst all 150cc bikes available in India), but the short stroke nature of the engine means all this power comes at a stratospheric 10,500rpm. Another downside to this is the relatively low amount of torque (a measly 12.66Nm) which is developed at 8,500rpm.
Next Page: Everything else that matters
More on this Bike

Do you like this story?
Previous Story

Next Story

Sign up for our customized BIKER newsletter today.
FEATURED SLIDESHOWS
TOP VIDEOS

Here is the exhilarating clip of the 2010 BMW S1000RR being tested at the Portimao Racetrack in...


Bajaj unveils its new Pulsar 200 : ET Now Reports!
Bajaj has unveiled its next generation Pulsar 200 for India and has slated its launch sometime...