Harley-Davidson Fat Bob : Road Test
Our in-house racer boy Varad More always thought cruisers were boring. But then we strapped him onto the new Harley-Davidson Fat Bob and here is what he had to say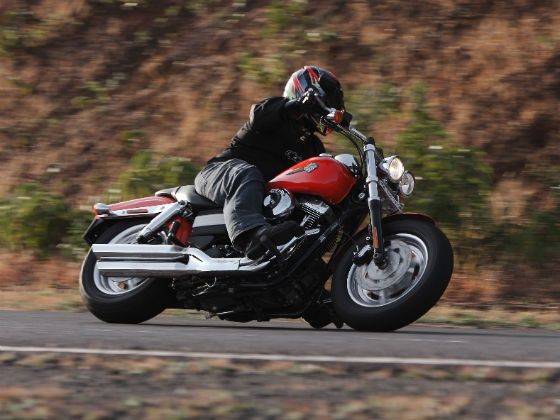 Among the zillion questions that I got asked in my rather brief stop, not once did I encounter the perennial 'kitna deti hai?" enquiry and that told me a lot about the Harley-Davidson brand and its machines. Reaching Pune I took a good look at the Fat Bob and it put things in perspective furthermore. A machine so tastefully designed and craftily finished, it is rich and grand in every possible way. There is no sign of tacky work and the world class level of paint finishing from start to end complimented by liberal use of chrome stems opulence in its purest form.
Twin headlights upfront, neat and tidy chrome-finished instrument console on the burly bright red fuel tank that sits atop the large Vee-twin Twin Cam engine, it's hard to not notice the expertise of detailing on the Fat Bob or any Harley-Davidson motorcycle for that matter. The sculpted seat with a rather small saddle for the pillion too gets stylishly done design cues and contours which provide comfort without looking dull or bland. Now that is not exactly easy to achieve, especially on a motorcycle.
But Harley-Davidson has mastered this art over a really long period of time and their motorcycles have evolved without compromising the classic retro edge which really sets them apart from the rest of the motorcycle brigade. If only Harley-Davidson India could make small amends to the ergonomics to suit Indian rider physiques and work out a better pricing for its beauties in India as well as a larger dealer network, there is a sizable chunk of cruiser lovers in the country today who would jump on the opportunity of owning a Harley-Davidson motorcycle. For now though, those with deep pockets certainly have a variety of Harley-Davidson models to choose from and the one who wants a hot-rod powerful bobber from Harley's Dyna family (which is brought in as a CKD and assembled at Harley-Davidson's plant at Bawal in Haryana), the Fat Bob is the most fitting option at Rs. 12.8 lakh (ex-showroom, Delhi).
Specifications:
Engine

1,585cc, air-cooled, Vee-twin, Twin Cam

Power

Torque

126Nm @ 3,500rpm

Transmission

6-speed manual

Suspension

Front: Non-adjustable 49mm telescopic forks

Rear: Adjustable coil-over monoshock

Brakes

Front: Disc with 4-piston caliper

Rear: Disc with 2-piston caliper

Weight

325kg

Price

12.8lakhs (ex-showroom, Delhi)
Performance Figures:
Acceleration: 0-100km/h

5.93s

Top speed

190.8km/h

Braking: 80-0km/h

29.56metres / 3.13secs

Roll-ons

4th Gear (50-90km/h) – 7.08sec

5th Gear (50-90km/h) – 7.85sec

Fuel Economy

City: 18kmpl
Highway: 30kmpl
Overall: 21kmpl
We spend an adventurous day aboard the new Moto...

The TVS Star City+ is the latest motorcycle to...

We take a close look at the DSK-Benelli TNT 899...