Home

Reviews & Advice

Ashok Leyland Dost : First Drive
Ashok Leyland Dost : First Drive
by
Dilip Desai
Photography :
Kunal Khadse

Posted on
07 Jun 2012

61,143
Views

12
Comments
Owners of the new Ashok Leyland Dost should consider themselves privileged in that they will be making a worthwhile long-term business investment on a vehicle that will not just make the driver happy, but also the owner richer and the industry more efficient and productive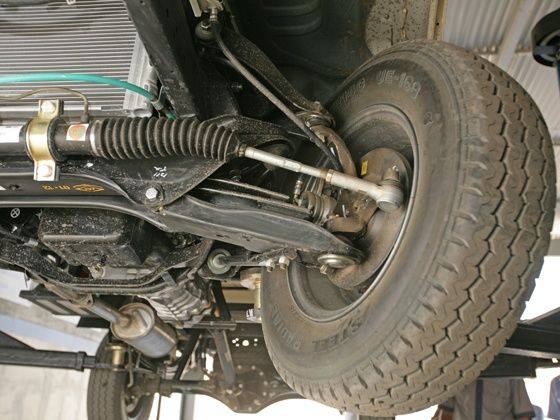 While steering feel is not something hat is looked at in commercial vehicles, the Dost pleasantly surprised us on this front as well. The feel on the steering is very positive in spite of 1.25 tonnes of load at the back. It feels quite safe and the rear tail does not threaten to slide out or give a floating feeling up front. This kind of treatment comes rarely in a vehicle of this character and price range.
Coming to manoeuvrability, it has a stunning turning circle radius of 4.8 metres which means you can operate on most congested routes inside the city and non approachable roads in the mofussil area. Ground clearance is 177mm and as a result most of he tall speed-breakers are handled with ease. Talking of rural roads, the transverse leaf suspension up front and inline leafs at the back will give you a consistent ride over a very very long period and save on service costs as well. The handling is unlike any truck with the grippy radial tyres also adding to it.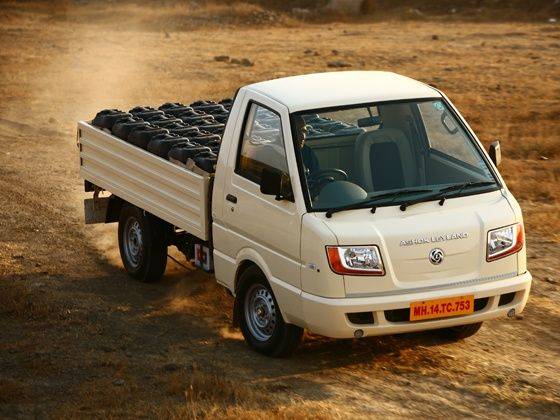 Coming to the load lugging ability, the 29 per cent gradeability with the load is worth mentioning. We did drive up and down a hill with no roads and it was a unique experience for the Ashok Leyland executive who was with us when we tested the vehicle. He couldn't believe his eyes that the Dost could carry out this kind of party trick.
While there are clear traces of a driver comfort and convenience oriented choice of interior equipment on the Dost, what's interesting or should I say rather impressive when observed carefully are the sort of features that will be offered as standard with all three variants, namely the LE, LS and high end LX model.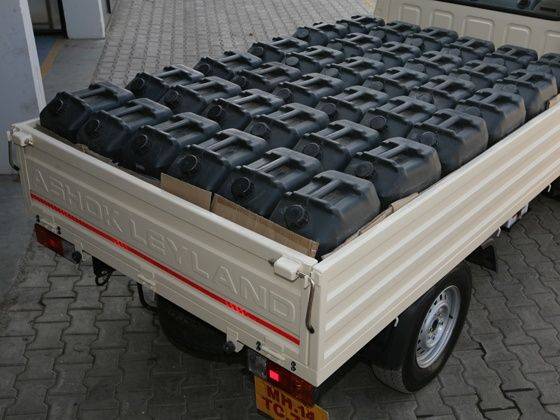 Power steering, air-conditioning and windshield washer are features that buyers of the lower trims will sadly lose out on. However, a big salute to the Ashok Leyland team for their uncompromising outlook towards the safety of its passengers on this utility vehicle, which offers ELR seat belts, tubeless tyres and front impact absorption bars as standard across all variants.
Talking about safety, all forward control vehicles have an inherent apprehension for the drivers, that being front end collision. This pick-up has a solid well built cross member to protect you in front end collisions and of course safety belts with emergency locking reactor. I wish the drivers in this country make a conscious effort to wear safety belts and give the precious life a second chance.
To end this long article short this is one MINI truck which will make the driver happy, the owner richer and the industry more efficient and productive. Compliments to Ashok Leyland. I hope the infrastructure called roads also gets a chance to accelerate to help vehicles like the Dost to show their ability.

Do you like this story?
Previous Story

Next Story
FEATURED SLIDESHOWS
TOP VIDEOS

Tata Pixel Zero Turn Drive Video
The Tata Pixel concept that Tata Motors showcased at the 81st Geneva Motor Show is a revolutionary...


Coming soon: BMW Bikes in India
Luxury car maker BMW is thinking to re-enter in Indian bike market with high end bikes.