Home

Reviews & Advice

2012 Polaris Sportsman Forest 850: First Ride
2012 Polaris Sportsman Forest 850: First Ride
by
Varad More

Posted on
23 Feb 2012

19,775
Views

1
Comments
The view from the saddle of an able quad bike like the Polaris Sportsman Forest 850 opens doors to the world like we have never seen before - it's fun, flexible and functional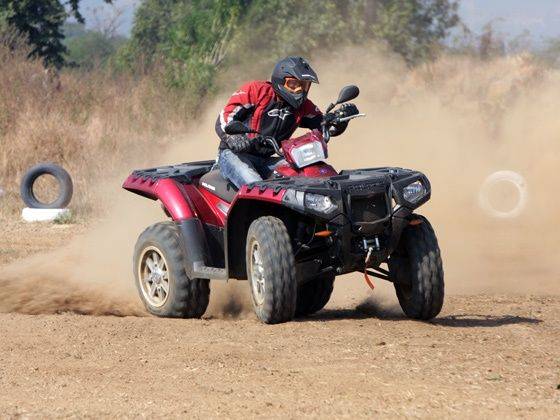 When we first got the invite to ride the Polaris ATV range, we assumed it was just one of those typical media rides where we will get a few laps under 'controlled' environment to experience the product. But when we landed at the AutoMission Motorsport Advance Driving School dirt track situated at Khopoli on the Mumbai-Pune highway, it turned out quite differently than what we had envisioned.
After all what would you expect when you let loose a wannabe-Patronelli auto-journo on the handsome and incredibly quick Polaris Sportsman Forest 850 ATV? Certainly the result was plenty of goof-ups and utter tom-foolery that probably left the guys at Polaris in fits. But then that is what ATVs are meant for. To let loose and have fun.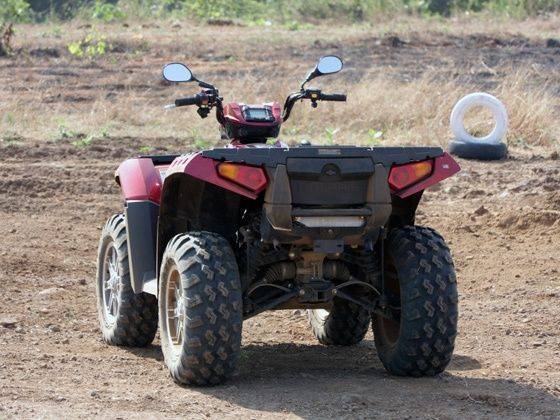 Atleast the mightily potent Polaris Sportsman powered by a liquid-cooled 4-Stroke SOHC twin cylinder 850cc engine sure is built to have fun than anything else. And it does more than a fine job at it, as I found out. The go-anywhere versatility of the quad bikes endows them with an appeal that few other vehicles can match up to – just hop on and head onto the unknown without having to worry too much about getting caught into tight spots.
Built to conquer anything and everything in its path, the Polaris Sportsman is adept at crawling over rocks, boulders or then just gliding over the dirt trails. Whatever the Auto Mission dirt track threw at it varying from hard to loose soil, rocks as well as steep inclines and even some decent jumps, the rather bulky Sportsman weighing about 351kg took everything in its stride with absolute ease.

Do you like this story?
Previous Story

Next Story
FEATURED SLIDESHOWS
TOP VIDEOS

Tata Pixel Zero Turn Drive Video
The Tata Pixel concept that Tata Motors showcased at the 81st Geneva Motor Show is a revolutionary...


Coming soon: BMW Bikes in India
Luxury car maker BMW is thinking to re-enter in Indian bike market with high end bikes.