2012 ET ZigWheels Car and Bike Awards : Special Coverage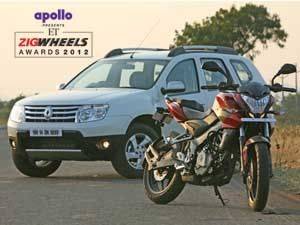 The Renault Duster and the Bajaj Pulsar 200NS have walked away with top honours at the 2012 ET ZigWheels Car and Bike Awards. Whosoever have made it into our winners circle in 2012 have earned the right to be there only on merit. A wealth of first hand experience along with the test data was put forward to a jury which this year saw four from our edit team joined by six dyed-in-the-wool experts who are also well known personalities from different spheres of the automotive world to make the final calls which we proudly present to you in our 2012 ET ZigWheels Car and Bike Awards special online package
Here's is a look at the best moments from the 2012 ET ZigWheels Car and Bike of the Year Awards ceremony, which recognized the most definitive automotive achievements in the country at a glittering ceremony in Mumbai on January 24, 2013

Read More..

The Renault Duster and the Bajaj Pulsar 200NS bagged the highest votes to clinch the 2012 ET ZigWheels Readers' Choice Awards for cars and bikes respectively

Read More..

The ultimate automotive textbook for motoring enthusiasts and novices alike, AutoTech authored by ZigWheels Editor-in-Chief, Adil Jal Darukhanawala was unveiled at the 2013 ET ZigWheels Awards on January 24, 2013

Read More..