Women ride scooters back onto Indian roads
by TNN Image courtesy: Reuters

Posted on
03 Jul 2012

6,621
Views

Comments
The pace of growth is obvious in the month-on-month sales numbers. In May, the scooter segment grew 34% while motorcycles managed a modest 7%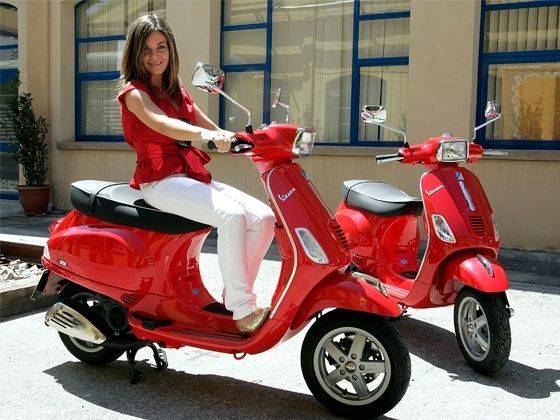 Six years ago, India's two-wheeler market was dominated by motorcycles, whose share came to 84%. Now, that pie has significantly reduced to 75%, with scooters making a comeback on Indian roads. Most of this growth is being driven by an unlikely segment — women customers.
Lightweight and easy to handle, automatic scooters have been a godsend for women commuters, while they have also found favour with the rest of the family. Unlike motorcycles, which have a macho image, scooters are increasingly being considered unisex. Also read: New Vespa 125: Exclusive Road Test
H S Goindi, president-marketing, TVS Motor, says: "The scooter segment has been outgrowing motorcycles for a while now and it will continue to do so. The growth in scooter sales can largely be attributed to girls taking to biking. The availability of multi-use products that are easy to handle have helped the market grow."
The pace of growth is obvious in the month-on-month sales numbers. In May, the scooter segment grew 34% while motorcycles managed a modest 7%. Scooters have seen their share in the overall two-wheeler pie go up from 12% to 19% in the last six years. Their sales growth routinely outruns motorcycles.
Not surprisingly, no two-wheeler maker wants to let go of this growing market. For instance, Y S Guleria, V-P sales and marketing of Honda Motorcycle & Scooter India, says his company is only looking to tweak the scooter to bike ratio from 51:49 to 50:50 following the launch of its big ticket commuter-executive bike Dream Yuga. "We have done very well in scooters and we are honing that legacy. We are market leaders and there will be more new scooter models from our side going forward," he says.

Do you like this story?
Previous Story

Next Story

Sign up for our customized BIKER newsletter today.
FEATURED SLIDESHOWS
TOP VIDEOS

Here is the exhilarating clip of the 2010 BMW S1000RR being tested at the Portimao Racetrack in...


Bajaj unveils its new Pulsar 200 : ET Now Reports!
Bajaj has unveiled its next generation Pulsar 200 for India and has slated its launch sometime...