Now Swift with Plug in-Hybrid
Posted on
23 Oct 2009

1,746
Views

Comments
Suzuki is unveiling a Swift with a Plug-In hybrid and a Suzuki SX4-FCW hydrogen drive under the slogan: "Small Cars for a Big Future" at the Tokyo Motor Show.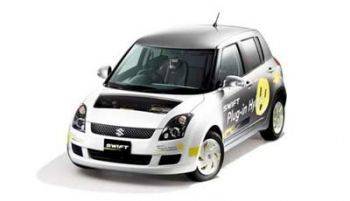 The Swift Plug-In is designed for short city trips with a petrol-driven generator in addition loading the battery of the electric engine. The battery can also be connected to an electric household socket that gives the car a range of 20 km on one charge.
Suzuki is also showcasing the SX4-FCV (Fuel Cell Vehicle) with a fuel cell unit designed by General Motors. The high-pressure hydrogen fuel tank has been designed by the Japanese manufacturer with additional energy coming from brake regeneration.
Suzuki is currently carrying out field tests with the SX4 for possible serial production.

Do you like this story?
Previous Story

Next Story
Car Launches
upcoming launches
BMW 7-series ActiveHybrid launch on 23rd July
,
Honda Mobilio to start at Rs 6 lakh; launch on 23rd July
,
Mercedes-Benz CLA45 to be launched on July 22

recent launches
Hyundai Grand i10 LPG launched at Rs 4.92 lakh
,
Chevrolet launches Beat, Sail U-VA Manchester United editions
,
2014 Nissan Sunny launched at Rs 7.29 lakh

SPECIAL COVERAGE
2014 Toyota Corolla Altis: Special Coverage
The 2014 Toyota Corolla Altis, in its 11th generation, has been launched in India starting at Rs...

With the Go the Datsun brand once again comes to life and is here to make its place in the...