Interview with Red Bull X-Fighters
by
Abhishek Chaliha

Posted on
30 Jun 2012

4,183
Views

Comments
ZigWheels gets up close and personal with Red Bull X-Fighters Martin Koren, Gilles Dejong, Nick Franklin and Nick De Wit who are in India for their Freestyle Motocross (FMX) showcase in New Delhi on June 30. We get an insight into the world of FMX and the stars in person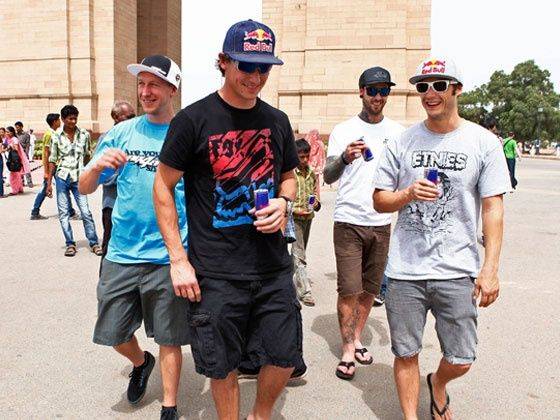 ZW: When did you associate yourself with Red Bull and why?
X-Fighters : Nick Franklin associated himself with Red Bull in 2002 while Nick de Wit did so in 2004. Red Bull's sponsorship has given us a lot of exposure and opportunities in the sport.
ZW: What bikes are you using? Please tell us a bit about their specifications? Also, what modifications have they undergone for the purpose?
X-Fighters : We are all using KTM 250cc two-stroke motorcycles that generate 50PS of power along with suspension modifications that make it very stiff with slow rebound. Flip levers on the handlebars provide added support while doing stunts such as backflips, and stabilisers are another common modification. Thankfully, KTM is very good in providing support for parts.
For every event small changes are made to the bike, the exhaust can be modified for more power.
ZW: What is your favourite bike and why?
X-Fighters : Martin's favourite bike is the Motocross bike while Gilles likes the KTM 450. The Nicks prefer the KTM 250 two-stroke bike. It serves their purpose very well and the bikes are very powerful too.
However, it would be worth mentioning that all of the Red Bull X fighters consider it too dangerous to ride on the road and avoid doing so. Only Nick Franklin recently got a Honda 80 scooter home, although he hasn't seen it yet.
ZW: What is your favourite Freestyle Motocross stunt?
X-Fighters : Martin's favourite stunt is the whip while Gilles says his is the turndown.
Nick de Wit likes the backflip while Nick Franklin's favourite stunt keeps changing and he likes trying new stunts, his last being something he calls the off turnside.
ZW: Who would you consider as your biggest competitors?
X-Fighters : We are our biggest competition. The sport has only positive completion where we support others who do well but push ourselves to do better.
Different riders perform differently at different times. Pushing one self to do new stuff is the core.
Of course, there is that little voice in our heads which urges us to do so in safe manner says Nick de Wit.

Do you like this story?
Previous Story

Sign up for our customized BIKER newsletter today.
FEATURED SLIDESHOWS
TOP VIDEOS

Here is the exhilarating clip of the 2010 BMW S1000RR being tested at the Portimao Racetrack in...


Bajaj unveils its new Pulsar 200 : ET Now Reports!
Bajaj has unveiled its next generation Pulsar 200 for India and has slated its launch sometime...