Interview with Red Bull X-Fighters
by
Abhishek Chaliha

Posted on
30 Jun 2012

4,179
Views

Comments
ZigWheels gets up close and personal with Red Bull X-Fighters Martin Koren, Gilles Dejong, Nick Franklin and Nick De Wit who are in India for their Freestyle Motocross (FMX) showcase in New Delhi on June 30. We get an insight into the world of FMX and the stars in person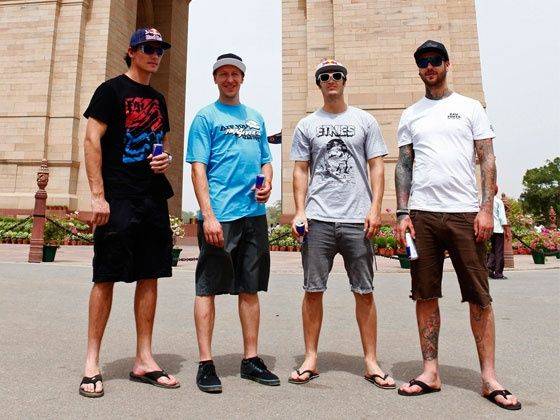 ZW: When did you take up Freestyle Motocross? What inspired you?
X-Fighters: Martin Koren took up Freestyle Motocross in 2003. The big jumps which define the FMX sport were what inspired him says Martin. Gilles Dejong had been a Motocross rider for 10 years before he took up FMX as a career in 2006.
Both Nick de Wit and Nick Franklin took up FMX in 2001 though both were into Motocross racing before that. Nick de Wit says it's the jumps that inspired him to take up FMX. Franklin says he switched from competitive MX into FMX which started with trying out casual FMX stunts.
ZW: For how many hours on an average do you practice in a day?
X-Fighters : The Red Bull X Fighters are constantly travelling from tour to tour and competition to competition. So although we would like to practice everyday it's not always possible. On an average we manage to practice for about three hours a day, thrice a week.
ZW: What do you like doing on a vacation? Any hobbies apart from Freestyle Motocross?
X-Fighters : As adventurous as FMX riders are, our enthusiasm is carried over into their free time as well. On vacations Martin likes to go rock climbing. He also enjoys snowboarding and takes a fancy to competitive sports. Gilles Dejong follows his passion of BMX riding during vacations.
Both Nick de Wit and Nick Franklin enjoy keeping fit during their vacations. Franklin enjoys running track and going mountain biking during his vacations.
ZW: What kind of workouts do you follow as FMX riders?
X-Fighters : On an average we workout for about six hours a week in about 1-2 hours workout sessions. We work on coordination exercises, dynamics, strength building exercises, balance enhancing exercising, flexibility and a lot of cardio to stay fit.
Strengthening exercises are very important so that we do not hurt ourselves too badly when we fall.
ZW: What are the biggest challenges of being a Freestyle Motocross rider?
X-Fighters : Martin and Gilles consider the fear as one of their biggest challenges. Trying out new tricks and pulling off breathtaking stunts on (and momentarily off) a motorcycle in mid air is no easy feat. The trick is to make fear your friend says Martin. Freestyle Motocross is all in your head and your ability to push ahead with confidence.
The frequent travel is another significant challenge according to the Nicks. Frequent trips around the world result in jetlag which means there is fewer time for practicing and trying out new tricks.
Being away from home and friends and family is something we have to constantly deal with.

Do you like this story?
Previous Story

Sign up for our customized BIKER newsletter today.
FEATURED SLIDESHOWS
TOP VIDEOS

Here is the exhilarating clip of the 2010 BMW S1000RR being tested at the Portimao Racetrack in...


Bajaj unveils its new Pulsar 200 : ET Now Reports!
Bajaj has unveiled its next generation Pulsar 200 for India and has slated its launch sometime...