Enigma Auto electric bikes unveiled
by
Abhishek Chaliha

Posted on
20 Jun 2012

24,822
Views

6
Comments
Enigma Auto, an indigenous electric vehicle company has unveiled three new electric bikes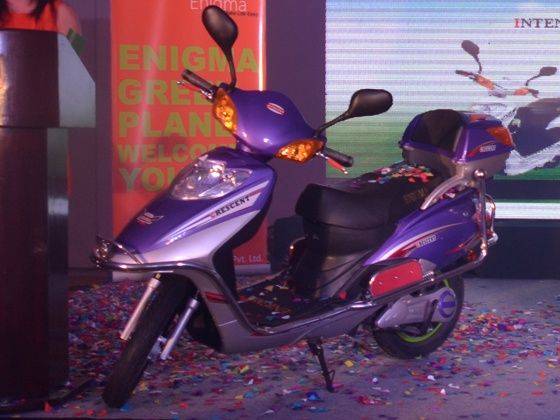 The base 'Intense' model is priced at Rs 28,500, the middle of the line 'Crescent' at Rs 30,500 and the top-of-the-line Muscle' model costs Rs 31,500.
Due to their low top speed these bikes need no registration certificates nor do their riders need a driver's licence. The target age group is 13-65 years.
Enigma Auto has an assembly line in Delhi with a capacity of producing 100 electric bikes per day. It plans to set up 20-22 service centres in New Delhi and a new plant in Bhiwadi, Rajasthan which will be functional within the next three months. This will ramp up production to 500 units per day. The sales target for the company within the first year is 20,000 units.
Enigma Auto is also developing three- and four-wheeler electric vehicles which are in the prototype stages at the moment.
Enigma Auto aims to establish itself as a quality electric vehicle company in India and with very few players it is quite set be achieve its goals.

Do you like this story?
Previous Story

Next Story

Sign up for our customized BIKER newsletter today.
FEATURED SLIDESHOWS
TOP VIDEOS

Here is the exhilarating clip of the 2010 BMW S1000RR being tested at the Portimao Racetrack in...


Bajaj unveils its new Pulsar 200 : ET Now Reports!
Bajaj has unveiled its next generation Pulsar 200 for India and has slated its launch sometime...