Tips to riding a motorcycle in fog
by
Arun Mohan Nadar
Photo courtesy: Reuters

Posted on
31 Jan 2013

13,083
Views

1
Comments
Riding a two-wheeler in fog needs extra care and alertness. Here are some tips to help you stay safe under foggy conditions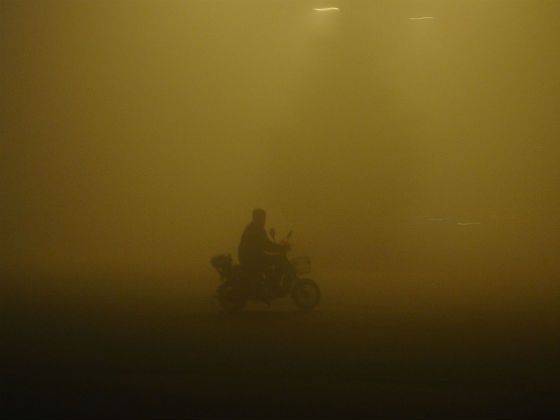 Headlights: Always ride in fog with low beam. Many riders commit the mistake of using high-beam, because it causes flaring off of the water molecules and further reduces visibility. Before starting the ride, wipe the headlights using a cloth so the beam spread is long and clear.
Visor: Always clean your visor before you begin riding in fog. Also spray a defogging agent (sold online) on the visor so that accumulation of moisture doesn't hinder your vision.
Tank-up: Check whether you have adequate fuel for the journey. You may miss a fuel-pump due to the limited visibility and being stranded on the road can be unpleasant, especially if it's foggy.
Be alert: Check your mirrors periodically for fast approaching vehicles from behind and be ready to take evasive action if required.
Brake-lights: Gently tap your brake lights in frequent intervals so the motorist behind are alerted of your presence.
Emergency Stop: If forced to stop due to reduced visibility or a mechanical problem park your bike as far as you can from the road.

Do you like this story?
Previous Story

Next Story

Sign up for our customized BIKER newsletter today.
FEATURED SLIDESHOWS
TOP VIDEOS

Yamaha Tricity: Official Video
Japanese two-wheeler giant Yamaha launched its innovative three-wheeler scooter, Tricity in Thailand


Yamaha Revstation: Teaser Video
Yamaha has released this teaser video showcasing the soon to be launched production version of the...