Tips to riding a motorcycle in fog
by
Arun Mohan Nadar
Photo courtesy: Reuters

Posted on
31 Jan 2013

13,057
Views

1
Comments
Riding a two-wheeler in fog needs extra care and alertness. Here are some tips to help you stay safe under foggy conditions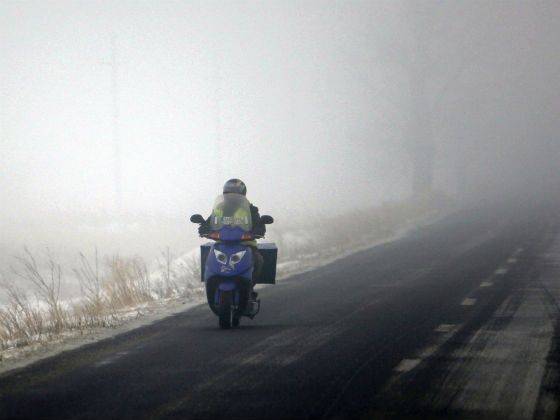 Fog is one of the most difficult situations a rider can encounter. Coupled with rain and darkness, fog takes on a highly lethal combination. Ideally, riding in fog should be avoided completely. Ideally, that is! In real-world circumstances, you may run into a fog midway into your journey and without prior warning. Here are a few tips to help you ride through fog safely.
Avoid: If you are planning a ride to the hills or know beforehand that you are going to face foggy conditions, simply resist the thought of riding.
Speed: If you've already begun your journey and ridden into foggy conditions, slow down to the minimum speed for better control during sudden braking. Also, avoid abrupt inputs to the brake or steering and use engine braking as much as you can.
Distance: Maintain adequate distance between you and the motorist in front to prevent collisions caused by abrupt braking by the driver ahead.
Make yourself visible: Wear riding jackets with reflective materials or bright coloured jackets to help other motorists spot you.
Guide line: Use the white line on the left hand side of the road as your reference and maintain a certain distance from it so if someone tries to overtake you from behind you have sufficient space for yourself.

Do you like this story?
Previous Story

Next Story

Sign up for our customized BIKER newsletter today.
FEATURED SLIDESHOWS
TOP VIDEOS

Yamaha Tricity: Official Video
Japanese two-wheeler giant Yamaha launched its innovative three-wheeler scooter, Tricity in Thailand


Yamaha Revstation: Teaser Video
Yamaha has released this teaser video showcasing the soon to be launched production version of the...