Segment Winners : 2012 ZW Bike of the Year Awards
In 2012 we chose the best in all of eight different two wheeler categories where Bajaj walked away with double honours. Honda and Royal Enfield also tasted success in their individual motorcycle...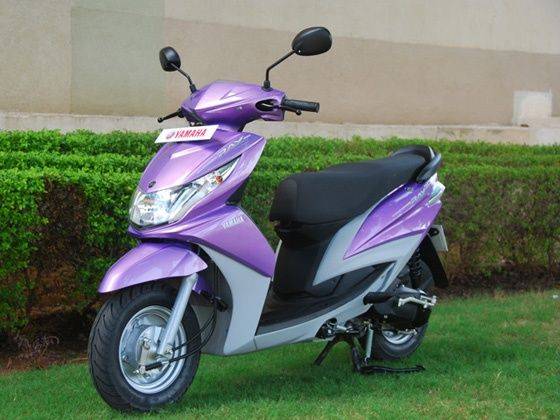 Scooter of the Year
Yamaha Ray
Venturing into the scooter space with the Ray, Yamaha has managed to shake up the segment in a promising manner. Despite being marketed and targeted at women scooter buyers in India, the Ray has amassed sizable popularity across both genders. One of the key reasons for it drawing attention is because it's a solidly built and well-made product much like all Yamaha offerings. Powered by a peppy 113cc engine, the Ray is engineered for refinement and smoothness while being fashionably packaged to appeal to its target customers. The ergonomics, ride and comfort provided by the Yamaha Ray supersedes any of the scooters plying on Indian roads today. (Also read: Yamaha Ray: First Ride)
So when one takes into consideration the entire experience astride the Ray and factors in the lively and energetic motor delivering respectable fuel efficiency coupled with a competitive pricing it is difficult to find a flaw with the new Ray. And our jury too shared the same opinion after having put the ray through its paces amidst a line-up of rather competent and strong rivals like the gorgeously styled new Honda Dio, the iconic Vespa, the fast and fun Suzuki Swish 125 or even the Maestro, from the trusted Hero brand. The general consensus amongst the jury was that the Ray comes across as a fresh design and model from a reputed brand like Yamaha boasting excellent built quality and a sophisticated design in the burgeoning scooter segment in the country.
Motorcycle upto 110cc
Honda Dream Yuga
Honda's weapon to foray into the clogged mass market segment, the Dream Yuga certainly left a lasting impression upon all the jury members and they all voiced a common opinion calling the Yuga a worthy successor to the iconic Hero Splendor. A frugal 109cc mated to a slick 4-speed gearbox tuned for efficient city commuting, the Dream Yuga possesses the ideal setup suited to the average Indian commuter.
Conservative and minimal in its form but serving each and every function expected of a 100cc commuter with perfection, the Honda Dream Yuga has struck all the right notes and it only guarantees that Honda will be singing a glorious tune in years to come thanks to this small wonder from the Japanese giant.
by Team ZigWheels Photography :
Kunal Khadse
Posted on 20 Dec 2012 Views: 22365