2012 ET ZigWheels Bike of the Year : BAJAJ PULSAR 200NS
by Team ZigWheels Photography :
Kunal Khadse

Posted on
20 Dec 2012

17,472
Views

8
Comments
The evolved manifestation of Bajaj's power-to-the-people formula, this new machine screams its Pulsar heritage no matter what angle you look at it from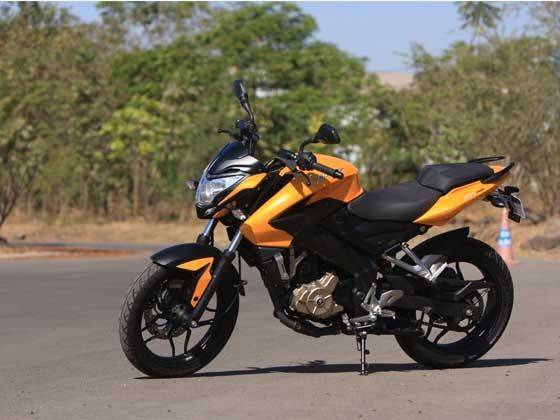 This one was an absolute no-brainer. The Bajaj Pulsar 200NS is the best bike ever to roll out from an Indian motorcycle manufacturer till date. Sure, it shares a fair bit of its engine with the KTM Duke 200 (which too was developed by Bajaj), but in every other aspect, it is worlds apart from its Austrian cousin.
The 200NS represents the evolution of Bajaj's power-to-the-people formula which the Chakan-based company has been perfecting over the last decade, but in a purely engineering sense, it is a radical departure from any Pulsar we've seen till date. And yet, this new machine screams its Pulsar heritage no matter what angle you look at it from.
Hanging between its perimeter frame (the first for any Bajaj bike) is a 200cc over-square single cylinder liquid cooled motor which features the bike maker's latest triple-sparkplug technology. Thanks to this, even without the use of electronic fuel injection, the 200NS manages to provide lots of oomph, a crisp throttle response while maintaining high efficiency levels to boot. (Also read: 2012 Bajaj Pulsar 200NS: World Exclusive First Ride)
Factor in the bang-on ergonimics, sharp handling, bucketfuls of grunt from the get-go and an on-road price tag of under a lakh of rupees, it becomes clear that one simply cannot have more fun on a motorcycle for less. And that made the Pulsar 200NS an easy jury favourite.
Related Stories:
Segment Winners : 2012 ZW Bike of the Year Awards
2012 ET ZigWheels Car and Bike Awards : Special Coverage
2012 ET ZigWheels Car of the Year : RENAULT DUSTER
2012 ET ZigWheels Car & Bike Awards Jury Round : In Pictures!
2012 ET ZW Awards : Jury Member Profiles
2012 ZW Awards Special : Editorial
SLIDESHOW:
It may be easy to say Bajaj Auto had the help of its Austrian partner KTM to help it design the new second-generation Pulsar when, in fact, it was Bajaj Auto that did the whole shebang with the stunning new small capacity KTM Dukes!

Do you like this story?

Sign up for our customized BIKER newsletter today.
FEATURED SLIDESHOWS
TOP VIDEOS

Yamaha Tricity: Official Video
Japanese two-wheeler giant Yamaha launched its innovative three-wheeler scooter, Tricity in Thailand


Yamaha Revstation: Teaser Video
Yamaha has released this teaser video showcasing the soon to be launched production version of the...